President interviewed, Relations with Russia, Victory Day amnesty, Car imports, Milinkevich; News, Sport, Culture and Polish scandal...
Belarus ready for pragmatic relations with Russia
From:
BelTA
Alexander Lukashenko partakes in Labor Day celebrations in Gorky Park
Belarus is ready for pragmatic relations with Russia, the press service of the Belarusian head of state quoted Alexander Lukashenko as saying in an interview with Reuters on 4 May.
"In relations with the Russian Federation we have made a giant stride towards each other. But recently the Russian leadership has decided to build absolutely pragmatic relations with Belarus. We are ready for it," said the President of Belarus. Alexander Lukashenko made it clear that "pragmatism must not destroy everything that has been accumulated up till now".
"If after checking their bookkeeping the Russians have estimated that they create too many benefits for the Belarusian nation, I would say the calculations are incorrect. It is lopsided unilateral pragmatism," said the head of state.
Belarus named reliable partner for the West
Belarus has earned its reputation of a reliable partner for the West, the press service of the Belarusian head of state quoted Alexander Lukashenko as saying in an interview with Reuters on 4 May.
"International financial institutions are willing to cooperate with us because they know that once we promise something, we will do our best to make it happen," said Alexander Lukashenko. The President reminded that Belarus has developed very fruitful relations with the West recently as far as business and finance are concerned. Belarus' contacts with the IMF, the World Bank, and the EBRD are developing. "It means a lot has been done," he stressed.
The head of state also pointed out political contacts at all levels, including the presidential one. "Recently we have done a lot to build normal, good neighborly relations with our Western partners," stressed Alexander Lukashenko.
The Belarusian head of state added: "If we consider cooperation as a whole, I wouldn't say that everything we'd expected has been done and that the West has made advances for us".
Lukashenko in favor of presidential elections in early 2011
It would be more advisable to hold presidential elections in Belarus in early 2011, President of Belarus Alexander Lukashenko told Reuters in an interview on 4 May.
The press service of the Belarusian head of state quoted Alexander Lukashenko as saying: "I cannot tell you the specific date yet, we just haven't thought about it. But I am more inclined towards holding the elections at the beginning of next year," said Alexander Lukashenko.
Other Belarusian News...
Belarus' economic achievements, election reforms praised
From:
BelTA
Belarus has made progress on the path of economic development and in reforming the electoral legislation, Benedict de Cerjat, the Warsaw-based Ambassador of Switzerland to Poland and Belarus said as he met with Vladimir Andreichenko, chairman of the House of Representatives of the National Assembly of Belarus.
The diplomat said there are several reasons why he has traveled Belarus. First of all, he has brought the invitation to Vladimir Andreichenko to attend the World Conference of Speakers of Parliament which will be held in Geneva in July 2010. According to the diplomat, he has also brought the invitation for the chairman of the Council of the Republic of the National Assembly Boris Batura, which he will hand over during their upcoming meeting. "I hope someone of you or you both will find an opportunity to attend this event as this is a good opportunity to exchange the experience," the Ambassador said.
Another goal of the visit is to attend the events to mark the closing down of the bilateral humanitarian and technical cooperation program which has been running for nine years. Benedict de Cerjat said that the program has been designed to mitigate the Chernobyl impact in the affected territories. "On the one hand, I am sorry that such a good program is closing down. Yet, it means that the goals we have set have been achieved. While visiting the affected regions I made sure that the undertaken measures proved effective and that the life in those regions is getting better," he said
Benedict de Cerjat stressed that he had an opportunity to witness the economic growth of Belarus for the past decade. When speaking about the bilateral cooperation between Belarus and Switzerland, he said that certain indicators show that the cooperation has been gaining momentum in economy, trade, tourism, investment. The diplomat expressed confidence that in some sectors there is a great potential for Belarus to gain more exposure in Switzerland. "We have laid a good basis for further cooperation," he said.
The Ambassador noted Switzerland's interest in the development of the political situation in Belarus. According to the diplomat, he eagerly watched the developments in the electoral legislation and said that Belarus has made progress in this area and needs to move forward.
Belarus parliament to read Victory Day amnesty bill on 6 May
From:
BelTA
The amnesty bill timed to the 65th anniversary of the Victory in the Great Patriotic War of 1941-1945 will be given the first reading in the House of Representatives of the National Assembly of Belarus on 6 May, BelTA learned from Viktor Guminsky, Chairman of the National Security Commission of the House of Representatives.
"We will read the bill in the form the president brought it in. We will consider all the remarks and proposals in the second reading, if there are any and if they are well-reasoned," said the MP.
BelTA reported earlier that in view of the oncoming 65th anniversary of the Victory in the Great Patriotic War President of Belarus Alexander Lukashenko brought in a bill to grant amnesty on the occasion of the anniversary to the House of Representatives of the National Assembly.
According to preliminary estimations of the Interior Ministry, the bill may pardon around 2,230 people in closed-type correctional institutions, around 900 people in open-type correctional institutions, with the term of punishment reduced for 9,300 people.
In particular, the bill provides for pardoning the underage, expectant mothers, women and lonely men with underage children, the disabled, pension age persons, people with active tuberculosis, HIV infected people, war veterans, rescue workers who took part in alleviating Chernobyl catastrophe consequences, people who were injured in the line of duty, people who have committed minor crimes.
Prisoners who cannot be pardoned will have their prison term reduced by one year.
The amnesty is not applicable to second offenders, those who have been pardoned earlier, those who have not repaired the damage of their crimes, people who are guilty of breaking prison rules, people who are sentenced to life imprisonment, murderers, rapists, robbers, criminal masterminds, corruption criminals, drunk driving convicts, terrorists, gangsters and other categories.
Wartime photos in Moscow House to highlight Great Victory
A photo exhibition dedicated to the 65th anniversary of the Great Victory will open at the Moscow House in Minsk on 5 May, Mass Media Advisor of the Moscow House Svetlana Panteleyeva told BelTA.
The exhibition will feature around 40 documentary photos that were shot during the time of war. The photos tell the story of the war-troubled years, the first victory parade in Moscow and veterans of the Great Patriotic War.
Svetlana Panteleyeva remarked that direct participants of those events, winners had been invited to attend the opening ceremony as guests of honor. They will be offered the legendary movie "V boi idut odni stariki" in color.
The exhibition will stay open till 26 May. It is organized by the Embassy of the Russian Federation in Belarus, the Moscow government and Rossotrudnichestvo (Russia's federal agency for affairs of the Commonwealth of Independent States, compatriots abroad and for international humanitarian cooperation).
Army parade in Minsk on satellite TV
Due to the significance of the date and in view of the interest of partners in the European Broadcasting Union (EBU) Belarusian Teleradiocompany will broadcast the army parade dedicated to the 65th anniversary of the Victory in the Great Patriotic War via satellite using the EBU network, the press service of Belarusian Teleradiocompany told BelTA.
For the first time Russian and Ukrainian troops will take part in the Belarusian parade. For the first time advanced military hardware will be demonstrated. 21 aircraft and 10 helicopters will participate in the air phase of the parade.
In line with the relevant agreement between Belarusian Teleradiocompany and the national television company of Ukraine a short version of the parade in Minsk on the Victory Day will be broadcast in Ukraine as part of a TV "marathon" meant to highlight the international celebration of the victory anniversary.
The Minsk parade broadcast will be available to at least 75 TV companies in 56 countries of Europe, North Africa and Middle East via satellite.
Meat and Dairy Industry-2010 exhibition opens in Minsk
From:
BelTA
An international trade show, Meat and Dairy Industry-2010, opens in Minsk on 4 May, BelTA learnt from the exhibition's organizing committee.
The forum will highlight trends and technologies of manufacturing and sales of meat and dairy products. It will also help establish business ties between foreign and Belarusian manufacturers. The exhibition will focus on the quality of products and modern types of packaging and labeling. The quality improvement of meat and dairy products will hit the agenda of workshops on certification and standardization that will be held as part of the forum.
The exhibition will display a wide range of meat and dairy products by leading Belarusian manufacturers, baby food, meat and milk processing equipment, food ingredients and ferments.
The trade show is organized by the Belexpo National Exhibition Center. The project is implemented under the auspices of the Ministry of Agriculture and Food and the Trade Ministry of Belarus, the Minsk City Council, and the Belarus Union of Dairy Producers. The forum is scheduled to end on 7 May.
Minsk to host Chemistry, Oil and Gas 2010 Exhibition
The 13th Chemistry, Oil and Gas International Exhibition will be held in Minsk on 28 May, BelTA learned from the organizing committee of the exhibition.
The main goal of the forum is to inform specialists about the market situation, present up-to-date developments. The exhibition is a good place to hold negotiations and conclude contracts.
The exposition will feature the up-to-date technologies and equipment for chemical industry, oil and gas equipment, new technologies to produce, process, transport and store oil, oil products and gas. The Khimmarket Salon will present various chemical goods including cleaning substances, threads and fabrics, nonwoven fabrics, sanitary products, perfumes, plastics, polymer films, fertilizers, varnishes, paints and other products.
In 2008 some 68 companies from 5 countries attended the Chemistry, Oil and Gas Exhibition in Minsk.
The exhibition is organized by the Expoforum Company, the Technology and Communications Company under the auspices of the Belneftekhim Concern, the National Academy of Sciences of Belarus, the Belarus Chemical Society, the Mendeleyev Union of Chemical Societies of the CIS member states.
Economics...
Belarus reluctant to change its car import duties
From:
BelTA
Belarus would like to see the effective car duties for natural persons remain in place in the Customs Union, First Deputy Chairman of the State Customs Committee of Belarus Vladimir Goshin told reporters in Brest.
"The Code of the Customs Union of Russia, Belarus and Kazakhstan is to come into force on 1 July. The sides are now working on 16 international agreements and 14 resolutions of the Customs Union Commission which should address all the nuances which have not been reflected in the code including the import of goods by natural persons," Vladimir Goshin said.
The final decision on the duties will be adopted by experts of the three countries who are now working on the documents. Vladimir Goshin stressed that Belarus would like the car import duties for natural persons, which are currently in effect in the country, to remain in place.
Vladimir Goshin did not rule out that in case the low duties remain in place, restrictions will be introduced for Belarusians on alienation of transport vehicles. "We are aware full well that in exchange for the duties we will have to undertake some restrictions. It is possible that the provision limiting the right of alienation of a transport vehicle within two or three years under the rates effective today will be enforced again," Vladimir Goshin said.
Minsk to host international rural tourism workshop
An international workshop on rural tourism will be held in Minsk on 6-7 May, BelTA learnt from chairperson of the Country Escape public association Valeria Klitsunova.
The workshop is organized by EG Baltic 21, the expert group for sustainable development of the Council of the Baltic Sea States and the Country Escape public association. Taking part in the workshop will be representatives of the local authorities, NGOs, small and medium-sized businesses, and media of Belarus and Ukraine.
The workshop will highlight three main topics: development of the business-enabling mechanisms and their availability, trainings for those willing to develop and promote rural tourism, and marketing and branding of eco-destinations.
Since 2007, EG Baltic 21 is in search of avenues of cooperation between its members and Belarus and Ukraine. Both countries have an observer status in the Council of the Baltic Sea States. As part of the Baltic Sea drainage basin, the two countries should be involved in the sustainable development of the region. The rural tourism has been defined as one of the most promising avenues of cooperation between EG Baltic 21 and Belarus and Ukraine.
Both Belarus and Ukraine have acknowledged the positive effect of rural tourism on the local communities, economies and people's well-being. "We should move to a new level and create opportunities for the sustainable development of rural tourism for every person, who is ready to work in this area. At the same time we should provide people with information about the protection of local ecosystems," Valeria Klitsunova said.
From the Foriegn Press...
INTERVIEW - Belarus president says West rejected better ties
From:
Reuters
Belarus President Alexander Lukashenko (L) sits prior to the interview with a Reuters correspondent in Minsk, May 4, 2010.
Belarus leader Alexander Lukashenko lashed out at the West in an interview with Reuters on Tuesday, saying he has received little in return for his efforts to improve relations with the European Union and United States.
"I cannot even talk about all the steps that I have taken that are very sensitive for us -- and the West cast me aside," said Lukashenko, who is under Western pressure for political reform and broader civil rights in Belarus.
"I have come to understand that there is a huge number of irresponsible politicians in the West," he said.
In a wide-ranging interview, Lukashenko accused long-time ally Russia of tightening the screws on Belarus by scrapping preferential oil pricing, but stopped short of threatening to torpedo a nascent customs union over the dispute.
He criticised both Moscow and the West for engaging with the leaders who took power in Kyrgyzstan after a violent upheaval last month, and vowed not to hand over ousted President Kurmanbek Bakiyev, who has taken refuge in Belarus.
"Russia and the West create a terrible precedent when they support an illegal government that came to power through bloodshed," he said. He warned that any appeal for Bakiyev's extradition would be "hopeless".
Moscow's embrace of Kyrgyzstan's interim government has sent a potentially alarming signal to Lukashenko, who has relied on Russian economic and political support during his 16-year rule over his landlocked, energy-poor nation of nearly 10 million.
Long shunned by the EU and the United States, which accuse him of maintaining power through unfair elections and the harsh suppression of dissent, Lukashenko has sought to improve ties with the West as Moscow has decreased its backing.
But he expressed deep dissatisfaction with the West during the interview and made clear Western leaders should not demand more political reforms unless they are prepared to reciprocate by lifting sanctions and showing more respect.
'UNREALISED HOPES'
"There have been some good moves, but this is a process of unrealised hopes, both in the West and on our side. We expected more from the West," he said. "What we will not tolerate is for somebody to order us around -- nobody can shove us from behind."
"We will take exactly as many steps as the West is ready to take," Lukashenko said.
After his government released inmates seen in the West as political prisoners and made some concessions on European demands for electoral reforms, the EU suspended travel sanctions it imposed after Lukashenko's re-election in a 2006 vote that was not recognised by the West.
But it has not lifted the sanctions altogether or returned preferential trade conditions also denied as punishment.
Lukashenko said Western governments will not be satisfied until he is no longer president. But he strongly suggested he would seek another term in a presidential vote early next year.
He said he had not decided whether to run, but added the Belarusian people expect him to do so and that "there are no factors now that would force me to refuse to participate".
"The West doesn't like our course and doesn't like the current president -- that's all there is to it. Let's be honest," Lukashenko said. "But the president is elected by the people, not by the West. The sooner the West understands that, the faster we will build normal relations."
Amid disputes with the Kremlin over oil supplies and Kyrgyzstan, Lukashenko said that "maybe in Russia somebody would like to see a different president here."
Lukashenko, who pushed though legislation in 2004 that removed presidential term limits, warned both East and West not to hope for a repeat of the Kyrgyz scenario in Belarus.
"No matter how the situation develops here, nobody will have the slightest possibility of ousting those in power here."
Lukashenko indicated that Russia's insistence on charging Belarus duties on oil could jeopardise the customs union it is developing with Belarus and Kazakhstan -- the most concrete step by ex-Soviet republics to create a strong economic alliance. But he spoke cautiously and stopped short of a threat to withdraw.
"This union will hardly have prospects if we veer away from our agreements or violate fundamental principles. But I think that everything lies ahead of us. We have just started creating this union," he said.
"To leave it without even entering it would hardly be right. Let's see how the atmosphere develops. I am certain that if everything is fine others will join us, too."
Excerpts of Lukashenko's interview with Reuters
Belarus President Alexander Lukashenko spoke to Reuters on Tuesday in an interview in which he strongly criticised the West and said he would not extradite Kyrgyzstan's toppled President Kurmanbek Bakiyev.
Following are key excerpts from the interview, conducted at Lukashenko's offices in the capital Minsk:
Q: Are you satisfied with the way relations with the West have developed over the past year?
A: We have done quite a lot recently to build normal relations with our Western partners. ... In terms of business we have quite good relations, and along the lines of financial and credit institutions we have very good relations.
But on the whole, I would not say that we have done everything that was expected and that the West has met us halfway. ... I understand the West perfectly well, but I don't understand why they, democrats by nature, should lie. Everyone is waiting for next year's presidential elections. At this stage it's clear to me that the West has halted all movement and is waiting for the elections. This surprises me a little- - the situation in Belarus is absolutely predictable. If someone thinks that he can turn the conntry upside down and create conditions for some sort of revolution, he is just a charlatan.
There have been some good moves, but this is a process of unrealised hopes, both on the Western side and on our side. We expected more from the West. What we will not tolerate for someone to order us around -- nobody can shove us from behind.
All we want is complete clarity. If this Belarus is unacceptable for you, say so. But to hang us on a hook and promise something -- we cannot accept that. If Europe is ready and wants to cooperate on all fronts, you are welcome. Our country is open.
We will take exactly as many steps as the West is ready to take. I cannot even talk about all the steps that I have taken that are very sensitive for us -- and the West cast me aside. ... It cost us dearly, and I have come to understand that there is a huge number of irresponsible politicians in the West; they forget what they said yesterday.
Don't demand steps from us. We are taking very many steps, hundreds, maybe thousands a year. ... But the West wants some other steps: 'Give away your enterprises for free, break the constitutional system of Belarus.'
I was thinking, why not create a political system like in Britain -- a monarchy, with a king or a queen, just like in Britain. But would you applaud that? You would again shout: 'Dictatorship.'
At a minimum there should be a normal dialogue on diplomatic channels. As for the economy: the generalised system of preferences -- why have we been excluded from this?
...
The West doesn't like our course and doesn't like the current president -- that's all there is to it. Let's be honest. But the president is elected by the people, not by the West. The sooner the West understands that, the faster we will build normal relations.
...
God forbid that we should act the way the United States does. We do not want that. We don't want to be an empire. We don't want to have vital interests in every corner of the planet. When you have vital interests in North Korea, Iran, Venezuela, Belarus -- when you stand with your legs splayed so far apart, you're a monster. I don't want to have that kind of state.
Q: What are your plans for cooperation with international financial institutions this year? Will Belarus seek a new IMF loan?
A: We are very grateful to the IMF and other financial institutions for their support at this difficult time for our economy. We will remember this forever. Now we are not asking the IMF for (new) loans. The IMF, the World Bank announced that Belarus has emerged from recession, and we do not have problems today with our budget. So we are not asking the IMF for additional credits.
Q: What plans do you have this year for privatisation?
A: We do not rule out that an investor could come to any enterprise, up to and including the pipeline system. Even the military-industrial complex is no exception.
Q: Could you agree to privatisation of the Belarus Potash Plant?
A: I do not rule it out. If the share price is good, we will see what kind of a stake to sell. But Belarus will retain a controlling stake for now.
Q: How would you evaluate current relations with Russia and their future prospects in light of the recent dispute over the conditions for oil supplies?
A: We have taken a giant step toward each other. But recently the Russian leadership has wanted to build absolutely pragmatic relations with Belarus. We are ready for that, but this pragmatism should not destroy everything we have achieved so far.
If Russians are determined like accountants that they are doing too much for the Belarusian people, that is slanted pragmatism. Unilateral pragmatism, introducing duties on oil and oil products for one member of the Customs Union, Belarus, and not for another, Kazakhstan, smells like corruption at a minimum.
Q: Does this jeopardise the Customs Union?
A: There are classical principles for building a union of any kind. ... Why should we, in creating the Customs Union, proceed from different principles? A classical principle is the absence of any trade barrier. Here they have decided to make an exception. That shows that we do not have equal relations. This union will hardly have prospects if we veer away from our agreements or violate fundamental principles. But I think that everything lies ahead of us. We have just started creating this union. ...To leave it without even entering it would hardly be right. Let's see how the atmosphere develops. I am certain that if everything is fine others will join us, too.
Q: Are you continuing to seek oil supplies from Venezuela?
A: The process is underway. This year, Venezuela will supply 4-5 million tonnes. We cannot take any more; next year we plan to refine up to 10 million tonnes. ... We are starting to develop a field in Iran ... If Russia is going to apply protective duties, we will look for oil where it is comfortable for us.
Q: Kyrgyzstan's interim government says it plans to demand ousted President Bakiyev's extradition. Will you consider this?
A: They have 1,000 problems, do they need a 1,001st problem? If the current president of Kyrgyzstan appears there, it will be such a problem. The interim government of Kyrgyzstan should bow to the ground and thank me for removing the 1,001st problem for Kyrgyzstan. The situation there is under very little control as it is.
Nobody has officially appealed to me (with an extradition request). But I want to immediately declare officially: Such an appeal would be hopeless and humiliating for the interim government. The president of Kyrgyzstan is under the protection of the Belarusian state and its president. ...
As for Russia, I think that for the Russian Federation the fact that I have taken in Bakiyev is a joy and means one less headache.
Q: Do you believe Russia was involved in the vents in Kyrgyzstan, and is there a chance that it could seek something similar in other countries, such as Belarus?
A: Nobody could do such a thing in Belarus. Belarus is a completely different country. Here it is impossible. It would only hurt those who try. ...
I do not have evidence of whether Russia was behind the events in Kyrgyzstan, but the statements of Russian politicians cause concern. ... Russia and the West create a terrible precedent when they support an illegal government that came to power through bloodshed.
Q: Have you decided on a date for the next residential elections, and on whether you will run? What hopes do you have for this vote?
A: No date has been set, but I am inclined toward holding them near the beginning of next year. ...
I have not yet decided whether I will run, but there are no factors now that would force me to refuse to participate.
Q: Do you harbour hopes that one of your children could eventually succeed you as president?
A: My children have had their fill of my presidency, so I doubt they would want this. I have no such plans, and the presidency is not inherited in this country.
Q: Do you believe it is possible there will be interference from the West or from the East in the election in order to remove you from the presidency?
A: Maybe in Russia somebody would like to see a different president here. But for Russia Lukashenko is bad only in that he does not sit under the Kremlin's thumb, does not bow and ask for favours. ... I am not very comfortable for them, but I don't think they will look for anyone else here. ...
No matter how the situation develops here, nobody will be have the slightest possibility of ousting those in power here.
Q: You are said to be nostalgic for the Soviet Union.
A: Only an idiot would not regret the collapse of the Soviet Union. Well, maybe Americans would not regret the collapse of the Soviet Union, because the United States does not have a competitor, there is no force that can counter it. ... There is no restraining factor, which the Soviet Union was.
Energy Rift Widens Between Moscow, Minsk
From:
Moscow Times
Transneft said Tuesday that it was steaming ahead on a pipeline circumventing Belarus, days after Minsk received a shipment of Venezuelan crude, widening the rift in energy trade between the countries.
Transneft chief Nikolai Tokarev, speaking at a meeting with Prime Minister Vladimir Putin, reiterated that the company would complete the Baltic Pipeline System-2 ahead of schedule.
"We are not seeing any big, serious problems at the moment," Tokarev said about the progress on the pipeline. "Work is moving considerably ahead of schedule."
Having laid 70 percent of the pipes to date, Transneft plans to start operating the route at the end of next year, earlier than the original deadline of September 2012, Tokarev said.
By emphasizing the pipeline project, which would cause Belarus to lose much of its oil transit flows — and fees — when the pipeline starts operating, Moscow may well have sent a fresh warning to Belarussian President Alexander Lukashenko, who has been trying to pull his country away from its dependence on Moscow.
In the latest development that likely irritated Moscow, the first shipment of crude arrived in Belarus from Venezuela on Sunday, signaling that Belarus was intent on testing this alternative to Russian deliveries. Departing from Venezuela on April 2, the cargo traveled by tanker to Ukraine's Black Sea port of Odessa before heading north to the Mozyr refinery by train.
Vladimir Zubkov, chief of the Belarussian Oil Company, said Monday that the government would determine the profitability of such supplies by the end of next week. Nevertheless, he said deliveries could grow to 10 million tons next year from 4 million tons projected for this year.
Belarus imported 21.5 million tons of crude from Russia last year.
Lukashenko agreed to partner with Venezuela in March after Russia refused to give as steep a discount on its crude sales to Belarus as Lukashenko demanded. He and Ukrainian President Viktor Yanukovych agreed last week to study whether Ukraine could provide its pipelines for carrying the oil, a cheaper option than rail transportation.
Also last week, Belarussian Prime Minister Sergei Sidorsky met his Lithuanian counterpart Andrius Kubilius in an effort to arrange imports through the Baltic port of Klaipeda, a route that would involve railways. After the talks, Kubilius said only that the arrangement was technically feasible and he appreciated the need to diversify supplies.
The deal to buy Venezuelan crude is not commercially viable, serving exclusively as a political gesture meant for a potential tradeoff with Moscow, said Rustam Tankayev, director of the analytical company InfoTEK-Terminal.
"These shipments have no future," he said. "They are just an absurd and childish demonstration of independence."
Russia may potentially divert some of its exports from Ukraine to fill the Baltic Pipeline System-2, in addition to rerouting some of the 80 million tons of crude that now traverse Belarus. Or it may pick Belarus as the sole victim of its new oil transit plans.
S&P Affirms Belarus' Rating, Negative Outlook
From:
NASDAQ
Standard & Poor's Corp. affirmed Belarus' sovereign credit rating with a negative outlook Tuesday, saying the country's external position had continued to weaken in 2009.
"The ratings on Belarus are constrained by our view of its weak and deteriorating external liquidity, owing to very high current account deficits and repeated price shocks on still-subsidized energy imports from Russia," said S&P credit analyst Kai Stukenbrock.
Furthermore, Belarus' ratings are constrained by the economy's structural rigidities, which impede faster improvements in its external competitiveness, the agency said.
S&P affirmed Belarus' B+ foreign currency and BB local currency long-term sovereign issuer credit ratings.
The rating agency said it expects the country's current-account deficit to narrow gradually in 2010 to 11% of GDP, after widening to 13.1% of GDP last year.
Led since 1994 by Alexander Lukashenko, Belarus has a Soviet-style, centrally controlled economy with strong ties to Russia.
During the economic crisis, it was forced to seek financial aid from the International Monetary Fund, which in turn called for changes in the exchange rate regime, a step-up in structural reforms and the pursuit of a balanced budget.
As of December 2009, total disbursement under the $3.52 billion program totaled $2.88 billion.
Belarusian Court Acquits Conscientous Objector
From:
RFE/RL
A Minsk court has acquitted a Belarusian man who refused mandatory military service on religious grounds, RFE/RL's Belarus Service reports.
Yan Mihailau, 21, said that his membership in the Jewish Messianic movement means he cannot serve in the army, but is ready to serve an alternative civil service if Belarusian authorities offer him one.
In mid-December, Mihailau was sentenced to three months in jail for avoiding military service. He had almost finished his jail term when a Minsk Oblast court overruled the verdict against him and sent the case for further investigation.
On March 10, Mihailau was freed from jail and asked not to leave the city until the additional investigation of his case was finished.
Mihailau told RFE/RL that today's court decision is a good sign for other young men in Belarus who cannot perform military service because of their religious beliefs.
Mikhal Pashkevich, coordinator of the For Alternative Civil Service campaign, told RFE/RL that Mihailau's acquittal is an important precedent that provides hope that Belarus will adopt a law on alternative civil service in the near future.
He said at least 25 men are scheduled to be tried soon in Minsk for evading military service.
From the Opposition...
Alyaksandr Milinkevich: Attempt number two
From:
Charter '97
Alyaksandr Milinkevich, the For Freedom movement leader, has announced today he will run for presidency.
The leader of the For Freedom movement invites journalists, public figures, and politicians to Europe Hotel to announce his decision to take part in the 2011 presidential elections. The politician read out points of his political programme titled "Let's Make Belarus True Europe", Radio Svaboda reports.
From a political point of view, the programme is center right, from an economic one it proposes a liberal approach. In Particular, Milinkevich stands for restoration of the 1994 Constitution, Belarus's joining the European Union, an opportunity of selling lands, refusal to build a nuclear power plant, and promotion energy saving technologies.
What to the foreign policy, Milinkevich calls to development of good-neighbour policy and preparation for Belarus's joining the European Union. He also said Belarus should be a neutral state.
Alyaksandr Milinkevich proposed his strategy: either the authorities hold fair elections, or people take to streets in protest. He reminded the authorities the events in Romania and the Czech Republic. Milinkevich also said he counted on support of the party activists, member of the Belarusian People's Bloc, NGOs, and civil society, especially the youth, which he expects to join his campaign.
Alyaksandr Lukashenka mentioned Lukashenka only one time in his speech. He noted he had come to power on the tide of anti-corruption struggle, but now the corruption reigns in society. To a question about Zyanon Paznyak he answered he would like Paznyak to return to Belarus.
Public statement by Human Rights Center 'Viasna' concerning search at Zmitser Salauyou's office in Navapolatsk
From:
Viasna
On 30 April the police searched the private office of the human rights defender Zmitser Salauyou in Navapolatsk. The search was sanctioned by the town procurator, Anatol Ausiuk, and V.Karenski, Chair of the operative crime detection activities section of the investigation department of the Navapolatsk Town Police Department, within the frames of the criminal case instigated under Article 341 of the Criminal Code – 'Defilement of buildings and destruction of property' on the fact of inscriptions with swastikas on walls of different houses of the town. Computer system units, CDs, many printed editions and white-red-flags were confiscated as a result of the search.
Numerous cultural events take place at Zmitser Salauyou's office, including the Belarusian dictation, meetings with well-known artists and writers, etc. Zmitser Salauyou is a human rights defender and civil activist who is quite popular in Navapolatsk. He meets with people who need his assistance as a result of violation of their rights by the authorities. His office is the only independent from the authorities place in Navapolatsk where democratically minded people can gather. That's why the authorities treat the very fact of its existence quite nervously. In 2006 office appliances, printed editions and human rights documents were confiscated as a result of a similar search. Nothing has been returned so far.
The office has also been repeatedly subject to attacks of neo-Nazis. The walls of the building were painted with swastikas and a roller blind on a window was damaged. In 2008-2009 the human rights defender thrice addressed the procuracy with the demand to instigate a criminal case against the neo-Nazis who also painted swastikas and anti-Semitic slogans on other houses of Navapolatsk. As a result he received refusals where it was stated that actions of unidentified persons couldn't be qualified as a crime.
The Council of the Human Rights Center Viasna directly associates the search at the office of the human rights defender Zmitser Salauyou with his active public position. In particular, recently he has participated in the monitoring of the local council elections. Instead of detaining the neo-Nazis who act in Navapolatsk and Polatsk, the authorities use every possibility to exercise pressure on the human rights defender and hinder his human rights, civil and cultural activities.
We state our decisive protest in connection with the actions of the authorities seeking to limit the activities of the human rights defender Zmitser Salauyou and call on them to stop the unjustified pressurization of the human rights defender, immediately return to him the confiscated property and start looking for the real criminals!
Russia...
Russia in 'No Rush' for Gazprom Tie-Up With Ukraine's Naftogaz
From:
Business Week
Russia is in no hurry to merge state- controlled OAO Gazprom with Ukraine's NAK Naftogaz Ukrainy, as Prime Minister Vladimir Putin seeks tighter political and economic integration with the neighboring country.
"There's no room for rushing," Putin's spokesman, Dmitry Peskov, said today in a telephone interview. "All details will be discussed jointly during negotiations if Ukraine is prepared for such talks."
Putin proposed "unifying" the state energy companies after meeting with his Ukrainian counterpart Mykola Azarov in Sochi on April 30, only three days after Russia agreed to give Ukraine as much as $45 billion in gas supply subsidies. Russia is waiting for Ukraine's response, Peskov said.
Russia has sought some control over Ukraine's Soviet-era gas pipelines, which carry 80 percent of its Europe-bound gas exports. Gazprom, the world's biggest gas producer, cut supplies to Ukraine, twice reducing flows to Europe in the past four years because of pricing disputes.
It's too early to say how the two state companies may be unified, Peskov said. Russia may consider a share swap, which could value all of Naftogaz at "3, 4, 5, 10 percent of Gazprom," or some other stake, given that talks haven't started, he said.
Ukraine Gas Infrastructure
"We don't believe that anything like a full merger is on the horizon," Oleg Maximov, Valery Nesterov and Alex Fak, analysts at Moscow-based Troika Dialog, said in a note today. "Gazprom is clearly very interested in getting hold of Ukrainian gas infrastructure instead of sinking billions into uneconomic bypasses, such as South Stream."
A takeover of Naftogaz by Gazprom, Russia's gas export monopoly, is unlikely given the potential political backlash against Ukrainian President Viktor Yanukovych and the difficulty valuing Ukraine's state-held, debt-laden energy company, said Chris Weafer, chief strategist at UralSib Financial Corp.
An acquisition would be negative for Gazprom, said Lev Snykov and Svetlana Grizan of VTB Capital. "The market could perceive it as a well-off company saving a sinking one, which would obviously be detrimental for Gazprom sentiment."
A venture involving asset swaps could reduce supply risks to Europe by creating a greater economic, rather than political, basis for the relationship, Weafer said.
The proposal won't affect plans to build the South Stream gas pipeline to Europe, bypassing the neighboring country, Peskov said. Gazprom and Eni SpA's gas pipeline project, slated to reach central and southern Europe via the Black Sea and Balkans, seeks to diversify supply routes beyond Ukraine.
"Right now we only have a proposal," Gazprom spokesman Sergei Kupriyanov said by telephone today. "Work on South Stream is going ahead in full."
Gazprom supplies about a quarter of Europe's gas, and seeks to boost that to 32 percent in 2020.
Russia seeks 'flexibility' from Iran on nuclear fuel swap deal
From:
RIA Novosti
Moscow is counting on Iran to show "additional flexibility" regarding a proposed nuclear fuel exchange, a Russian deputy foreign minister said on Tuesday.
"Thus far, the parties' approaches on how to exchange nuclear materials, on what basis, when and in what amounts have not been brought to a common position," Sergei Ryabkov said.
"Nevertheless, we continue working and count on additional flexibility on the part of Iran, among others," he added.
He also said talks between the group of six international mediators on Iran's nuclear issue - Russia, the United States, China, Britain, France and Germany - were making very slow progress, but Moscow still hoped that a common line would eventually be worked out.
"I would not exaggerate the differences... I am cautiously optimistic," he said.
Iranian President Mahmoud Ahmadinejad said earlier in the day his country was ready to play a "constructive and positive" role in breaking the stalemate over the nuclear fuel swap deal.
The UN-sponsored deal to supply nuclear fuel for a research reactor in Tehran proposes Iran ship out low-enriched uranium to be processed into higher-grade nuclear fuel and then returned to Iran.
However, the deal stalled over Iran's insistence that it would accept nothing less than a simultaneous exchange inside the Islamic republic, saying it had not received guarantees the fuel would actually be delivered.
Ahmadinejad's offer came in talks with UN Secretary General Ban Ki-moon in New York on Monday on the sidelines of the 2010 Review Conference of the Nuclear Non-Proliferation Treaty (NPT).
Concerning Iran's cooperation with Europe, Ahmadinejad said Iran was ready to cooperate with the European Union on a wide range of issues.
Gulf Oil Spill To Benefit Russia
From:
Eurasia Review
The explosion at the Deepwater Horizon oil rig in the Gulf of Mexico has already been dubbed "Big Oil's Chernobyl," although it is still difficult to estimate the true scale of the disaster or the impact it will have on the local environment and the global economy.
The resulting oil spill is spreading rapidly, and is about to reach the southern coast of the United States, a region whose economy is almost entirely based on tourism. This could cause more than 150,000 people - fishermen, employees at hotels and restaurants - to lose their jobs.
British Petroleum, which owns the rig and is now to blame for the 700 metric tons of oil leaking into the Gulf of Mexico every day, will suffer huge losses as well. In addition to losing a $350 million drill rig, the company's stock plummeted 12%, pushing its market value down by $23 billion. On top of that, the company may be facing $4.6 billion worth of lawsuits. However, what worries international economists is not the future of the British company, but repercussions of the Deepwater disaster on the global market for black gold.
The market was quick to react; speculators immediately took advantage to try to increase oil prices. On May 3, the OPEC oil basket closed at $84.36 per barrel, up $0.23, while light sweet crude oil futures rose $0.04, to $86.19. Still, economists do not believe that there will be any serious impact apart from short-time speculative price increases and continued high oil prices.
The accident has not damaged the infrastructure of the global oil market. The well being drilled at Deepwater Horizon was a test well, and so its loss will not effect the overall commercial production of black gold. Oil production in the region has not stopped, and only a few gas rigs had to suspend operations. The oil spill may only disrupt onshore oil refineries in the southern USA, which relies on oil unloaded along the Gulf coast.
And yet, the Mexico Gulf accident may have far-reaching consequences, as it may jeopardize the U.S. energy program President Barack Obama presented in March.
The program contains plans to resume nuclear power plant construction and to channel substantial investment into the exploration and development of alternative energy sources, in particular into increasing shale gas production. The program also lifted the 20-year moratorium on development of offshore oilfields, which contain an estimated 1.6 trillion cubic meters of natural gas and 14.5 billion barrels of oil. The moratorium was introduced for environmental reasons.
The new energy program was expected to reduce the American economy's dependence on energy imports, on the one hand, and to generate additional cash to cover the budget deficit, on the other. The deficit for 2011 is projected to reach 10.6% of U.S. GDP.
The country's new energy policy came as an unwelcome surprise for the global oil and gas exporters, because America alone used to consume between 20% and 25% of oil and gas produced internationally. The decline in U.S. imports could have triggered major changes on the global hydrocarbon market, hitting commodity-based economies the hardest. Suffice it to recall how analysts were worried about U.S. companies' successes in shale gas production. True, shale gas is too expensive for commercial production now, and its output is meager, so it cannot revolutionize global gas prices - but only for the time being. But even now, it must be taken into account as a pricing factor.
And now this unexpected good fortune - an oil rig disaster threatens to thwart one of the key policies of the U.S. energy program. The U.S. government already said it would ban offshore drilling until the reasons behind the disaster are investigated.
Again, it is hard to assess the potential consequences of this decision, as we do not know how the situation in the Gulf of Mexico will develop, how soon the Americans will be able to cope with the consequences of the disaster and how long the new moratorium on offshore drilling will last. But one thing is for certain - an energy revolution which could have been triggered by the U.S. new energy program will at least be delayed.
From the Polish Scandal Files...
Interview: 'The Only Politically Acceptable Explanation Is To Blame Polish Pilots'
From:
RFE/RL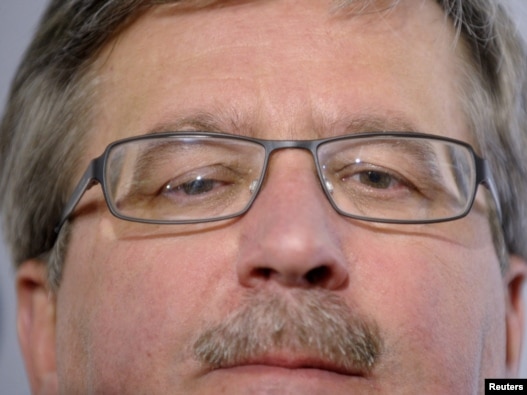 Parliament speaker and acting president, Bronislaw Komorowski
Twenty-two candidates are planning to participate in Polish presidential elections following the April 10 plane crash in Russia that killed President Lech Kaczynski and dozens of members of the country's top military, political, and church elite. The candidates include the president's twin brother Jaroslaw Kaczynski, the former prime minister.
As the country reels from anger and shock over the crash, Poles are also facing the possibility of a shift toward warmer relations with Moscow once the country is under new leadership. Evidence of such a thaw could be seen in today's decision by Moscow to release a batch of previously sealed files related to the 1940 Katyn massacre.
RFE/RL Georgian Service correspondent Nino Gelashvili talked to political expert Przemyslaw Zurawski vel Grajewski of the Natolin European Center in Warsaw and the University of Lodz about the emerging political situation in Poland.
RFE/RL: April 10 must have been a very emotional day. What were you most worried about upon hearing about the crash?
Zurawski vel Grajewski: Well, political stability is not the best word, but perhaps the political "balance" in Poland. Because even though there were politicians from all political camps who died in the crash, it was still the presidential camp -- connected to the Law and Justice Party -- that suffered the largest number of casualties. And this was the main party of opposition to the government's Civic Platform Party. Try to imagine 80 politicians from the U.S. Republican Party dying in a plane crash. That was the scale of the impact on the Polish political scene.
RFE/RL: How important was Lech Kaczynski in determining your country's domestic and foreign policy?
Zurawski vel Grajewski: He was a public enemy of the government. So Poland is deeply divided now. This has been the situation for the past two years. The president was the official head of the minority camp. I stress the word "official" since the real operational head was his twin brother. And the president was the target of very cruel and, in my opinion, unjust attacks during his presidency.
On the other hand, his supporters think that he was the symbol of a policy based on the dignity of Poland -- Poland as a real independent country that has its own point of view and that respects the point of view of smaller neighbors from the region, and not only that of great powers from the West. So for his camp, and for me as well, he was the symbol of an independent position -- the subject, not the object, of Central and Eastern Europe in relations with France and Germany, as well as Russia.
RFE/RL: Current polls show the Civic Platform candidate Bronislaw Komorowski, the parliament speaker and acting president, with a strong lead over Jaroslaw Kaczynski. But those polls were conducted before Kaczynski formally declared his candidacy. The elections are in mid-June. Is it possible to predict an outcome for the vote at this point?
Zurawski vel Grajewski: Every public poll that has been conducted in Poland since 1989 has proved to be wrong. They never guess the real result. I have no idea what the reality is right now. What I can say is that Komorowski was heavily criticized publicly for the speeches he gave during the period of mourning [following the crash]. They were very official and delivered without real sorrow. It was obvious that they weren't sincere.
But I don't think we can build any prognosis on that simple statement because a president is something more than a man who delivers speeches at funerals. There are two months ahead, and a lot depends on the results of the investigation of the origins of the crash.
RFE/RL: Are you hopeful the real cause of the crash will be uncovered?
Zurawski vel Grajewski: By the Russians? Of course, no. Whether the Polish services are able to do that, since the crash took place on Russian territory, I don't know. What I can say is that the only politically acceptable explanation is to blame Polish pilots. Because any other explanation would be cause for a huge scandal.
It could have been a mistake by the Russian air-traffic controllers, or the crash of a Russian-produced and Russian-repaired plane, or a deliberate action by the Russians -- all three of these scenarios would cause a huge international scandal. So the only acceptable political explanation is to blame the Poles. I think this will be the result of the Russian investigation.
Many people think Poland's relationship with Russia is going to change. Some say they will grow warmer, some say colder. Both of those views are now colored by the events of April 10. Do you see any potential for ties to improve?
Zurawski vel Grajewski: There's an expectation among a large part of the Polish population that ties will improve. In my opinion, it's very naive, but that's the way it is and that's part of our political reality. It's based on emotions. Ordinary Russians showed sympathy for our tragedy. On the other hand, we have to remember that there are real, tangible contradictions of interests between Poland and Russia. I mean contradictions in the energy dimension, contradictions as far as the future enlargement of NATO to include Georgia and Ukraine.
A lot depends on the Americans. If they maintain this "reset" policy with Russia, there will be no external power to support us. If we are too weak to oppose Russian interests, that could help reduce tensions. But the real reason for the reduction would be the fact that Russia was winning the game, not because the contradictions would disappear. Very few people speak publicly about this contradiction of political interests. The ones who could died in the crash.
RFE/RL: Do you think the Polish people care about the stance their future leader will take on Russia? Will it be an important election issue?
Zurawski vel Grajewski: Yes, I think it will. But Poland is deeply divided on that. I mean, there are a lot of people who think that we are too small and too weak to act independently. We currently have no American support, and of course no support from the EU, which is governed by the pro-Russian Germany and France. So we can do nothing -- that's one point of view.
The other point of view -- represented by a minority, by the late president's camp -- is that we have no other choice but to defend our own interests in cooperation with our smaller partners in the region. But I think this political camp is on the retreat. It has suffered the worst casualties.
I'm afraid that this naive point of view of relying on Western support will prevail and that we will try to "reset" our relations with Russia as well. And I'm afraid that Russia will play the way it played in 2006, with the Hungarians and the Czechs on one side and Poland on the other. At that time, the Czechs and Hungarians were good guys, and we were bad. Now, I think, we'll be chosen to be the good guys while the Baltic states will be the bad guys. And Poland won't be able to support Georgia as a state. The Polish state is paralyzed now. It will take a year, maybe two. ...It's a dangerous situation for all of us.
Drunk driving offences up
From:
The News
Over 2,000 drivers were caught drunk behind the wheel over the long May weekend in Poland, with 35 killed and 500 injured.
Police say the casualty rate could grow further as many were leaving it till Tuesday to make the journey home after visiting friends and family over the May1 to May 3 weekend.
The number caught drunk driving increased significantly compared to last year, said press spokeswoman at Police HQ in Warsaw, Grazyna Puchalska.
"Many [caught] were not those who got behind the wheel immediately after drinking, but those who drank the evening before," she said, reminding the alcohol stays in the body and can be detected hours after drinking.
Such a mug
From:
NPE
A 46 year-old mugger finally met his comeuppance when he bumped into an OAP from whom he had stolen a handbag several weeks ago.
The 70 year-old lady from Warsaw recognised the thief and tried to detain him by holding his jacket and hollering for help.
The mugger managed to escaped, but with the help of her sister, aged 67, she patrolled the area and called for police assistance when he reappeared with another man.
Eventually the thief and the other man, who was wanted for avoiding a 10-month prison sentence, were arrested.
Up in smoke
From:
NPE
Four hundred cannabis plants have been seized by customs officials in the small village near Ozarow Mazowiecki, central Poland.
Officers estimate a street value of around PLN 300,000 and three Vietnamese men have been arrested in connection with the haul.
Two of those in custody, were reportedly are illegal immigrants, having forged Bulgarian ID documents, according to Border Guard Section Agnieszka Golias.
Sport...
Alexander Hleb set for England return as Aston Villa, Man City and Sunderland eye up move for former Arsenal star
From:
Daily Mail
Former Arsenal star Alexander Hleb is considering a return to England to end his Barcelona nightmare.
Manchester City, Aston Villa and Sunderland head a host of clubs across Europe tracking the attacking midfielder.
Hleb, 28, is currently on loan at Stuttgart following a dismal first season with Barcelona after his £11.8m move from the Gunners in the summer of 2008.
His future at the Nou Camp looks bleak and while Hleb has not given up on his Barca future, a return the Premier League now looks on the cards.
The Belarusian spent a mixed three seasons at Arsenal but has previously expressed his regret over leaving the Gunners.
Now he could be set for a return to England and his agent, Uli Ferber, has revealed interest from Premier League clubs.
Ferber said: 'For now, he is looking forward to going back to Barcelona but he has good memories of England from his time at Arsenal.
'He likes English football and there has been interest from Premier League clubs.'
Cultural Scene...
Belarus Mass Media International Exhibition opens in Minsk
From:
BelTA
The 14th Belarus Mass Media International Exhibition has opened in Minsk, BelTA has learnt.
The exhibition is held in the Belarus National Exhibition Center Belexpo on 4-7 May. The forum is timed to the 65th anniversary of the Great Victory. On 5 May, the round table, Great Patriotic War in National Consciousness of Belarusian People. Historical Truth as Earnest of Future Development, will be held within the framework of the forum.
Attending the mass media forum are more than 600 exhibitors from Belarus, Russia, Ukraine, China, Cuba, India, Iran, Belarusian diaspora's mass media from Poland, Latvia, Lithuania and other countries, the MIR TV and Radio Station, Belarus-Russia Union State's mass media. Russian regions are among the most active participants of the exhibition. The Moscow, Smolensk, Bryansk and Nizhny Novgorod Oblasts will be represented by delegations of journalists, representatives of news agencies and publishing houses.
The international specialized salon, Content and Telecommunications, will be held within the framework of the exhibition for the first time. It will display new developments and technologies in the field of cable, mobile and IP-television.
The business program of the forum includes various roundtables, seminars and press-assembles to discuss legal and economic activity of mass media, professional development, practices exchange.
A number of forum's events will be held with the participation of representatives of the Belarusian diaspora abroad. On 4 May, the round table, Dialogue of Diasporas: Diaspora and Mass Media, will be held.
The forum also includes the round tables to discuss international and inter-confessional relations, the intercultural dialogue in Belarus and the cooperation with the Belarusian natives abroad.
The program of the first day of the forum includes the presentation of the Journalist Magazine and the Minsk-News Agency.
On May 5, an award ceremony of the winners of the 6th National Mass Media Contest will be held within the framework of the exhibition.
Endnote...
Lukashenka's six-year old son has iPhone
From:
Charter '97
Six-year old Kolya Lukashenka was noticed holding an expensive iPhone during a walk with his father in Gorky Park.
Alyaksandr Lukashenka and his youngest son Nikalai took a walk in Gorky Park in Minsk after visiting a hockey training game in "Yunost" indoor ice rink.
As Electroname.com reports, the fact that the boy had a white iPhone in his hands didn't go unnoticed in the Belarusian Internet. It is unknown what cell phone Nikalai's father uses.
Lukashenka wears watch 52 times more expensive than Obama wears
In a
related story,
Journalists managed to take picture of the watch of the Belarusian ruler during his recent visit to Lithuania.
Lj-user toxaby posted photos of Belarusian ruler's watch in his blog.
As blogger malishevsky writes, Lukashenka wears Swiss watch Patek Philippe Calatrava 5120j on his right hand. The watch costs almost 17,000 dollars, or 11,000 euros.
Russian Prime Minister Vladimir Putin and Moscow mayor Yury Luzhkov have the same "low-end" Patek Philippe watches.
Two months ago, blogger drugoi drew attention to the watches the United States President Barack Obama wears. Obama has a Jorg Gray 6500 Chronograph (the website says it is a presidential watch company) that costs... 325 dollars. We haven't lost zeros. As www.charter97.org calculated, US president's watch is almost 52 times cheaper than Lukashenka's one!