The 500th Being Had Times! Vitebsk sold to Russia; Poland renamed; Russia, Hugo Chavez and Kanat Saudabayev; News, Sport, Culture and Polish scandal
Belarus Sends Major City to Russia to Pay Gas Debt
From:
The Story
The city of Vitebsk, a city in Belarus, near the border with Russia and the previous capital of the Vitebsk Oblast, has been given over to the Russian Federation today in exchange for the canceling of a part of the current gas debt owed to the Russian giant Gazprom.
"As of 8:00am this morning, Minsk time, the city of Vitebsk is no longer a part of the Republic of Belarus" Thus the news was given to the presidential press corps by the President of the Republic of Belarus, Alexander Gregorovich Lukashenka. "I liked Vitebsk. It was a very nice city and it had the Slavonic Bazaar in the summer. But really, business is business and when we found out that Russia wanted it, well, it was just a natural trade over- good for both sides. And besides, they weren't really paying so much in taxes anyway."
According to Alexi Miller, president of Gazprom, Russia is also very happy with the situation. "First of all, they were really close to our border, which means that we had to look at them all the time. And, you know, there is an attraction. It is only natural. Anyway, we have been steadily raising prices and screwing over Belarus for a while now trying to get their attention. We didn't think they would ever notice us. But now that they know how big and strong we really are, obviously it is now time to do some serious collecting."
According to the
Charter '97 website
, the indebtedness of Belarus for gas for today is 94 billion 500 thousand dollars. The deal sending Vitebsk to the Russians reportedly is worth about half that. "They will still owe us the rest." underlined Miller.
Asked if Russia had any further designs on Belarusian property, Miller stated the following, "Well, let's just see how this deal works out. But if everything goes well, why not think big for next years price hike. And when we hit European prices, well, Minsk here we come!"
The President however was nonplussed at the negation of what had been, with its 342,381 inhabitants, the country's fourth largest city. "Well it is not like we let it go to the Americans. This is family. We're like brothers, Russia and Belarus. We understand each other, speak the same language. We would die for them, everyone knows this. And besides, what difference does it make anyway? We have enough problems with the cities we have left."
Meetings have been planned between Russian ministers and local Vitebsk politicians to determine the necessity and level of public assistance in getting Vitebsk up to Russian standard. "They are kind of lagging in the corruption sector." Underlined Russian Foreign Minister Sergei Lavrov, "We have got to jack that up and add in a bit more mafia and oligarchic influence. They are a bit too straight for Russian tastes, but we think they'll take quickly to the Russian style of business."
Work has already been started in moving the previous border posts.
Other Belarusian News...
Lukashenko: paradoxical relations with Russian government
From:
BelTA
The relations with the Russian government are paradoxical, President of Belarus Alexander Lukashenko told a government session held on 30 March to sum up results of the official visits to Venezuela and Brazil.
Opening the session, Alexander Lukashenko said it would be dedicated to the national security and independence of Belarus. "After the USSR collapse we became heavily dependent on one or two countries in many ways. Years have passed and however hard we tried to build equivocal relations in the Union State, EurAsEC, CIS, the big brother-small brother trend has become more pronounced," said the head of state.
The President stressed that Belarus has been patiently building relations and will build them with its "key partner where our people live, with whom we talk the same language, Russian language. But unfortunately not everything has worked out well recently and before that there were enough problems".
This is why, Alexander Lukashenko remarked, it is necessary to diversify political, economic and diplomatic relations. "Neither Russians nor Europeans should consider our contacts or some success in some areas in Latin America, Southeast Asia, Africa like some kind of a catastrophe and digression from the views we've always held," said the Belarusian head of state.
According to Alexander Lukashenko, Latin America can become one of the areas fit for diversifying Belarus' relations. The President pointed out the strategic importance of Belarus' securing a foothold on foreign markets, in particular, Latin America. "We are forced to do it not only by negative consequences of the global economic crisis but the worsening state of things in trade with our traditional partners," he said.
The head of state reminded that about half a year before the danger of dependence of Belarus' export to one market had become obvious. "When our sugar supplies were cut off, than milk ones, when additional barriers in trade in our machines were introduced. Among other reasons for our looking for new markets, trying to trade with new countries is Russia's stance in this complicated time of the economic crisis," said Alexander Lukashenko.
In his words, in recent years problems emerge at the drop of a hat and they are not always resolved productively and quickly. "Honestly speaking, the relations with the Russian government are paradoxical," said the President.
Alexander Lukashenko stressed that the Russian nation and Russia are not the problem. "Those who could try to put blame on the Russian people would be dishonest. The stance of the Russian government is another matter". The President remarked that biting the Russian government or Putin one more time is not the point. The large number of unaddressed issues caused by subjective reasons on the Russian side is the problem.
In his words, Belarus signs serious documents, reaches large-scale agreements with its strategic ally but just cannot secure transparent and fair conditions of the mutual trade. "Moreover, our actions meant to step up cooperation meet sarcastic remarks on their side. This is why more than ever we have to work hard in any part of the world, even the most remote one, where we can count on predictable and fair conditions of mutually beneficial trade and economic ties. Apart from Russia and Europe there are plenty other places. We should bring our products and projects to new regions and countries," said Alexander Lukashenko.
Latin America is a very promising area in this regard, the President believes. He mentioned relations with Venezuela as an example. Belarus and Venezuela started cooperating several years ago but have already reached the level of strategic partnership based on full trust and mutual respect. The bilateral trade is now colossal. "It is not just simple trade. We've brought modern knowledge, technologies, manufacturing to Venezuela. In the true sense of the word we've offered a hand of friendship to the Venezuelan nation. Unlike Western corporations that come to ravish resources and fatten their wallets, we have come to build up the wellbeing of our peoples through common effort," remarked the head of state. He added that the honest approach has resulted in Belarus' recognition in the region and in that Belarus has been allowed access to the sancta sanctorum of any country — projects in the exploration of mineral wealth and energy resources.
Alexander Surikov: Russia does not have imperial ambitions towards Belarus
From:
BelTA
Russia does not harbor any imperial ambitions towards Belarus, Ambassador of Russia to Belarus Alexander Surikov told a press conference in Minsk on 31 March, BelTA has learnt.
Alexander Surikov noted that for some time Russia had maintained the energy supplies scheme used in the USSR. "We understood that our neighbors (just like us) were going through a difficult transition period. Nevertheless, in 2006 we decided that it was time to move to equitable mutually beneficial partner relations on the market basis. I do not think those are imperial ambitions," the Ambassador said.
"We are talking about mutually beneficial market relations with Belarus and we always allow for special transition periods. For example, this period was between 2007 and 2011 for the gas. Even after this period is over, the gas price for Belarus will be minus 30% of the export duty," Alexander Surikov said.
He underlined, "Russia will definitely keep supporting and helping Belarus. This pertains to loans, among others."
Too early to quit Union State integration
It is too early to talk about the decline of the Belarus-Russia integration, Ambassador of Russia to Belarus Alexander Surikov told a press conference in Minsk on 31 March, BelTA has learnt.
According to the Ambassador, "an economic foundation is being laid for the future political integration".
"I realize that both sides have some grievances. But we have no other option. We are not competitive on the European market yet. There are many issues with Asian and American markets, too. These markets have been largely conquered by others," the Ambassador said.
Alexander Surikov informed that the elaboration of Belarus-Russia energy cooperation strategy is in progress. According to the diplomat, efficient integration in energy requires a joint mutually beneficial project (establishment of joint ventures, joint export, etc). "We do not welcome one-sided moves. This pertains to oil, gas and nuclear energy," Alexander Surikov underlined.
Commenting on the acquisition of 50% of Beltransgaz shares by Gazprom, the Ambassador said, "At present we should think of the ways to further develop the joint business to the advantages of the both states." Alexander Surikov added that this might include many efficient joint projects, like the construction of underground gas storages on the EU border to cell gas during peak periods and the manufacture of difficult-to-obtain fertilizers.
The diplomat emphasized that there is no harassment of the Russian citizens, oppression of the Russia language or culture in Belarus. "There is no harassment," Alexander Surikov said.
WiMAX net unfolds in Minsk
From:
BelTA
The test operation of a WiMAX-enabled wireless broadband Internet access network has begun in Minsk, BelTA learned from Andrei Soborov, Beltelecom Deputy Director General for Commerce.
Initially the IEEE 802.16e network relies on 22 Huawei base stations operating in the 3.5GHz frequency range.
Andrei Soborov said the first segment of the network was launched in Minsk on 31 March. "The key purpose is to assess its capability to handle the load and to determine the optimum way of development. It can be done only together with users," he stressed.
The WiMAX-based broadband will be offered to individuals through several tariff plans under the trademark byfly. Huawei USB modems will be issued to customers for the duration of their contracts. The company can give first-time clients some time to test the technology.
Minsk is covered by 22 WiMAX stations, each providing Internet access within 1km radius. Housing density can reduce the coverage.
WiMAX (Worldwide Interoperability for Microwave Access) is an advanced standard for the wireless broadband data transmission. WiMAX specifies data, voice and video transmission. It will allow setting up cellular networks offering video calls (simultaneous video and voice data exchange) as well as Internet access.
Beltelecom is Belarus' national landline communication monopoly. Over the years the corporation has built a branched telecommunication network in the country and fiber optic backbones with connections with the neighboring countries. Beltelecom works out brand new telecommunication services, provides connectivity between cities and countries and ensures the operation of landline television and radio broadcasting channels. Satellite communication is enabled through a complex of satellite communication terminals Teleport. Beltelecom has over 3.8 million subscribers.
Economics...
Vitebsk oblast cooperates with 77 Russian regions
From:
BelTA
The city of Vitebsk is now, of course a part of Russia
The Vitebsk oblast has signed 62 regional agreements on economic and cultural cooperation with the regional administrations of the Russian Federation, BelTA learnt from the economy committee of the Vitebsk oblast executive committee.
The oblast executive committee has 21 agreements with the Russian regional administrations. Regional and town authorities cooperate with 41 regions of the neighboring country on the basis of such agreements.
Vitebsk companies have formed economic partnerships with 77 regions of the Russian Federation including Moscow and St. Petersburg, Moscow, Leningrad, Smolensk, Sverdlovsk, Ryazan, Yaroslavl, Tula and Samara oblasts. Russian regions account for 51% of the aggregate exports. In 2009 the trade with the Russian Federation reached $3.1 billion, with export as large as $660 million. Meat and dairy products account for 25% of exports, textile goods for 13%, machines and tools for 12%, construction materials for 11%, footwear for 11%. Bilateral cooperation allows the companies of the Vitebsk oblast to develop commodity distribution networks in the Russian Federation. The Belwest joint company has more than 30 outlets in Russia. Vitebsk Kovry, Vityas, Fortex, Polymerkonstruktsia, Alliance-Plast, Marko have wide commodity distribution networks too.
The makers of cable products Soyuz-cable and Energokomplekt as well as Beltrubplast, a producer of polyethylene tubes, sockets and fittings, make part of Russian holding companies who are present on the European market.
In 2009 Russian investments accounted for 94.5% of the total investment in Vitebsk. Russian direct investments made up 30% of the total volume of direct investments. The oblast is implementing several large projects with the help of Russia partners such as a logistics center in Gorodok, and a project to build a hypermarket in Vitebsk. Russian investments are also present in agriculture processing and veterinary preparations industries.
The economic cooperation with the frontier Russian regions, namely the Smolensk and Pskov oblasts, is among the priorities for the Vitebsk oblast. More than 100 companies of the Vitebsk oblast have their offices in the towns of the Smolensk oblast.
Belarus' trade with Kazakhstan up 24.7% in January
In January 2010 Belarus- Kazakhstan trade increased by 24.7% compared to the same month a year ago to a total of $24.9 million, BelTA learnt from the press service of the Economy Ministry.
In January Belarus' export to Kazakhstan surged by 44% to $20.3 million. Import shrank by 21.6% to $4.6 million. Belarus' trade surplus with Kazakhstan made up $15.7 million, up by $7.5 million over January 2009. The largest positive contributions to Belarus' exports were tires, sugar, butter, plastic containers, and milk.
In January 2010 Belarus' trade with Moldova went up by 23.2% to $11.9 million. Export skyrocketed by 80.2% ($7.6 million), import reduced by 21.3% ($4.3 million). Belarus had a $3.3m surplus (in January 2009 Belarus had a $1.2m deficit).
In January 2010 Belarus' trade with the CIS countries totaled $1965.5 million, up 21.2% compared to the same month a year ago. Export reached $711.3 million (up 46.7%), import – $1254.2 million (up 10.3%). The deficit in trade with the CIS came to $542.9 million, down $109.7 million from January 2009. Belarus' trade with Russia amounted to $1689.2 million, up 17.5% over January 2009. Export to Russia made up $542.6 million (up 39.5%), import – $1146.6 million (up 9.4%). Belarus' trade deficit with Russia came to $604 million, down $54.9 million against January 2009.
Belarus' trade with Ukraine in January increased by 42.6% over the same month 2009 to $195.6 million. Export surged by 62.9% to $100.5 million, import – by 26% to $95.1 million. Belarus' trade surplus with Ukraine made up $5.4 million (in January 2009 Belarus had a $13.8m deficit).
From the Foriegn Press...
Chavez Seals Arms-for-Oil Deal With 'Europe's Last Dictator'
From:
Fox News
Since 1992, when America cut off the sale of arms and spare parts to Venezuela, Hugo Chavez has been cobbling together a military machine made up mainly of weapons from Russia and other non-Western suppliers. Last week, in an oil-for-arms deal with "Europe's last dictator," Belarusian President Alexander Lukashenko, Chavez was able to add a key element to his growing arsenal: advanced ground-to-air radar.
While most experts say the deal itself doesn't change the balance of arms in the region, they do concede that it represents a strengthening of Chavez's military might. Moreover, they say the deal also cements an alliance between the respective bad boys of their continents and allows both some wiggle room in their relations with nearby dominant powers.
For Chavez, that would be the United States, which has been weaning itself from Venezuelan oil. For Lukashenko, it is Russia, which has maintained a stranglehold over his nation's energy supplies.
Chavez's new radar system, called the Tor M-1 Missile Defense System, can detect aircraft and cruise missiles and can operate in "an environment of intense jamming," according to public military profiles of the system.
"It is something that has to be contended with," said John Pike, director of Global Security.org, who said the military is the basis of Chavez's authority and legitimacy.
"To him a strong military equals a strong country," he said, "and what is good for the military is good for the country" -- even if the actions sometimes seem senseless.
"Sometimes he makes these moves irrationally, just to get attention," Pike said.
But Anna Gilmore, a military analyst with Jane's Defense weekly, said the deal was done not only to upgrade Chavez's military but to cement a relationship with Belarus as part of Venezuela's strategy to widen relations and commercial dealings with countries outside the Americas. "The new oil market takes up some of the slack American cutbacks have caused," she said.
The deal also aided both countries in a time of economic recession, she said. "Venezuela, which has no currency reserves left, gets to buy the radar with oil instead of hard currency. And Belarus gets 80,000 barrels of oil a month without having to dip into its currency reserves."
Asked if possessing a mix of arms from many different sources might cause Chavez problems, she said "the deal compliments the military equipment he has procured so far and strengthens his arsenal."
Venezuela is on a military buying spree. It has just closed a deal with the Russian arms export agency for the purchase of tanks, and it recently bought a small fleet of airplanes from China, ostensibly for drug interdiction.
For Belarus, the deal provides a boost for Lukashenko. Since 2007, when Russia stopped providing subsidies for Belarusian energy supplies, the pariah state of Europe has been searching for allies. Like Venezuela, Belarus has been drawn to the same clique of outcast states—Iran in particular--to bolster its economy and give it a place in the international system.
The most significant boost, according to Matthew Clements, a London-based Eurasia analyst with Jane's Defense, was to "relieve pressure on Lukashenko's ability to keep providing generous benefits to the welfare state "that Belarus has become.
"Without the benefits, his hold on power would be undermined," Clements said. "It relieves the pressure on him. It doesn't solve all his problems, but it helps."
OSCE chairman-in-office meets with opposition, pro-government politicians in Minsk
From:
Navany
Kanat Saudabayev
Kanat Saudabayev, the new chairperson-in-office of the Organization for Security and Cooperation in Europe (OSCE), met with representatives of parties and NGOs in Minsk on Tuesday to discuss the situation in Belarus.
The Kazakh foreign minister arrived in Belarus on Monday evening.
The meeting was attended by representatives of both opposition and pro-government parties, prominent Social Democratic politician Mikalay Statkevich told BelaPAN.
Taking part in the meeting were, among others, the leaders of the Belarusian Popular Front, the Communist Party of Belarus, the United Civic Party and the Belarusian Party of the Left.
"The theme of the meeting had not been determined but it all boiled down to what matters most - Belarus` elections. Representatives of pro-government organizations said that elections are fair and democratic, while opposition politicians pointed to multiple irregularities and vote rigging during elections," Mr. Statkevich said.
Speaking at the meeting, Mr. Statkevich said that Belarus "is moving forward but not in the direction where most other OSCE countries are." "I said that some of the people present at the meeting had served sentences on criminal charges for their political activity. Apart from this, I spoke about violations committed in the formation of election commissions, the registration of candidates in the coming elections for local soviets," he noted.
According to Mr. Statkevich, the OSCE chairman-in-office spoke about "good" relations between the leaders of Belarus and Kazakhstan. "At the end of the meeting he also said that `there`s a fairly good situation in Belarus` if such a hot debate between representatives of various opposition and pro-government organizations takes place freely," the politician said.
Uladzimir Andreychanka, speaker of Belarus' House of Representatives, told the new OSCE chairperson-in-office that Belarus is ready to support Kazakhstan's initiatives during its chairmanship. Belarus is a "very active and responsible OSCE participant" and suggests that the Organization's decisions have a "practical and specific content," Mr. Andreychanka noted.
Mr. Saudabayev expressed gratitude to Belarus for its consistent support of Kazakhstan's OSCE activities. He said that a priority of Kazakhstan's chairmanship is to hold an OSCE summit in 2010. "The most recent summit took place in 1999," he said. "The situation in the world has changed since then, and not for the better. New threats have emerged, which need to be addressed."
Belarus is ready to support Kazakhstan's initiatives during its OSCE chairmanship, says House of Representatives speaker
Belarus is ready to support Kazakhstan's initiatives during its chairmanship of the Organization for Security and Cooperation in Europe (OSCE), Uladzimir Andreychanka, speaker of Belarus' House of Representatives, told the new OSCE chairperson-in-office, Kazakh Foreign Minister Kanat Saudabayev, at a meeting in Minsk on Tuesday as quoted by BelaPAN.
Belarus is a "very active and responsible OSCE participant" and suggests that the Organization's decisions have a "practical and specific content," Mr. Andreychanka noted.
"Belarus plays a very important role in ensuring security within the framework of the OSCE," he said. "In particular, the country is actively involved in efforts to combat trafficking in human beings and drugs."
Moscow pledges more loans for Belarus
From:
Navany
Russia will continue supporting and helping Belarus, including through loans, Ambassador Aleksandr Surikov told reporters in Minsk on Wednesday, as quoted by BelaPAN.
The diplomat stressed that Russia was not going to "buy Belarus' loyalty." "After the Soviet Union's break-up we became independent states but preserved certain continuity in the sphere of energy deliveries. In 2006 we decided that it's time to switch over to equal relations," he said.
Referring to Minsk's constant calls for reducing the price of energy resources supplied by Russia, Mr. Surikov noted that "we are not asking [Belarus] to sell us milk and tractors at lower prices."
The ambassador said that work was underway to iron out bilateral differences over trade in energy resources. "There are energy resources, we must build reasonable relations up to joint business, so that it is beneficial for both sides," he noted.
At the same time Surikov said, Russia may walk away from the construction of Belarus' first-ever nuclear plant if the project is financed with China's loan. "If the Chinese finance the construction of the Belarusian nuclear power plant, I have doubts as to whether Russia will participate," he warned.
"We don't want to share with young Chinese firms. One must buy new technologies, while the Chinese, it seems to me, would like to spy them out. If they take part, the Russian side will propose reviewing certain aspects," the diplomat said.
In particular, he said, Russia could build the plant itself, while the infrastructure around the facility could be constructed by "another party."
Mr. Surikov said that Minsk and Moscow were in talks on a contract for the construction of the plant. "The price of the construction is being discussed so far," he said.
Russia's was selected by the Belarusian government as the prime contractor for its nuclear power plant project in early 2009. Minsk earlier announced its plans to secure a Russian loan for the ambitious project.
Belarusian Journalist 'Loses Citizenship'
From:
RFE/RL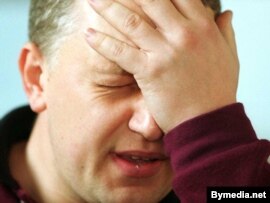 Paval Sharamet
Independent Belarusian journalist Paval Sharamet says he has been stripped of his Belarusian citizenship, RFE/RL's Belarus Service reports.
Sharamet, who is permanently living in Moscow, told RFE/RL that he has received official notification from the Belarusian Embassy in Moscow that his citizenship has been annulled.
Sharamet said that, according to the letter, he is losing his Belarusian citizenship because he also has a Russian passport.
"They knew very well 10 years ago that I have dual citizenship; I do not understand why they are doing this now," Sharamet said.
According to Belarusian law, a Belarusian national can be deprived of his/her citizenship in the event that he/she serves in the armed forces, police, security agencies, justice system, or any other state bodies of another country.
But Sharamet told RFE/RL that during his long-term residence in Russia he has never served in any Russian government agency.
He added that his lawyers have told him that there are no legal reasons for him to be stripped of his citizenship.
"The situation reminds me of the Soviet period," Sharamet said, "when dissidents were deprived of Soviet citizenship without any court decision and kicked out of the country."
He added that the decision to strip him of his citizenship is politically motivated and may be a part of broader crackdown on journalists in Belarus.
From the Opposition...
Natallya Radzina: "I am waiting for interrogation"
From:
Charter '97
Natallya Radzina
Searches, seizure of computers, documenting marks of beating in hospital, taking part in a human rights forum in London, waiting for summons for interrogation – this is how the today's life of a Belarusian journalist looks like.
We publish an interview with Natallya Radzina, a charter97.org journalist.
- Index on Censorship, the British leading human rights organization, nominated you and the website charter97.org for the Freedom of Expression Award. What did it mean for the website and you?
- Today, when the charter97.org website suffers from pressure by the authorities, solidarity of the international community is vital for us. At the ceremony in London, many famous British human rights defenders, journalists, public figures supporting freedom of speech in the world talked to me. The problem of censorship remains acute in many countries. The fact that Belarus, which is a European country, was put on the list of Index on Censorship among such countries as Ethiopia, Azerbaijan, Chechnya, Iran, Somali, and China gives a clear demonstration of the state of freedom of expression in our country.
I find especially important the fact that the problem of human rights and freedom of expression in Belarus is being discussed in the world. Speaking with the British, I noted how it was difficult for me to tell them about 16 years of dictatorship in my country. This is a half of my life. People have been killed, abducted, arrested, harassed, and blackmailed in Belarus. My native country doesn't have oil and gas, but 10 million people live there. London has almost the same population. I told British people, imagine that the same things are happening with you and your families, but the world is just watching terror and says: but people are not killed in streets.
We, independent journalists, continue to tell the truth about the situation in our country in spite of the pressure by the authorities. We call on the world to tell the truth about Belarus, too. It is far more painful to watch unscrupulous flirting of certain European politicians with dictator Lukashenka than being hit in the face by a riot militiaman.
- By the way, is there any news about the seized computers?
- I got a notice by mail informing me that the seized equipment had been sent for "technical examination". Officers of the State Expert Forensic Center of the Ministry of Internal Affairs are to carry out of the examination. I filed a complaint to the prosecutor's office of the Leninski district in Minsk at flagrant violations during the search: plainclothes militia officers at first tried to use force to burst into the apartment, without showing a search warrant, and hit me in the face. There were also violations in the procedure of seizure serial numbers of system unit were not recorded. I have apprehensions that they can record information on our computers that wasn't there before.
I am waiting for an interrogation now. The situation is ridicules. I have been searched, seized computers, bur haven't been interrogated! Some days after the search I phoned investigator of the Leninski district militia department Alyaksandr Chuy and asked to summon me for questioning. He refused and said he had been ordered to carry out a search, but the case was investigated by an investigator from Homel. Then investigator from Homel Alyaksandr Puseu called me and invited to appear in the Savetski district militia department of Minsk on March 26. I wasn't able to come because I was in London at that time. I will probably be interrogated this week.
- Do you believe that journalists are summoned for questioning in connection with the "hunters' case"?
– No, I don't. It is true that we received an e-mail letter signed by relatives of the militiamen, who had been arrested in Homel in connection with the "hunters' case". We have never been interested in the struggle between the Ministry of Internal Affairs and the KGB, so we haven't covered this. We check information before publishing it on the website. It is necessary to give a hyperlink to a source or link to concrete people in an article. The letter was signed by militiamen's relatives, so e decided to publish it. Later, there appeared on the Internet that thee people bear no relation to the letter. We took a decision to remove this article from the website that was performed in due time.
Then I got calls from several unknown people who suggested me to meet and hand over some documents. I flatly refused to meet. So, all claims to me are absolutely ungrounded.
- So why do the authorities organize attacks on offices of independent media and websites?
- I think it was a provocation organized by the secret services. They needed an excuse for eliminating the last sources of free information in Belarus. To say more, the attack on the website coincided with announcement of Andrei Sannikov, the leader of the European Belarus civil campaign, about his intention to run for presidency. The office was searched the day after we had published an interview with him.
Another confirmation of the fact that the "hunters' case" was just an excuse is that the charter97.org website lost its office. The owner of the apartment, where we worked, is being pressed and she has to terminate the rent agreement with us.
It is absolutely evident that militia has to perform a political order to eliminate the freedom of speech in Belarus. But I believe it is impossible in the center of Europe in the 21st century.
Catch-22 in 'improved' Electoral Code
From:
Viasna
Vitebsk human rights activists addressed the chair of the Central Election Commission with a statement pointing to a legal conflict in the Electoral Code. Article 58 of the Electoral Code states: 'Citizens of the Russian Federation, permanently residing in Belarus are entitled in the manner prescribed by the Code to participate in the elections of deputies of Local Councils of Deputies, in accordance with the international agreement of the Republic of Belarus and the Russian Federation.' In other words, the citizens of the Russian Federation, which currently take part in elections to local councils of deputies of 26th convocation, are endowed with the same rights and obligations as the citizens of the Republic of Belarus, including the right to campaign. However, Paragraph 5 of Article 45 of the EC clearly states that 'foreign citizens and stateless persons have no right to take part in agitation activities.' Violation of this provision of the Code may result in civil prosecution and a fine of 700,000 to 1,750,000 roubles.
Thus, human rights activists emphasize that the Electoral Code of the Republic of Belarus has a legal conflict. It arises from the fact that Russian citizens have the right to participate in the elections of deputies of local councils, including pre-election campaigning. On the other hand, as foreign nationals, in accordance with Paragraph 5 of Article 45 of the Code, they have no right to take part in campaigning and may be subject to civil punishment in the form of a fine.
Human rights activists suggested that the CEC addressed the House of Representatives of the National Assembly of Belarus with a proposal to remove the legal conflict from the Electoral Code of the Republic of Belarus, and thereby restore the right to pre-election campaigning of Russian citizens who are running in the local council elections.
In the reply, signed by the Chair of the Commission Ms. Yarmoshyna, the CEC provides an official vision of the problem of campaigning by candidates for deputies of Local Councils of Deputies, who are citizens of the Russian Federation.
'As for the presence of a conflict between Articles 45 and 58 of the Electoral Code of the Republic of Belarus, which is contained in your appeal, we would like to state the following information. We consider it necessary to note that the Electoral Code has a complicated structure, as it regulates the conduct of four types of election campaigns, recall of deputies and members of the Council of the Republic, the holding of national and local referenda. In this regard, the General Part of the Code sets the standards that define universal procedures for all the mentioned campaigns. The Special Part of the Code sets out rules that are activated only for a specific campaign or to implement certain procedures. The differentiation of norms in this way avoids duplication and facilitates the perception of the content of the law. In particular, the general rules of the Electoral Code provide for participation in the elections, including in the election campaign, of the citizens of the Republic of Belarus only. The Special Part of the Code (Article 58) stipulates that citizens of the Russian Federation, permanently residing in Belarus have equal rights in elections to local councils of deputies of the Republic of Belarus. The priority in this case would be the provisions of Article 58 - the so-called 'special rules'. We would also like to inform that in practice the application of the above rules does not cause any difficulties or ambiguous understanding. Thus, in our opinion, the right of the citizens of the Russian Federation to campaign in elections to local councils of deputies of the Republic of Belarus does not require additional regulation by the Electoral Code.'
The Vitsebsk human rights activist Leanid Svetsik believes that the Belarusian CEC's respond to the shortcomings of the current electoral law is very nervous, especially if these shortcomings are pointed to by human rights defenders. He said that the Belarusian Central Election Commission, instead of admitting that the Electoral Code contains a conflict that affects the rights of candidates, decided to pretend 'not to see' it at all.
Russia...
Putin Visits Chavez in Russian Bid to Grow in Obama's Backyard
From:
Businessweek
Prime Minister Vladimir Putin will pay his first visit to Venezuelan President Hugo Chavez tomorrow as Russia seeks to regain lost influence in Latin America through energy and arms deals.
The highlight of the one-day trip to Caracas may be the formation of a joint venture to pump oil from Venezuela's Orinoco Belt. Putin also plans to meet Bolivia's Evo Morales, who like Chavez opposes U.S. policy in the region.
Chavez, who visited Russia eight times during his decade in power, has wooed Putin by signing more than $4 billion in arms deals and inviting state energy companies OAO Gazprom and OAO Rosneft to explore for oil. Venezuela was a lone supporter of Russia during the five-day Georgian war in 2008 and hosted joint naval war games later that year.
"Chavez has already signed up for more weapons than he can buy, and Russian energy companies aren't really interested in exploration and production in Venezuela," said Pavel Baev, a professor at the International Peace Research Institute in Oslo. "It's much more a political project."
The two countries fed off each other's anti-Americanism as oil prices hit all-time highs in the final year of the Bush administration. Now, under the conditions of the global financial crisis, Putin's successor President Dmitry Medvedev is seeking a more "sober" foreign policy, Baev said.
Arms Customer
"Chavez isn't the same as he was one or two years ago, but he still has money," said Fyodor Lukyanov, editor of Russia in Global Affairs magazine. "Russia is trying to get out of it as much as it can."
Venezuela turned into Russia's largest Latin American arms customer after the U.S. suspended weapons sales amid a chill in relations. Chavez has placed orders for Sukhoi jet fighters, Russian-made helicopters and Kalashnikov rifles.
Venezuela also backed Russian encouragement for closer cooperation among producers of natural gas, with Energy Minister Rafael Ramirez calling for exporters of the fuel to follow the same principles as the Organization of Petroleum Exporting Countries.
Igor Sechin, Putin's deputy for energy, has pushed for the formation of a venture between Petroleos de Venezuela SA and oil producers Rosneft, Gazprom, OAO Lukoil, OAO Surgutneftegaz and TNK-BP. The joint company may spend more than $20 billion pumping oil in the Orinoco Belt, Sechin said after meeting Ramirez in Moscow in February.
"In the present economic situation, Gazprom won't be ready to invest serious money in Venezuela," said Lukyanov. "It's more symbolic, a reminder that Russia is still the biggest player on the hydrocarbon market."
No Trespassing
Russia shouldn't be seen as trespassing in America's backyard because the U.S. itself reduced economic cooperation with Venezuela, said Vladimir Sudarev, deputy director of the Latin America Institute at the Russian Academy of Sciences.
"Putin feels he's repaying a debt by going, since Venezuela opened the gates of Latin America to Russia," said Sudarev. "Competition with the U.S. is pointless in Latin America, but Russia can look for niches."
Medvedev is expected to visit Latin America later this month for a summit of the so-called BRIC nations: Brazil, Russia, India and China. He visited Venezuela in 2008 on a Latin American tour that included stops in Peru and Cuba.
Russia Mourns Attack Victims and Considers Response
From:
New York Times
At the Park Kultury subway station in Moscow on Tuesday, a photo had been posted of a girl who was missing after the bombing there the day before
When two bombs ripped through Moscow subway stations at rush hour on Monday morning, Russia's leaders reached for the kind of hunt-them-down-and-kill-them statements that propelled the country through two brutal wars in the Caucasus.
President Dmitri A. Medvedev boasted that previous bombers had been "annihilated to ashes," calling them "beasts, simply." Prime Minister Vladimir V. Putin told the police to "drag them out of the bottom of the sewer and into the light of God."
So it was a surprise, barely a day after images of bloodied commuters flooded Russian airwaves, when Mr. Medvedev made a point of publicly discussing poverty and unemployment in the North Caucasus, which he has said are the root causes of violence there. He said that resolving those problems was "even harder than looking for and destroying terrorists," but that he planned to continue pursuing both aims.
"People want a normal and decent life, no matter where they live," he said, in a meeting with his top human rights adviser. "The federal authorities, along with the authorities in the Caucasus region, are obliged to create these conditions."
Monday's bombings came at an uncertain moment for Russia's Caucasus policy, which had been wavering between the muscular clampdown championed by Mr. Putin as president and the cautious liberalization introduced after Mr. Medvedev took office.
If attacks become a regular occurrence in Moscow, as they were for most of Mr. Putin's presidency, "it means war, war against terrorism," said Aleksei V. Malashenko, a Caucasus specialist at the Carnegie Moscow Center. If they are not repeated, he said, Mr. Medvedev could continue to steer away from Mr. Putin's approach, which relied almost entirely on force.
Mr. Malashenko pointed especially to a decision Mr. Medvedev made early this year, when he appointed the businessman Aleksandr G. Khloponin — not a general or a veteran of the F.S.B. security service — as his special envoy to the region, giving him the task of creating new jobs.
"It meant they recognized the old approach was failing," he said. "I think this is the last hope. If it fails once again, it is over."
No group has claimed responsibility for the bombings, which killed 39 people, but the authorities have said they believe that the attackers were from the North Caucasus, the restive border region that includes Chechnya, Ingushetia and Dagestan.
A law enforcement official, speaking on condition of anonymity, told the Interfax news agency on Tuesday that two female suicide bombers and their male companion had arrived in Moscow on Monday morning on a bus that carried shuttle traders from the North Caucasus.
The official said the bus driver had identified the women from photos. He said suicide bombers had used the bus system to carry out two subway attacks in 2004, since "the passenger flow on private buses, unlike trains and planes, is virtually impossible to control," according to Interfax.
Russian politicians on Tuesday pressed their leaders to take a tougher line on terrorism. State prosecutors revived a proposal to collect fingerprints and DNA samples from all citizens of the North Caucasus.
Aleksandr Gurov, a deputy in the State Duma, complained that political correctness was tying authorities' hands when dealing with ethnic minorities.
"How much can we play at so-called tolerance?" said Mr. Gurov, who sits on the Duma's security committee, to the Web site GZT.ru. "How many cases have there been when Caucasians beat up policemen and the police could do nothing about it? What is this outrage?"
Magomed Mutsolgov, who heads a nonprofit organization in the republic of Ingushetia that documents abductions and killings during antiterrorist operations, said he worried that policies in the region were bound to swing back to patterns set under Mr. Putin.
One of Mr. Medvedev's first major appointments was Yunus-Bek Yevkurov, who succeeded Ingushetia's hard-line leader. Mr. Yevkurov reached out to the opposition and invited citizens to tell him their grievances. The new leader, Mr. Mutsolgov said, "really does have liberal views, but he is not supported by the law enforcement structures."
Asked if Monday's attacks meant the experiment was coming to an end, Mr. Mutsolgov said, "I don't think so, and I certainly don't want it, but it is absolutely possible."
The choice of Mr. Khloponin, too, has underlined the difference between Mr. Medvedev and Mr. Putin, who was willing to extend extraordinary benefits in exchange for security guarantees. At a meeting with senators last month, Mr. Khloponin publicly challenged Chechen strongman Ramzan A. Kadyrov, saying he traveled internationally as if he were the president of an independent country.
"Did he think Saudi Arabia was going to give him money?" Mr. Khloponin asked about Mr. Kadyrov, according to the newspaper Kommersant. "We have a Foreign Ministry for that kind of negotiation."
Such a rebuke would have been unlikely under Mr. Putin, who honored Mr. Kadyrov with the Hero of Russia medal, the country's highest honor, even as human rights organizations documented his forces' use of intimidation and torture.
"The policy that Putin used in the North Caucasus was pure force," said Tanya Lokshina, who researches the region for the Moscow office of Human Rights Watch. "Today, what we see is a bunch of confusing tendencies. On the one hand the policy of force continues, but at the same time Khloponin is appointed, who is no man of force, and whose task is to focus on the social infrastructure."
Thomas de Waal, the co-author of a book about the first Chechen war from 1994 to 1996, said he had watched Russia's Caucasus policy evolve gradually since the days of Boris N. Yeltsin.
"They have realized that complete colonial subjugation is not an option," said Mr. de Waal, now a senior associate at the Carnegie Endowment in Washington. Since that approach demanded too much manpower and resources, Russia adopted the model the British used in India, Mr. de Waal said, "co-opting the locals to run your strategy."
"The strategy is cleverer, but a long-term strategy means having a different idea of what it means to be Russian, and that they are 'us' and not 'others,' " he said. "I think they are a million miles away from that kind of understanding, which is what is needed to make the North Caucasus part of Russia."
Nuclear disarmament deal with Russia faces obstacle in U.S. Senate
From:
Xinua
After a landmark agreement between the United States and Russia to reduce both nations' nuclear stockpiles, President Barack Obama faces the challenge of convincing the Senate to ratify the treaty.
Obama and his Russian counterpart Dmitry Medvedev agreed on Friday to sign the new arms control treaty, which would reduce the nuclear arsenals of each country and mark what Obama billed as a pivotal step toward ending the threat of nuclear weapons in the world, a plan he first voiced in a speech in Prague last April, just months after taking office.
"Today, we have taken another step forward in leaving behind the legacy of the 20th century while building a more secure future for our children," Obama told reporters on Friday morning.
The new treaty limits both Russia and the United States to 1, 550 strategic warheads each, as well limiting deployed bombers able to carry nuclear weapons, submarine-based ballistic missile launchers and intercontinental ballistic missile launchers to a total of 800.
The new treaty will reduce by 30 percent to 40 percent the amount of Russian nuclear weapons that could be used against the United States. Under the previous treaty, 1,600 launchers and 6, 000 warheads were permitted for each country.
But a two-thirds majority is required in the Senate for the ratification of the treaty, and Democrats lack that kind of voting power.
And while no consensus has emerged in the Republican Party, some Republicans said they would not vote in favor of the new treaty until the Obama administration comes forward with a plan to update the United States' nuclear weapons cache.
Darrell West, an expert on U.S. politics at the Brookings Institution think tank, said that if Republicans insist on modernizing the U.S. nuclear arsenal, it could become an obstacle to ratification.
With the U.S. national deficit running at more than 1 trillion dollars, there is no money for any serious changes in the United States' nuclear stockpile, he said.
And aside from those demanding upgrades for the U.S. arsenal, certain elements within the Republican Party will be especially difficult to win over.
"Military hawks will be the toughest obstacle in the Senate because they are very suspicious of anything involving Russia," West said. "They will be reluctant to support any kind of treaty."
But in spite of those hurdles, the treaty could still be ratified this year, as some Republicans have spoken of it favorably, such as Senator Richard Lugar, the ranking Republican on the Senate Foreign Relations Committee, West noted.
"What he says will carry a lot of weight with his colleagues," West said.
In a statement released on Friday, Lugar urged the Senate to ratify the treaty.
"I look forward to the president's submission of the new treaty, its protocols, annexes and all associated documents to the Senate for advice and consent to ratification," he said.
"I also look forward to working with Chairman Kerry to begin scheduling hearings and briefings for the Foreign Relations Committee so that we can work quickly to achieve ratification of the new treaty," he added.
Secretary of State Hillary Clinton also weighed in on the issue, saying that most of the Senate would support the treaty.
Still, Charles Ferguson, president of the Federation of American Scientists, said some senators are unlikely to side with Obama on the treaty, such as Jon Kyl of Arizona.
In a letter to the president, Kyl expressed his concern about Russian statements of the possibility of establishing a legal linkage between missile defense and offensive weapons, saying the Senate was unlikely to support such a treaty, the Associated Press reported.
The senator is one of the leading Republican proponents of missile defense.
Nevertheless, it is important to realize that only about 10 Republicans need to be won over, Ferguson said. "So, keep listening to what Lugar and McCain have to say," he said, referring to 2008 presidential candidate John McCain of Arizona.
"They will be necessary for treaty ratification," said Ferguson.
The Obama administration has already said it will give more money and resources to weapons labs, contending that should be enough to secure enough Republican votes to ratify the treaty, he noted.
Some point to Republican bitterness over the healthcare bill as a possible obstacle that would prevent Republicans from aligning themselves with Democrats on any issue.
That bitterness will not entirely go away, but in the case of a major national security issue such as the new arms reduction treaty, political bi-polarization will not prevent many Republicans from supporting the treaty as long as they see it as being in line with U.S. security interests, Ferguson said.
From the Polish Scandal Files...
Poland ceases to exist:

Sells name to corporate sponsor
From:
The Story
"IKEA" has replaced the word "Poland" as the official name of the country
(Warsaw, IKEA) The country formerly known as Poland has sold its naming rights to corporate giant IKEA. The deal was struck in a meeting of the IKEA board of directors and ministers of the previously Polish state.
"The thing is," Donald Tusk, prime minister of the used to be ethnically named territory, "In the current business climate, decisions need to be made which allow for the balancing of budgets and for accommodations to be made. Corporations have been buying the naming rights to sport stadiums for years and this doesn't stop anyone from going to them, so we say said, hey, we have got to get in on this scam."
The new official name of the territory will be either Ikea-vania, the Ikea-lands or simply IKEA.
Lech Kaczynski, president of the country which might have been Poland, added in that the choice was also influenced by his own Ikea experiences. "I like the meatballs at the food courts."
Dag Sorenstam, spokesman for Ingvar Kamprad, the original fonder of the global IKEA chain explained to reporters, "A good corporation needs to be aware of the trends of the market place. We saw a potentially undeveloped market and exploited the situation, which is what we do. People like to come to Ilea stores. We have everything you want in an IKEA store."
The name change officially begins next Tuesday with the unveiling of the new blue and yellow IKEA flag, which is to be flown over all public meetings, on holidays and over government buildings. The right facing, crowned bird symbol of Poland is also to be replaced with a depiction of an end table.
"It was logical to understand," Continued Sorenstam, "They had employee problems and with corruption and with people running away. They had great budget issues and a bad reputation. We felt we could turn things around for them image wise and that this would help to rebuild how they are seen in the world. I mean, say a man tells his wife: I am going to Poland on business. Is she going to believe him? Hell no! He might as well say: Oh, I am going to drink beer and chase prostitutes, because that is what she would be thinking. IKEA is a cleaner, safer place. People all over the world like coming to us. And the people of, you know, that country, they wanted a piece of the action and to try and make an image someone might believe in for a change."
The cost of the 10 year naming rights contract included PLN 20 million (5.18m Euro, $7 million USD) in cash, and the use of an IKEA discount card for the people of the president's office and members of the Ikea-nise Selm.
This is the second time the name Poland has disappeared from the map. From 1795 to 1918, the three partitions of Poland (1772, 1793, and 1795) culminated in Poland's being erased from the map of Europe and its territories being divided between Russia, Prussia, and Austria.
"Come on," Added, Kaczynski, "IKEA's cool. And it's not like we've never done it before…"
Corruption in Poland's armed forces
From:
The News
Nine people, including soldiers, reserve officers and civil workers in the Polish Armed Forces, have been charged for fixing tenders on military equipment.
The Central Anti-Corruption Bureau has revealed that the armed forces lost several million zloty as a result of corruption.
"The Military Prosecutor's Office in the western city of Poznan, the Central Anti-Corruption Bureau and the Military Gendarmerie opened an investigation on the case several months ago. They established that the suspects formed a kind of criminal group which aimed at cornering the military market in Poland," says Jacek Dobrzynski from the Central Anti-Corruption Bureau.
The suspects are accused of giving and taking bribes, fixing tenders, not meeting their obligations and exceeding their authority, revealing official secrets and belonging to a criminal group.
Virgin Mary puts drivers' lives at risk?
From:
The news
The Roads and Transportation Office has asked archdiocese in the central city of Lodz to remove ads informing about an exhibition of the holy icon of Black Madonna of Czestochowa in a local church - because they constitute a health and safety risk.
The road administration office claims that the banners and decorations are not fixed properly and when the wind blows they fall on passing by cars - which is not very conducive to safe driving.
Besides, the office stresses, the ads are, in effect, Catholic propaganda and the archdiocese did not get a permit to display them, nor have they paid for it.
The Roads and Transportation Office's call to remove the adverts has been fiercely criticized by members of the Lodz Citizen Alliance, who say that even communist authorities would not dare to forbid the exposition of the holy icon.
The conservative Law and Justice city councilors also condemned the office's decision and promised to reverse it.
After the city authority's intervention, head of the Roads and Transportation Office Maciej Winsche apologized to the archdiocese for the "inappropriate form and content of the letter".
Clemency for Polish rapist?
From:
thenews.pl
The District Court in Poznan, mid western Poland, has postponed till Wednesday, a review of a petition for the pardon of Jakub Tomczak (pictured) convicted to a double-life prison term by a UK court for a brutal rape.
The man was sentenced in January 2008 to double life imprisonment by a British court after being found guilty of the rape and battery of a 48 year-old woman in Exeter, southwest England. The attack was so brutal the woman has been confined to a wheelchair ever since.
Tomczak's case has set a legal precedent as, originally, the Polish court had not evaluated any of the evidence at the trial, limiting its verdict to the duration of imprisonment in Poland ruled by the British side. Though it upheld the sentence, the Polish penal code does not envisage "double life imprisonment".
Tomczak's family filed the request for a pardon with the Presidential Chancellery with over 6,500 signatures in support. They claim Jakub Tomczak's case had not been fully reviewed by the court in Exeter and the fact that the victim was a local police employee and her husband a policeman, stirred public emotions and subsequently could have influenced the court's decision.
Tomczak, then back in Poznan, voluntarily gave a DNA sample to police after he was suspected of committing the crime. The DNA matched a semen sample from the scene of the crime.
Sport...
Agent reveals ex-Gunner's Barcelona move
From:
Sport.com
Alexander Hleb will not be moving to the Premier League next summer and will instead return to Barcelona at the end of his loan spell with Stuttgart. The former Arsenal midfielder has been heavily linked with both Manchester City and Aston Villa but appears to have his heart set on proving himself at the Nou Camp despite limited opportunities in his first year.
Hleb left Arsenal just as he was imposing his midfield capabilities on the Premier League taking his chances on a dream move to Barcelona. However, with first team opportunities limited due to the outstanding form of Lionel Messi and company the Belarussian was left to lick his wounds from the stands having been dropped from Pep Guardiola's squad for the Champions League final against Manchester United. Having faced his owners in this term's competition for Stuttgart it appears that the 28-year-old is once again ready to test himself in the competitive Catalan cauldron despite the possible offers from Manchester City and Aston Villa.
Reflecting on the increased speculation which has seen Premier League clubs lining up for the dynamic midfielder, agent Uli Ferber rejected the suggestion that Manchester City and Aston Villa stand a chance of snapping up Hleb.
"At the moment from July 1 he will be playing again at Barcelona.
"This [moving to England] is just speculation and we will not be talking about things like that.
"Finally he will return to Barcelona. Is there a chance he will stay at Stuttgart? No. He is under contract with Barcelona and he is looking forward to playing there."
Max Mirnyi into Sony Ericsson Open doubles quarterfinals in Miami
Fourth seeds Mahesh Bhupathi of India and Belarus' Max Mirnyi made their way into the quarter-finals at the Sony Ericsson Open with a 6-3, 6-2 win over Americans John Isner and Sam Querrey. They capitalized on three of their nine break points while saving all four threats faced on serve.
Mirnyi won the Miami title last year playing alongside Andy Ram.
Belarusian Victoria Azarenka, fourth seed and defending champion, was ousted by Kim Clijsters of Belgium 4-6, 0-6.
Belarus win eight medals at Gymnastics World Cup in Greece
Belarusian gymnasts won eight medals at the Gymnastics World Cup in Kalamata, Greece.
Liubov Cherkashina took bronze in all-round competition. Daria Kondakova of Russia was first and Bulgaria's Silvia Miteva won silver.
Liubov Cherkashina also won bronzes in the Hoop and Ribbon routines.
Melitina Staniouta took gold in the Hoop routine. Staniouta has won medals in all routines she participated in. She was third in the Rope routine and took silver in the Ball routine.
Belarusian team of Alesya Babushkina, Ksenia Sankovich, Alena Tumilovich, Anastasia Ivankova, Dina Gaytyukevich, and Marina Goncharova won gold in the Two Ribbons and Three Ropes routine and were second in the Five Hoops routine.
Cultural Scene...
Painting in Normandy exhibition praised as example of successful Belarus-France cooperation
From:
BelTA
The Painting in Normandy exhibition (Peindre en Normandie) is an example of successful cooperation between museums of Belarus and France, Counselor for Cooperation and Culture of the Embassy of France Ludovic Royer told a press conference prior to the opening of the exhibition in the National Art Museum of Belarus.
The president of the Peindre en Normandie collection Alain Touret said that it is culture that promotes the cooperation between Belarus and France. The exhibition in Minsk presents 60 works from the Peindre en Normandie collection. This collection was created in the arts museum in Cannes in Normandy in 1992. The exhibition in Minsk features the painting of such famous artists as Theodore Gericault, Gustave Courbet, Eugene Boudin, Jean – Baptiste – Camille Corot, Charles Daubigny, Johan Barthold Jongkind, Claude Monet, Edouard Vuillard, Albert Marquet, Raoul Dufy and many others. Owing to them, Normandy became the place of new trends in fine arts in the 19th century including impressionism.
The exposition includes four sections: Saint-Simeon Inn, Along the Seine Estuary, Normandy Land, Sea bathing & watering places in Normandy.
The exhibition travels around the world as a collection representing the dawn of impressionism in France. Before Minsk the collection was exhibited at the Estonian Arts Museum in Tallinn and the National Arts Museum of Latvia in Riga.
Prior to the opening of the exposition in the National Art Museum director of the collection Alain Tapie gave a lecture on impressionism.
The exhibition in Minsk will stay open until 25 May. It is organized by the National Art Museum of Belarus jointly with the Embassy of France in Belarus in partnership with Alain Tourret, president of the Peindre en Normandie collection, Alain Tapie, chief curator of the Museum of Fine Arts of Lille, Steen Heidemann, Secretary-in-Chief of Les Flux des Arts association and also the Culture Ministry of Belarus.
Endnote...
500 BEING HAD Times…
From:
The Story
So, the 500th newspaper. I wanted to take a moment and say a few words about this… event, if this is a good way to call it. 500 Newspapers. 500 Newspapers is a lot. To tell you the truth I had not really realized how long I have been doing this. I honestly thought that it was only three years. It was kind of shocking to notice that I have been doing it for almost five years now. The first number was on September 10th, 2005. Wow.
Quite a lot of these things have been, to tell you the truth, not fun and really, I am pretty sick of making them. The ritual, which I suppose might be closer to a religion right now, takes up about 2 hours or so on Wednesday and Sunday mornings. And the energy to make these newspapers doesn't really come so easily any more. This is not to say that it isn't an interesting process, because it is. It is just that the actual doing does take a lot out of you. These are not machine made and there is no program which turns these things out. There is a template which I built, and each and every story has got to be found, read, put in its place and have the picture added to it. Really, it's a lot of work.
And there is another reason why the work has sort of lost its luster and this is that the state has really changed in the five years that I have been doing this. Certainly, in the first year, the biggest story or event was of course the elections. That was the president's third election and so with the referendum, Milenkevich and the oppositions machinations, and Kazulin's flipping out and subsequent arrest, there was quite a bit of press and attention given.
That was really a very interesting time to be in Belarus. I remember getting some attention from the press at that time and a lot of people writing to me and asking my opinion. And I am not ashamed that at the time my position, though always moderate, was that Belarus had the right to self determination even if their methods were questionable. It was their country.
And probably I still believe that anybody's interest in Belarus is purely exploitative. Now, again of course, the answer to this is that this is how it should be. But for good or for bad and if they really like it or they don't, there is something akin to a social economy here and people here do support this. At least theoretically, the profits (again theoretical) from state run enterprises, these enterprises which actually do make money, are paid back into the system. Now, I am not advocating yes or no, and really, it is difficult to say exactly how patriotic I actually am for the beautiful and interesting Republic of Belarus these days, but I did mean it when I said it then; it is their country to run.
But if there is a real problem these days with getting these newspapers out (or doing a blog, something I rarely do any more), it is that the deal really has changed. At the time when I started, there was a certain amount of pride which could be taken from living in a feisty little country with its middle finger extended towards Europe and America. And really, we all knew that it was a show and that the show was taking the place of a real economy, or at least an economy which wasn't based directly on Russian subsidies. It's just that this argument isn't really valid any more. Obviously the main focus these days is honing the image that Belarus is interested in allowing potential investors to come here; the giving up of the golden share and toning down of red tape and government intervention in the tax and accountability process and offering free land and other incentives. Really, they are selling. They are selling as much as they can and are borrowing s much as they can. And I would be a bad economist if I didn't understand the implications of borrowing a lot of money, whether or not the intention is to pay it back. But Belarus is mortgaging its future.
But isn't it interesting that only a short time ago, no right thinking Belarusian would agree to be put in debt for any reason. But this is the world that has been given to Belarus. Russia, the sponsor of the economic miracle which was the main catalyst behind the president's arguments for being re-re-elected, were as wonderful as they were in one moment (leading up to the elections) and equally as awful in the next (after the deal was done). And since that rude first New Years revelation, the Russians have given Belarus so many problems with meat, with milk, with sugar and gas and oil. We are all aware now that this is a unidirectional deal, which Belarus has no choice but to take. And also, these days it is also known that there is an obligation to keep the doors (and windows) open to the west and yes, they are, step by step and inch by inch, beginning to dictate policy; exactly what Belarus voted against five years ago. But I guess it is interesting to see what sorts of people are interested in giving some money and doing business here. Folks like the Europeans and Venezuelans and Iranians and Chinese- and now it seems even The Ukrainians and the Baltic states are interested in all sorts of potential projects. It is all very interesting.
But who really can say what is right and what is wrong? Who really and truly can honestly say that they really know what the world is about? Or could tell us which way the wind will blow. I only know that I came out here because my grandmother and grandfather were from here. And when I first came, there was a girl and some bicycle friends. And then I met some people I wanted to do business with, and then there was Tanya and then Anya. I guess it all just sort of evolved after Poland, and at the bottom line, life presented me with only a few sets of options and I guess I did the best that I could with what I had to work with.
And this Newspaper was one of those options. I started it in support of the Polish situation. I wanted to add something to what I was putting on the internet. I didn't know it was going to be my most popular edition. About a half million people have tuned in. That's not an enormous number, but it is not nothing either. I average about 400 people a day.
I think mostly though, about these five hundred editions, that it really has become a real archive of the history of this country during these most interesting and sometimes explosive times. I like that people can come to the archive, listed chronologically on the right side of the page, and they can just click on a date or in a certain period and I think that you can get a good feel for what has been going on. And I think that the 21 to 25 stories that get printed in every number are always a good cross section of what this country is about and what it is interested in. I guess it can get a bit repetitious, but why isn't news from Russia, News from Europe, who is shaking whose hand, what we have to look forward to and what country will be our next big hope interesting? And really, if the doors ever really open, will there be another mass exit like there was n Poland? Or will people maybe have come by that time to accept their situation and find comfort in their home and their lives will not carry the necessity to run away. Again, who can say?
In any case, it is always an interesting cacophony of events here in the center of Europe and, most probably, the center of the world.
So all I can say for sure is that there is going to be a number 500 and this will come out Thursday morning April 1st. And, as usual, I offer my thank you to everyone for reading and to all of the people who have written and all of the new friends I have because of this. And even in spite of never having gotten through to Poland, I can also just say thank you for having allowed me the chance to make these things and to have them out for people to see, and of course to have had something to do on Wednesday and Sunday mornings, even if I haven't really wanted to do it for a long time.
More soon…