International Women's Day, Visit to UAE, The loan, Lukoil, UN, EU, Pickles, Safronov, Polish pedo priests, Russian guns, Football and Opinion
President congratulates Belarusian women on International Women's Day
From:
The president of Belarus, Alexander Lukashenko, has congratulated women of Belarus on the International Women's Day of March 8, the presidential press-service told BelTA.
"By your charm and tenderness you make life more beautiful filling the hearts of your family members and friends with love," the congratulatory address runs.
The Year of Child, which has come in succession of the Year of Mother, once again reminds us that there is nothing more sacred in the world than woman who gives birth to children and teaches them to make their first steps, the head of state said.
Belarusian women embody the beauty, tenderness and fidelity, the president highlighted.
The president wished Belarusian women health, happiness, flowers and smiles. "Let success, well-being, good mood, the joy of discoveries and creation be with you. Let attentive and caring men surround you," the address reads.
Belarus is a leader on the post-Soviet area in terms of gender equality, co-chair of the public organization "Belarusian Women's Union" Antonina Morova has told a press conference in Minsk today.
She has noted that women account for 30.3% of the total number of deputies of the National Assembly of the Republic of Belarus. It is more than in the USA, Italy and Great Britain. Women account for 45.7% of the aggregate number of members of the local councils of deputies. There are 66% of women among state employees, 50% - among judges and 90% - among notaries.
At the same time, Antonina Morova underlined, there are few women working in the executive bodies. There is only one woman among the Belarusian ministers and 13 women among deputy ministers. Women are heads of 16% of all companies of various branches of national economy.
According to Antonina Morova, Belarus is on the list of countries, where mothers feel comfortable. The country takes 16th position among 125 countries, where such research was carried out.
Valentina Tereshkova
Also, Alexander Lukashenko Congratulates the First Woman-Cosmonaut Valentina Tereshkova on Her 70th birthday 06.03.2007
On March 6, the President of the Republic of Belarus, Alexander Lukashenko, congratulated the first woman-cosmonaut Valentina Tereshkova on her 70th birthday.
"You belong to a glorious constellation of people with the best human qualities. You have gained worldwide recognition for your fruitful social activities," the message of felicitation says.
According to
Answers.com
, Soviet cosmonaut Valentina Tereshkova was launched into space aboard the Vostok 6 on 16 June 1963, becoming the first woman to visit outer space. She spent three days aloft before returning safely to earth. The flight made Tereshkova a national hero and she was awarded the high honor of the Order of Lenin. Her flight was considered a scientific coup for the Soviet Union, which also had the first man (Yuri Gagarin) and the first dog (Laika) in space. Before her flight Tereshkova had been an avid amateur skydiver, which led to her selection for the cosmonaut corps.
Lukashenka wraps up visit to United Arab Emirates
From:
Naveny
On March 5, the Head of the Belarusian State, Alexander Lukashenko, and the Abu Dhabi Crown Prince, Deputy Commander-in-Chief of the Armed Forces of the UAE, Sheikh Mohammed bin Zayed Al Nahayan discussed the prospects for the development of interaction between Belarus and the UAE
Alyaksandr Lukashenka on Tuesday left Abu Dhabi, wrapping up his three-day visit to the United Arab Emirates (UAE), according to official information sources, BelaPAN reported.
While talking to reporters shortly before his departure, the Belarusian leader appeared to be impressed by the Middle East country. "I've got a tremendous impression, the country is developing dynamically, this is an extremely rich country," he was quoted as saying.
Mr. Lukashenka was upbeat on relations between Belarus and the UAE. "The Emirates is satisfied with stability in Belarus very much. The Emirates would be eager to come to Belarus," he said.
According to the Belarusian leader, Minsk and Abu Dhabi are discussing joint projects worth around $100 million. "Part of the projects is already being implemented. I'm very satisfied with the visit," he said.
Mr. Lukashenka reportedly said that the two countries could cooperate in the scientific, military and investment spheres. In particular, the UAE could invest in Belarus' oil refining industry, he added.
"This is a country that we understand, where people in power respect Belarus, our people," he stressed.
The two countries could carry out joint projects in the petrochemical and engineering industries and the construction of hotels, Mr. Lukashenka noted. "All of this is of interest for us. The Emirates side, for its part, is ready to invest money."
Mr. Lukashenka announced that the crown prince of Abu Dhabi would visit Belarus in two months.
Viktar Sheyman, state secretary of the Belarusian Security Council, has been appointed to co-chair a Belarusian-UAE commission on economic cooperation established during Mr. Lukashenka's visit.
Belarus delegation to visit Moscow next week for loan talks

From:
Ria Novosti
A Belarusian delegation will visit Moscow next week to discuss the conditions for a $1.5 billion stabilization loan to pay for Russian energy supplies to Belarus, a Russian deputy finance minister said Wednesday.
Belarus's government requested a loan from Russia February 22 due to rises in oil and natural gas prices imported from Russia.
Sergei Storchak said Russia seldom grants such loans but Belarus had received them on two previous occasions.
"Today we should understand how complicated the situation is and how critical the loan is for Belarus," he said.
Storchak said the Belarusian request was somewhat "unexpected" and Minsk will need to give sufficient grounds to the Russian government as the sum will be a serious burden for the budget.
Russia and Belarus were embroiled in an energy dispute earlier this year after Russia doubled the price of gas to $100 per 1,000 cubic meters. In response, Minsk introduced a transit levy of $45 per metric ton for Russian crude oil pumped to Europe via Belarus.
Russia halted deliveries to Europe via the pipeline January 7, saying Belarus was illegally tapping oil following a tit-for-tat price and tariff dispute.
The interruption in supplies affected Germany, Poland, Hungary, the Czech Republic and Slovakia, and further damaged Russia's reputation as a core energy supplier to Europe following a similar energy row with Ukraine involving natural gas in early 2006.
Russia agreed to resume deliveries after receiving a Belarusian government resolution abolishing the transit levy on Europe-bound Russian oil.
The standoff triggered more accusations in Europe that Russia is using oil and gas as a political weapon, and discussions on the need to diversify energy sources.
LUKOIL Won't Deliver Crude to Belarus Refineries in March
From:
Kommersant
Russia's oil blockbuster, LUKOIL, won't deliver crude to Belarus refineries in March, a source at one of the refineries said on condition of anonymity. Previously, the refineries used to monthly get roughly 300,000 tons of crude from LUKOIL, PRIME-TASS reported.
The arguments of LUKOIL that is the biggest crude supplier to Belarus under the give-and-take basis are the absence of clear regulations for petroleum market of that country following the changes in terms for crude deliveries introduced in 2007.
Because of the changes, LUKOIL is yet unable to calculate the business efficiency of February refining, the source said. Under the new terms of pricing crude deliveries to Belarus in 2007, the results of the company's work will be known only by mid.-March, once the average price of spot deals is finally calculated based on the previous month.
LUKOIL's refusal means the refineries of Belarus will have to buy huge amount of crude, which calls for additional money, the analysts estimate. Mozyrsky NPZ refinery, for instance, plans to buy 463,000 tons in March, roughly 100,000 tons more than before. Slavneft-Start will supply around 200,000 tons, Invest-M will provide around 90,000 tons and Belorusneft will ensure around 100,000 tons. But LUKOIL may think better later on, the source hoped.
Natalya Petkevich: Belarus strives for absolute elimination of gender-based discrimination
From:
NHLIPRB
The main purpose of the third national action plan of Belarus for gender equality is to eliminate any gender-based discrimination in all the spheres of social life, deputy head of the presidential administration of Belarus Natalya Petkevich declared at the informal thematic debate of a special meeting of the UN General Assembly on gender equality and empowerment of women. The session was held on March 6 in the UN Headquarters in New York, BelTA learnt in the foreign ministry's press service.
Natalya Petkevich informed the General Assembly about implementation of two five-year national plans of actions in Belarus on ensuring gender equality. She listed the measures taken by the Belarusian government to improve the women's employment status, to raise their representation in bodies of state administration, to protect social rights and interests of Belarusian mothers.
"To ensure real equality between men and women, to increase the share of women holding seniour management positions, to raise their role in decision making and in state and public life is not just an idea or wish. This is a part of state policy of the Republic of Belarus," Natalya Petkevich declared.
Attending the debate were about 30 ministers and deputy ministers responsible for social security and boosting women's rights and opportunities, heads of diplomatic missions accredited at the UN, representatives of intergovernmental organizations and NGOs.
Addressing the participants of the debate, UN Secretary General Ban Ki-Moon said that while global goals and commitments on gender equality and women's empowerment were in place, there was still far to go to implement them fully.
He urged governments, international organizations, civil society and private sector to bind efforts to solve the most urgent problems women face nowadays.
He said that in almost all countries women continued to be underrepresented in decision-making positions. Their work remained undervalued, underpaid or not paid at all. Of more than 100 million children not in school, the majority were girls. Out of more than 800 million adults who could not read, the majority were women. Worst of all, violence against women and girls continued unabated in every continent, country and culture, taking a devastating toll on women's lives, families and society as a whole. Most societies prohibited such violence, yet the reality was that, too often, it was covered up or tacitly condoned. That is why protection and empowerment of women should become the top priority of the international society.
UN Population Fund set to spend $1.5 million on programs in Belarus
From:
Naveny
The United Nations Population Fund (UNFPA) plans to attract around $1.5 million for implementing a plan of cooperation with the Belarusian government.
As Dzyanis Dakuchyts, spokesman for the UNFPA office in Minsk, told BelaPAN, the UN organization and Minsk have drawn up a plan of implementing a country cooperation framework for Belarus until 2010, told BelaPAN.
The plan prioritizes technical and expert assistance to the government in implementing population and development programs, as well as the prevention of violence against women, in particular domestic abuse.
According to Mr. Dakuchyts, the plan includes three sections - reproductive health protection, activities in the sphere of population and development, and efforts to secure gender equality.
The UN organization's office in Belarus plans to continue its work on reproductive health protection among teenagers and youths in cooperation with the health ministry. In particular, the office will gather information on the Belarusian population's reproductive health and its needs in the sphere.
The UNFPA will provide assistance to authorities in compiling databases on major demographic trends in Belarus and hold a domestic abuse awareness raising campaign.
The organization also plans to provide technical aid for Belarus' population census scheduled for 2010.
The organization spent $280,000 on its programs in Belarus last year.
EU Says 'Opening' Possible In Relations With Belarus
From:
RFE/RL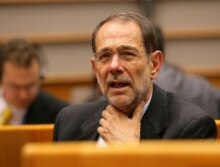 Javier Solana
The EU foreign-policy chief, Javier Solana, says he sees the possibility of what he calls an "opening" in EU-Belarusian relations.
Solana said exploratory contacts are now under way in Minsk between a team of EU diplomats and the Belarusian
government.
Solana said he is optimistic that the contacts could produce a thaw in relations between Brussels and Belarus -- which have been frozen for years as a result of President Alyaksandr Lukashenka's authoritarian policies.
"We think that we have -- probably -- some possibilities of doing or opening some relationship with Lukashenka, with Belarus," Solana said today.
The EU policy chief says the results of the EU's diplomatic mission to Minsk will be analyzed during the coming weekend.
Meanwhile, an EU official who asked not to be named said the EU delegation also will meet representatives of political opposition groups in Minsk.
The official said that visit was agreed after contacts were renewed between Solana and the Belarusian foreign minister.
Belarus cancels mandatory convoying of Kalinigrad transit cargoes
From:
Itar Tass
Belarus canceled the mandatory convoying of Russian transit cargoes from the Kaliningrad region, spokesman for the republic's state customs committee Vladimir Pekhterev told Itar-Tass on Thursday.
"In the course of talks with Russia, a compromise was found, which helped ease certain tensions existing in this issue," Pekhterev said
The instruction by the Belarussian customs committee which cancelled the measure was received at the Kamenny Log customs post at 23:00, Moscow time, on March 7, he added.
Belarus introduced mandatory convoying from January 8, 2007, explaining the move by the necessity to stop the illegal imports of foreign goods labeled as Russian.
Customs control chief Sergei Borisyuk said the checks in 2005 an 2006 had found that 47 batches of goods worth some 10 million dollars had not been taken outside of Belarus. They were part of the cargoes shipped under the so-called streamlined procedure for Kaliningrad transit, Borisyuk said.
Belarus: domestic cucumbers in retail already
From:
Fresh Plaza
The greenhouse complex "Bereste" hopes to place 300 MT of domestic cucumbers in Brest region retail during March. According to the director of the enterprise, Nikolai Dolbik, company produced 60 MT of cucumbers in February already. The wholesale price of cucumbers at the beginning of March was 4900 BYR/kg (around 1,73 €/kg). The greenhouse complex "Bereste" wants to sell - taking into account potential export to Russia – 3000 MT of cucumbers in 2007.
The company also exports tomatoes to Russia. The total production of the enterprise is around 5000 MT per year. Deliveries of cucumbers and tomatoes to Russia should start from April 2007. The total acreage of production under cover in the "Bereste" complex amounts to 16 hectares, including 6 hectares of modern greenhouses completed in 2006. The enterprise was formed in 1987 and it specializes in the production of vegetables under cover - cucumbers (Marinda variety from Seminis Seeds) and tomatoes (Raissa variety, also from Seminis Seeds). Lettuce, dill, parsley, roses, and sweet pepper (in the summer period) are also grown, but in smaller quantities.
Vasil Nestsyarenka, the government of Belarus has no right to implement risky (Nuclear) technologies.
From:
Charter '97
Belarus is exploring the second construction site for the atomic power plant. Head of the Academy of sciences Mikhal Myasnikovich named the Schklou-Gorki district as a place for exploratory work. More precise location is not given to avoid the disturbance of the local population. Scientists and experts now are still studying the experience of states, which are the leaders in atomic power engineering, but the construction has been already planned to start in 2008. Former director of the Institute for nuclear power engineering Vasil Nestsyarenka told the Deutsche welle how the reduction of the construction term would affect the security.
"Nine years ago there were hot debates in the Belarusian government on the subject of relevancy of the atomic power station construction in Belarus. After detailed considerations of all security aspects we came to the conclusion that there was no competent staff in Belarus. There was no infrastructure, no fuel, and no storages. And moreover, there wasn't any safety type of a reactor. Ten years passed and such reactor didn't appear. I assess the technology as highly risky", former director of the Institute for nuclear power engineering and creator of a small-sized atomic power plant Vasil Nestsyarenka said.
According to him, Belarus won't be able to find the money in its budget for construction of a normal safety atomic power plant. And the station won't repay its expenses in a short period of time. The government speaks of USD 2.5-3 billion demanded for the construction.
But Vasil Nestsyarenka says "I consider that if the two blocks are to be erected it will cost no less than USD 10 billion. The equipment itself will cost over USD 5 billion plus the same amount of infrastructure expenses".
Previously the 9-year period was determined for the atomic power plant construction. But according to A.Lukashenka's order it is to be completed in 4-5 years. How will the reduction of construction term and thrifty financing affect the security of the station?
"Chernobyl was also built in short terms but there are some industries in which it is obligatory to observe the technological and time requirements. Here we mustn't be in a hurry, because if quality standards are not observed it will result in disasters similar to Chernobyl", Vasil Nestsyarenka considers.
The question how many years are required for building of the atomic power plant with observation of the necessary safety measures was answered by the expert in the following way:
"12-15 years is a minimal term. It can't be shorter. Training of the staff for such station takes 10 years. Development of the infrastructure has not started yet. And what about the wastes? Nobody knows now how to store the high active wastes more for than 50-70 years. It is a weak point of the atomic power engineering. There is no fuel either. The fuel cycle is so expensive that only extremely rich countries can afford it. I guess that we shall run to Russia for the fuel. And what about our independence then? And construction of the atomic power plant implies emergency cases. Belarus will not survive another atomic disaster".
In 1986 Vasil Nestsyarenka was the first to warn about the necessity of iodine preventive measures and population removal from 100 kilometer zone around the Chernobyl reactor . Now he is at the head of the "Belgrad" non-state institute of radiation security. Until now devices of the institute show 50 Bc/kg contamination of mushrooms in the zone and the accumulated radionuclide doze is 20 times higher than the standard.
"We will have been dealing with it for dozens of years. And cesium splits very slowly, around 1-2 mm a year. It is accumulated at the root level. The contamination will remain for another 30-40 years starting with today. And people continue working there, they produce goods and try to sell them and it is spreading over the republic as the locust", Vasil Nestsyarenka remarks.
According to Vasil Nestsyarenka, the government of Belarus has no right to implement such risky technologies. He considers that among the alternative power technologies suitable for Belarus are wind power and biomass engineering:
"If the state invested the same amount into these technologies as it is going to invest into the APS the success would be great'.
Surgeon helping out Chernobyl victims
From:
www.yomiuri.co.jp
Prof. Kazuo Shimizu of Nippon Medical School examines Alesya Svyatoshnik's neck after performing endoscopic surgery on her
A Japanese doctor is promoting the use of endoscopic surgery in Belarus, where many people have developed thyroid cancer following the 1986 Chernobyl nuclear disaster.
As operations that use an endoscope leave very little scarring, Prof. Kazuo Shimizu of Nippon Medical School in Bunkyo Ward, Tokyo, has been promoting the use of the technique in Belarus.
Shimizu, who heads the endocrinal surgery department at the school's hospital, invited a Belarusian woman to Japan in February for an operation, so that the advantages of the technique could be better understood by Belarusian doctors. He also plans to start training sessions for doctors in Belarus in the autumn.
Shimizu, 58, has participated in volunteer activities to offer medical support for victims of the Chernobyl accident since 1999. He has visited Belarus--where many people were affected because they were downwind of the accident--five times, to examine victims and train local doctors.
According to Shimizu, each year about 1,300 people have thyroid tumors operated on in Belarus. Many of the patients are women.
The current technique used in the country is outdated and leaves a U-shaped scar about 10 centimeters long on a patient's neck. Female patients have been reluctant to seek an operation because of the scarring, and in some cases, they seek help too late, Shimizu said.
Shimizu has developed an endoscopic procedure to remove thyroid tumors that leaves very little scarring. Despite encouraging Belarusian doctors to use the technique, few have recognized the need for the surgery.
So he invited Alesya Svyatoshnik, 20, who was found to have a nine-millimeter thyroid tumor in November, to get treatment in Japan. "I thought that showing people one successful operation would say more than 100 explanations," Shimizu said.
Svyatoshnik was exposed to radiation in the womb when her mother was six months pregnant. Her mother lived in Pinsk, about 240 kilometers from the Chernobyl accident site.
The school and Shimizu's friends paid about 3.5 million yen for Svyatoshnik's operation and related costs. The operation was successfully completed on Feb. 23.
"My best friend went through two surgeries and has to wear clothes that cover her neck to hide the scar. I want to tell people about my operation in Japan. I hope I can do something to encourage the use of the technique," Svyatoshnik said.
Svyatoshnik returned to Belarus on Saturday.
Shimizu plans to hold study sessions in a Belarusian hospital in October for local doctors, and to offer technical training using video footage of Svyatoshnik's operation.
CIS IPA Council to hold session in St. Petersburg

From:
Kazinform
On Monday in Saint Petersburg in the headquarters of CIS IPA is to be held a session of the Permanent Council of the Inter-parliamentary Assembly (IPA) of the CIS member states for culture, information, tourism and sport, Kazinform refers to the press service of CIS IPA.
The model draft laws On ethno-cultural public associations of the citizens, On patronship and sponsorship, On professional sport, On E-commerce, On status of the interstate television and radio broadcasting company "Mir" (World) will be considered there.
Besides, the commission members will discuss development of law On intellectual property and questions on preparation for the international conference on Intercultural and interfaith dialogue which will take place on June 1, 2007, at the Taurida Palace.
The representatives of the parliaments of Azerbaijan, Belarus, Georgia, Kazakhstan, Kyrgyzstan, Moldova, Russia, Tajikistan and Ukraine, observers, and experts will take part in it.
Around Eastern Europe...
Poland's former prime minister denies report alleging Poland hosted secret jails
From:
Axis Globe
Poland's former prime minister Leszek Miller today denied a fresh report alleging EU and NATO member Poland had hosted secret jails for terror suspects operated by the United States Central Intelligence Agency (CIA), the Raw Story reports.
'Once again I refute that there were secret prisons in Poland,' Miller said Thursday, quoted by the Polish PAP news agency. 'Tony Blair never spoke with me about this because there was nothing to talk about,' he said.
Raw Story, a US-based internet news source quoted a confidential MI-6 British intelligence document which is alleged to have said British Prime Minister Tony Blair and Miller discussed plans for a short term CIA prison for terror suspect created in a top-security Polish intelligence compound in Stary Kiejkuty, northern Poland.
Blair is to have asked that Miller not inform cabinet ministers about the facility. The Raw Story report also alleges US plans for transporting terror suspects to Poland were drawn up in 2002 in meeting between Polish intelligence officials, then CIA head George Tenet and MI-6 chief John Scarlett.
In related News, Former Polish intelligence chief Zbigniew Siemiatkowski, who denied Raw Story's report on a secret CIA detention site Thursday, told Polish news agency PAP in 2005 that the agency had access to two internal zones at the Stare Kiejkuty training school, the Raw Story reports.
Siemiatkowski, Polish intelligence chief in 2002, suggested the information presented by Raw Story "could be part of the domestic political battle in the US over who is to succeed current Republican President George W Bush," according to the German news agency Deutsche Presse Agentur.
Polish newspapers seized on the story in Thursday's papers. Allegations of secret meetings held by Britain and the United States surrounding the detention of terror suspects - and an invitation from officials in the administrations of US President George W. Bush and British Prime Minister Tony Blair that Poland join the project in 2002 - were widely discussed on morning talk shows.
Former Polish Prime Minister Leszek Miller denied that Poland had housed any "secret CIA prisons" Thursday. US and British officials did not reply.
Raw Story sought comment from the Polish government three days prior to the report and received no response.
The White House did not respond to two calls placed for comment Tuesday.
CIA spokesman Paul Gimigliano declined to address specific allegations by British and Polish intelligence officials that the agency had operated a detention site at Stare Kiejkuty, a Soviet-era compound once used by the Russians. "The agency's terrorist interrogation program has been conducted lawfully, with great care and close review, producing vital information that has helped disrupt plots and save lives," Gimigliano said Monday. "That is also true of renditions, another key, lawful tool in the fight against terror."
Reporter who died in fall probed weapons
From:
Pioneer Press
A journalist who plunged to his death from his apartment building window faced threats while reporting on a highly sensitive story that Russia planned to sell sophisticated missiles to Syria and Iran, his newspaper reported Tuesday.
Ivan Safronov, a military affairs writer for the daily Kommersant, died Friday after plunging from a stairwell window between the fourth and fifth stories.
Kommersant reported Tuesday that Safronov had told his editors he was working on a story about Russian plans to sell weapons to Iran and Syria via Belarus.
The deals, if concluded, could upset the balance of power in the Middle East and strain Russia's relations with Israel and the United States, which have strongly objected to earlier Russian weapons sales to the two countries.
Kommersant reported that Safronov, 51, had recently told colleagues he was warned he would face a criminal investigation for possibly releasing state secrets if he reported allegations that Russia had struck a deal to supply Iskander missiles to Syria.
"Ivan Safronov said he was not going to write about it for a while because he was warned that it would create a huge international scandal and the FSB (Federal Security Service) would launch a criminal case on charges of breaching state secrets," the newspaper said.
Safronov did not say where the warning came from, according to Kommersant, but he had repeatedly been questioned by the FSB - the KGB's main successor agency - which suspected him of divulging state secrets.
A spokeswoman for state arms trading monopoly Rosoboronexport refused to comment on the Kommersant report.
Independent analyst Pavel Felgenhauer, who knew Safronov and met with him shortly before his death, said deals with Iran and Syria would be sensitive enough to lead to Safronov's killing.
"It's quite probable that such deals have been signed, and it's also probable that he (Safronov) was killed because of that," Felgenhauer told The Associated Press.
In the face of sharp U.S. and Israeli criticism, Moscow has delivered 29 Tor-M1 mobile surface-to-air missile systems to Iran under a $700 million contract, and Russian news reports have said Iran was pushing to buy the much more potent, long-range S-300 air defense missile systems.
Kommersant reported that, before traveling to an international arms fair in the United Arab Emirates last month, Safronov had said he would try to confirm rumors that Russia planned to sell S-300 missiles to Iran and Su-30 fighter jets to Syria via Belarus. He later called the editors from Abu Dhabi and said he had confirmation from Russian officials who attended the exhibit, the paper said.
Upon his return, Safronov told colleagues he also had learned about Russia's plans to provide Syria with Iskander missiles, MiG-29 fighter jets and Pantsyr-S1 air defense systems, the newspaper reported.
The Iskander, a sophisticated surface-to-surface missile with a range of 175 miles, would give Syria the capability to strike targets in Israel with very high precision. Israel has complained strongly about past sales of anti-tank missiles to Syria, saying some landed in the hands of the militant group Hezbollah.
A 2005 Kommersant report about planned sales of Iskander missiles to Syria caused an uproar and Putin later said during a trip to Israel that he had blocked the deal, the newspaper reported.
Felgenhauer told the AP the Iskander is in a different league than North Korean-built Scud missiles in Syria's inventory.
"The Syrians always wanted to get Iskander missiles," he said. "Iskander would give the Syrians a capability to strike point targets, like the military general staff building in Tel Aviv."
Felgenhauer said Russia previously conducted shadowy weapons sales through Belarus, so the allegations that it could serve as a conduit for Russian weapons sales to Iran and Syria were plausible.
Vladimir Nesterovich, a top official with Belarus' Security Council, said the allegations were "pure provocation." He added: "Those who are disseminating this false information are making the latest attempt to discredit Belarus in the eyes of the international community."
However, former Belarusian Defense Minister Pavel Kozlovsky said Russia had long used Belarus as conduit for weapons to suspect regimes. "This scheme has been used for the last 10 years or so. Earlier, Belarus supplied weapons to (Saddam) Hussein and Iraq," he said.
Safronov, a colonel in the Russian Space Forces before joining Kommersant in 1997, frequently angered authorities with his critical reporting. Kommersant and other media described him as a cheerful person who would not take his own life and suggested foul play.
Felgenhauer said a Russian military affairs writer whom he refused to name was brutally beaten by Russian military intelligence agents several years ago over his report on arms sales.
"I also feel scared since I'm writing about similar subjects," he said.
Prosecutors have said nothing about the incident, except that they are investigating it as a suicide.
The death comes amid a rash of attacks on journalists who write about official corruption, Chechnya and other abuses and amid fears that, under Putin, Russia has is backsliding toward authoritarianism.
Investigative reporter Anna Politkovskaya, a Kremlin critic, was shot dead in Moscow in October. The U.S.-based Committee to Protect Journalists said that 13 journalists have been killed in contract-style murders since Putin took office in 2000.
"Given this terrible record, Safronov's sensitive beat and the questions surrounding his death, we call on Moscow authorities to thoroughly investigate every lead, including foul play," Committee to Protect Journalists Executive Director Joel Simon said.
Can Poles get deal done on reparations?
From:
JPOST
Israel Singer was in performance mode. At an American Embassy party, the president of the Claims Conference demanded "some measure of justice" for Jews whose property was confiscated by the Nazis and the former Polish communist government.
"Stop hiding behind the mask of poverty or the claim of being a second-class citizen in the European Union," Singer bellowed, his booming, accusatory words aimed at the handful of Polish government representatives in the room of some 130 guests at the Feb. 27 kosher buffet.
Then he delivered the show stopper, shouting in his Brooklyn accent, "You are a member of the EU, you are a member of NATO. Behave like it."
But did Singer's bluster fall on deaf ears?
The day after Singer's tirade, Prime Minister Jaroslaw Kaczynski told the Claims Conference that he was committed to passing compensation legislation within a year, but interviews with a dozen top legislators and longtime observers involved in property negotiations left one clear impression: Compensation is a hard pill for Poles to swallow, and it's getting harder all the time.
Even a draft bill that has been dormant for months and that offers claimants a mere 15 percent of the current value of their property has gone nowhere.
"We have been told by the government not to look at that one," Aleksander Grad, a center-right opposition politician and chairman of the Treasury Committee in the Polish Parliament, said of the stalled bill.
"They tell us that they are sending a revised version," Grad said in the cavernous halls of the Parliament building. "We'll see."
Legislators explained that Poles fear the law will cost them vital funds needed for social programs in the country with the highest unemployment rate -- 15.2 percent -- in the 27-country European Union.
Estimates of the amount of the potential payout vary greatly, from $13.5 billion to $23.7 billion.
Returning property to the dispossessed is impossible, politicians on all sides say, since for most Poles it conjures up the specter of wealthy Western claimants throwing out destitute tenants.
Also, over the past 17 years property that could have been returned has been sold and resold. Many more Poles benefited from living in vacated properties than would gain back property today.
As for compensation, it appears there are few incentives remaining that can motivate the government to move forward, despite Singer's strong words.
"The circumstances are so complex that no one has managed to do anything," Jerzy Wenderlich, a left-wing opposition politician and one of the longest serving deputies in the Parliament, said during a break in the legislation session. "We lack the economic tools."
Those circumstances have much to do with the fact that one-third of prewar Poland is now part of Belarus, Lithuania or Ukraine, while the inflow and outflow of ethnic groups and refugees after the war was staggering.
Finally, a large swath of today's Poland was German territory before the war, and Warsaw, the city where the largest number of claims would be concentrated, was obliterated by the Nazis.
Poland is the only country in the former Eastern Bloc besides Belarus that has not instituted a law offering restitution or compensation for looted property. Considering that Poland had the largest Jewish population in the world before World War II -- 3 million, or 10 percent of the country's total population -- it's easy to understand why this is a central issue for Diaspora Jewry.
Only 350,000 Polish Jews survived the war, and it's mostly their heirs who would be making claims, although there are plenty of high-profile cases involving Holocaust survivors.
Article continues...
Ukraine's Human Rights Acknowledged
From:
Kommersant
US Department of State is quite critical of the human rights situation in former Soviet republics. Out of all CIS countries, only Ukraine got praised by Washington in the report on human rights.
Among the post-Soviet states, US Department of State criticized Belarus more than others. The report concludes that in 2006 "Lukashenko's administration strengthened the policy of repressions", mentioning the presidential elections of March 2006 as the most evident proof.
The report went down on Kazakhstan. Astana is charged with "politically motivated accusations against the opposition, limiting the freedom of mass media and the activities of NGOs".
Kyrgyzstan was the next to be criticized. The Department of State spoke negatively of the new constitution ratified by Kyrgyz parliament in December, for it "does away with many essential elements of the checks and balances system". Among other CIS states, Turkmenistan and Uzbekistan were especially criticized.
The only country to receive US approval was Ukraine. The report says it made the largest step towards democracy, among other CIS countries, in 2006. "After the 'Orange Revolution', Ukraine is showing progress in human rights sphere," says the Department of State.
Nonetheless, the latter made it clear that it is early for Kiev to rest on democracy oars yet. "There is still a number of serious issues, primarily corruption, in Ukraine," said the report.
However, Kiev should be satisfied with the evaluation it received, in comparison to other CIS states.
Polish archbishop, officials ignored child sex abuse, says newspaper
From:
www.catholic.org
A Polish newspaper has reported that diocesan officials and an archbishop ignored cases of pedophilia and sex abuse of minors by priests in the Diocese of Plock, Poland.
The Rzeczpospolita daily reported March 6 that Archbishop Stanislaw Wielgus and other officials of the diocese had been kept informed for at least six years by pastors of victims' parishes about priest sex abuse of minors. Archbishop Wielgus was the head of the Plock Diocese from 1999 until he was appointed to head the Archdiocese of Warsaw in January. He quickly resigned after admitting he had collaborated with the communist secret police.
The newspaper said other priests had confirmed the claims and that it had received testimonies from several abuse victims since Rzeczpospolita published its first report March 3.
"Several priests exploited the trust of children in their care to get close to boys and have sexual contacts with them," the newspaper said. "The names of the same diocesan clergy recur in the accounts we've heard.
"Although church leaders were informed, however, they took no effective steps to prevent suspect priests from contacting young people," it said.
Auxiliary Bishop Roman Marcinkowski of Plock, who said the diocese had received no official complaints of molestation, called the claims "fragmentary and based on gossip."
"It's hard to accuse someone when there's no unambiguous proof against them," Bishop Marcinkowski told Poland's Catholic information agency, KAI, March 6.
Rzeczpospolita said a local priest, Father Jaroslaw Nawatkowski, had been cautioned by police when child pornography images were found on his computer in July 2006. It said another priest, identified as Father K, had given up lecturing at the Plock seminary after accusations of abuse but that he was still in touch with former victims and teaching in the same building.
Meanwhile, Father Adam Boniecki, editor of Poland's Catholic Tygodnik Powszechny weekly, said his newspaper had proposed guidelines for handling abuse cases but had not received a response from church leaders.
"What has happened in Plock Diocese results from the fact that the bishops' conference in Poland has not worked out any clear procedure for dealing with cases when priests are accused of pedophilia and homosexuality, despite the church's experiences in Ireland and the U.S.," Father Boniecki told Rzeczpospolita March 6.
"This indifference by church institutions is now taking its revenge. Local bishops have neither the tools nor the courage to deal with such problems," he said. "Yet this isn't a new issue which no one knew about."
Russian arms exports break records
From:
Ria Novosti
Russia exported $8 billion worth of weapons and hardware in 2006, according to Mikhail Dmitriyev, director of Russia's Federal Military-Technical Cooperation Service.
Arms exports amounted to $6.5 billion and spare parts and military services to $1.5 billion. This is more than the preliminary figure for arms exports as of late 2006, estimated at $6.3 billion, already a substantial increase on the 2005 figure of $6.226 billion. The revised figure $6.5 billion was officially announced in early February.
The Russian arms export business is doing better with every passing month and is facing a bright future. Sales figures are tentatively summed up at the end of every year and revised when Rosoboronexport, the state arms import-export monopoly, counts its receipts in February. The $8 billion export record will not be broken until the next year.
Dmitriyev said the value of Rosoboronexport's contract portfolio amounted to nearly $30 billion. Although not all of these potential contracts will be carried out, the figure clearly demonstrates a steadily growing demand for Russian weapons.
Aircraft equipment accounted for 57% of total arms exports in 2006, and naval items for 39%, with air defense and multi-service systems making up the rest. It is almost impossible to establish which systems were sold and for how much because that information is confidential. However, Russia reports its arms export figures to the UN, and military experts, as well as simply inquisitive people, can learn the details several months later from the UN Register of Conventional Arms (UNROCA), which is published in the press.
Still, we know that one of the largest contracts in 2006 stipulated the delivery to India of three Tu-22M3 Backfire aircrafts, two anti-submarine Il-38SD May planes, and 13 modules for licensed assembly of Su-30MKI Flanker multirole fighters.
China imported one Project 636 diesel submarine and one Project 956EM destroyer, Rif-M naval air defense systems (the export version of S-300FM Fort-M, NATO designation SA-N-20) and Shtil-1 (SA-N-12 Grizzly) short-range surface-to-air missile systems, as well as 150 anti-submarine and anti-ship missiles.
But the biggest surprises last year were the delivery of four multirole Su-30MK2 Flanker fighters and 18 helicopters (including six Mi-17B-5 Hip, three Mi-172 civilian helicopters, eight Mi-35 and one Mi-26T Halo), along with the sale of equipment for a plant to produce AK-101 and AK-104 Kalashnikov guns, to Venezuela; the supply of 29 Tor-1 short-range air defence systems to Iran; and the export of two MiG-29SMT Fulcrum planes to Algeria.
All of the above took place despite pressure from Washington and sanctions imposed by the US Department of State on companies cooperating with Rosoboronexport. It also means that Russia is not wincing at each harsh word from Washington, because it knows that this is part of a tough rivalry on the global arms market.
Although it has posted very good results in the past few years, Moscow is not the world leader on that market. The undisputed champion is the United States, which sold $11.55 billion worth of weapons in 2005 (there is no official data for 2006 yet), excluding the value of spare parts, modules and other services.
The runners-up, after Russia, are France, the United Kingdom, Germany and Israel.
The latter exports mainly warfare control systems, such as reconnaissance, communications, target acquisition and navigation systems, and it also modernises and upgrades weapons for its clients. In other words, Israel exports technological systems that cost much more than ordinary weapons.
Russia is lagging behind other countries in that sector, but the government's military-industrial commission has been working hard to close the gap. This gives reason to hope that Russian-made weapons systems, the best in the world and among the least expensive, will soon be complemented by comparable warfare control systems.
Opinion...
The lie of the land: Europe is united only by its contradictions
From:
Edward Lucas
SHOULD we ban the term "Europe"? It will be much used—and misused—at the EU's 50-year anniversary celebrations in Berlin. "Europe" is certainly not the European Union. Cities like Königsberg and Lemberg have been European for centuries (albeit not under those names). They won't be in the EU any time soon.
Even snobs who think that the mud-and-vodka belt is inhabited by barbarians would have to admit that anything that excludes Switzerland and Norway isn't complete. The label is meaninglessly elastic. The European Bank for Reconstruction and Development stretches to include such unlikely Europeans as Turkmenistan and Mongolia. The Organisation for Security and Cooperation in Europe has (thankfully) a strong American presence.
So "Europe" means nothing geopolitically. Nor does it make sense in internal politics. The Belarus autocracy is "un-European"? Hang on: Belarus is the historic core of the late lamented Grand Duchy of Lithuania, once the largest state in Europe, an early modern superpower that was multicultural and multi-confessional before its time. Calling Belarus "un-European" is like calling Virginia "un-American".
If only the Belarusian regime were more "un-European". The idea that "Europe" means deeply-rooted multiparty democracy and strong institutions is fanciful, even if you look only at the past 15 years. Try finding a common political theory that encompasses Britain, Serbia and Belgium over that period. Look back over a century, and Europe is better termed the cradle of totalitarian dictatorship and mass murder.
What about the European Convention on Human Rights: surely that embodies the European ideal? Not a bit of it. Countries outside Europe (mostly, but not only, former British colonies) uphold those ideals better than some European countries that have signed up to it.
"Europe" means equally little when it comes to economic models. It is dirigiste and free-market, flexible and calcified, low-tax and high-tax, celebrating both private property and its confiscation.
"Well, what about creativity", the Europhiles whinge, "surely the common European tradition is the wellspring of world culture?" True: there were at some points some common trends across the continent—the Renaissance and the Enlightenment, perhaps.
Thereafter, though, such trends were not European, but products of their time. They stretched across oceans to the Americas and India and beyond. European languages such as English and Spanish, when they reached other continents, produced great literature there too.
For those who use "European" as a term of approbation, surely faraway Canada and New Zealand are much more "European" than, say, Albania. But the map doesn't lie. Albania is between Greece and Italy, the historic hearts of everything the Europhiles count their own.
Maybe distance doesn't matter—maybe Vladivostok is a European town on the Pacific, and Tirana is a Levantine city in the heart of Europe? Fine, but then the European argument becomes even weaker. If Europe means anything at all, it is a place on the map, stretching from the Atlantic to the beginning, middle or far end of Russia depending on your outlook and upbringing.
In short, there are too many exceptions inside the definition, and too many outsiders who share the same qualities. If "Europe" means "tolerant", "modern" or "civilised", then say so—and be prepared to meet many "Europeans" who are anything but.
The more you think about it, the harder it is to find any meaningful use of the words "Europe" or "European" and anyone using them is probably trying to sell you something. Be particularly alert if they are used by someone from the rich west, talking to the ex-communist east. What they mean is "we got here before you". To which the answer—especially if you are from the lands of the Grand Duchy of Lithuania—should be: "No you didn't".
The future of Russia and the EU
From:
Sergei Karaganov for RIA Novosti
For Russia, Europe is a centuries-long magnet, which has had a strong influence on its cultural identity to this day. For Europe, Russia has always been both a shield and a threat. Russia defended Europe from the Mongols, Turks and Nazis; it has been the most reliable among a host of almost wholly unreliable major suppliers of energy, which Europe generates on a negligible scale. But defending Europe, Russia sometimes launched an offensive and gained control over some of its parts. Moreover, following the usual European road, Russia has never been fully European, nor has it been capable of it.
The past few years have made relations between Europe and Russia even more confusing than before. The former has built a post-European civilization based on a renunciation of violence, individualism and partly sovereignty; has built a society where all its members can coexist in comfort; and, importantly, has overcome the curse of strife and hostility. But having made these spectacular achievements, Europe has lost its strategic loadstar. Having absorbed 27 countries, Europe does not know what to do next. Nor does it have any strategy as regards Russia.
Having overcome its communist past, Russia rushed to Europe just to find that it was not very welcome. Even more important, it transpired that Europe had changed beyond recognition, and was very different from what we yearned for. As a result, Russia also lost its old vector.
This mutual loss has become particularly clear in the last few years. Having quickly established a close dialogue in the early 1990s, the sides discovered that they did not have much to talk about. Their rapprochement produced shallow documents about four spaces. The situation was made worse by Europe's extension, which not only consolidated the traditionally anti-Russian forces but created the impression that in its domestic, and to some extent, foreign policies Moscow was following a non-European and even an anti-European road.
In turn, we came to the conclusion that the indecisive Europe was a weakling. In line with Russia's worst political tradition, coupled with our own humiliations of the past decade, we started talking to the Europeans with arrogance, if not disdain. In the past few months - after the fantastic polonium scandal and the European criticism of Russia's decision to export gas to Belarus at higher prices, we have come to think that Russia will be censured no matter what it does. Europe's moral and political influence has diminished.
In this situation, even mild criticism of truly hideous events in Russia cannot be perceived as a desire to help.
The dialogue has been reduced to tough bargaining on energy. Pressure is becoming tougher. Europe demands that Russia give up its monopoly on oil and gas pipelines, although Norway, a de facto EU member, still has such monopoly. Although Europe insists that Russia should give foreign companies access to its resources, many countries all over the world do not do so. It is not clear whether this is good or not but Russia seems to have been chosen as a weak link. The Iranians and the Saudis will not even hear of it. It is possible to push Uzbeks, Turkmen, or Kazakhs, but the biggest part of their resources is transported through Russia.
Russia feels strong, and is not going to yield. It is not frightened by the threats to build oil and gas pipelines around it. Quite the contrary, they reinforce its resolve to build pipes to the East, thereby strengthening its grip on the market. The new Russia-EU Treaty, which should replace the 1994 partnership and cooperation agreement, is likely to become another bureaucratic sham.
We have come to what seems to be a deadlock. What can we do now? We should not be rude, but nor should we yield to pressure because concessions will only generate further demands. A strange promise by our officials at the Russia-EU summit in Lahti not to charge European airlines for transit over Siberia starting in 2007 has already led to demands for more benefits.
But the deadlock will be overcome in a couple of years when Russia gives up its patently ineffective political and economic model of the past two years, and when Europe gets its act together and adopts a clear-cut strategy for the future.
New members will melt in the pot, and will stop being a drag on Europe and playing up to its rivals.
A new generation of leaders will not care for the old socialist (albeit enlightened) model of European development. The newcomers with their renunciation of socialism could be helpful here.
Let's hope that European leaders will become younger and will move to the right. I'd like to hope for similar changes in Russia. We will then have a new round of rapprochement, which will not be based on the teacher-student model or tough rivalry. Russia cannot be pushed into playing a student's role.
Europe will define its future model. On March 25, a historic EU summit will celebrate 50 years since the Treaty of Rome created the European Economic Community. The best brains in Europe are working on a declaration designed to give a strategic vision of the future and take the EU out of the impasse.
For all my deep respect and sympathy for these people, I'm afraid they will not produce anything meaningful. Europe should proclaim a course towards a genuine political alliance and formation of a quasi-federative state. But the Europeans will not go for this. Another option is to move backwards and accept that political unification was a mistake, that the EU should not have pursued a common foreign and defense policy. But this will not be easy to do. There is one more option - to move towards a strategic super-alliance with Russia, its territory, armed forces, and resource potential. But the Europeans are not yet ready for this move at all.
So, we will have to wait instead of bargaining over trifles; we should not give concessions and should work for rapprochement at cultural level, taking small steps and working on minor projects.
We can achieve the goal if we do not fail as a civilization, or get bogged down in the quagmire of isolation. In several years the Europeans, who will inevitably become weaker compared with other centers in the world, may still come back to my third option.
In this case, Russia and Europe will be in for a new historical rapprochement, which will benefit all Europeans - from the Atlantic to the Pacific.
Sport...
Gurenko still in exile from Belarus
From:
UEFA
Sergei Gurenko
Defender Sergei Gurenko remained out of the picture as Yuri Puntus named his 22-man squad for Belarus's UEFA EURO 2008™ qualifier in Luxembourg on 24 March.
In dispute
Gurenko and Puntus have yet to resolve a dispute, while the coach is also unable to call on Maksim Romashchenko, who retired from international football in October 2006. No new faces have joined the latest lineup who are expected to play a friendly game against a German club side on 19 March before travelling on to Luxembourg on 23 March. Belarus are currently fourth in Group G.
Belarus squad
Goalkeepers: Yuri Zhevnov (FC Moskva), Vasili Khomutovski (FC Tom Tomsk), Vladimir Gaev (FC Chornomorets Odesa).
Defenders: Sergei Omelyanchuk (FC Rostov), Sergei Shtaniuk (FC Luch-Energia Vladivostok), Dmitri Lentsevich (FC Torpedo Moskva), Aleksandr Yurevich (FC Shakhtyor Soligorsk), Artyom Chelyadinski (FC Metalurh Zaporizhya), Artyom Radkov (FC BATE Borisov).
Midfielders: Timofei Kalachev (FC Rostov), Vladimir Korythko (FC Chornomorets Odesa), Aleksandr Kulchy (FC Tom Tomsk), Dmitri Likhtarovich (FC BATE Borisov), Denis Kovba (FC Krylya Sovetov Samara), Aleksandr Hleb (Arsenal FC), Oleg Strakhanovich (FBK Kaunas).
Forwards: Vitali Kutuzov (Parma FC), Sergei Kornilenko (FC Dnipro Dnipropetrovsk), Artyom Kontsevoy (FC MTZ-RIPO Minsk), Leonid Kovel (FC Karpaty Lviv), Vyacheslav Hleb (FBK Kaunas), Gennadi Bliznyuk (FC BATE Borisov).
Endnote...
Some Statistics about Belarusian Women
From:
Naveny
Women's pay in Belarus is lagging behind men's, with women earning 20 percent less on average despite being better educated, Antanina Morava, co-chairperson of the Belarusian Union of Women, said at a news conference in Minsk on Tuesday.
Around 59 percent of all Belarusian women reportedly have a diploma of higher education and 73 percent have a degree from a vocational training school.
Ms. Morava said that women earned less because they mostly were employed in the government-funded sector.
She said that women accounted for 69 percent of all officially registered unemployed people, with many of them being in their early 30s, holding a degree from a vocational training school and raising children.
Ms. Morava unveiled other statistical data as well.
Women in Belarus live on average to the age of 75, 11 years longer than men. All 23 Belarusians aged over 110 are women.
Women account for 30.3 percent of all members of the national legislature, and for 16 percent of the heads of major enterprises. There are one female minister and 13 female deputy ministers in Belarus.
Belarus ranks first among other CIS countries and 52nd among 170 nations in gender equality, according to Ms. Morava.
Women account for 53 percent of 9.7 million people living in Belarus.
Extras...
Former Minister of Health Ludmila Pastajalka Died
Ludmila Pastajalka was considered one of the most influential officials in Belarusian politics, a member of his inner circle. She was born in Ukraine in 1941, graduated from Kyiv Medical University. She was a senior physician in Brest regional children polyclinics before the presidential election in 2001. After that she was appointed a deputy assistant of Minister of Health, and in a year she was a minister of this institution.


Dutch boycott UN human trafficking conference
The Netherlands is not taking part in a United Nations conference on trafficking in women and children because it is being organised by Belarus interior minister Vladimir Naumov, a foreign affairs ministry spokesman confirmed to ANP on Monday.
Naumov is suspected of being involved in the disappearance of several opposition leaders in the 1990s. Instead, the Netherlands will send a civil servant to act as an observer.


Belarus Forms Special Military Units to Fight Bird Flu
The Belarusian defense ministry has created a number of units to counter the spread of bird flu, the ministry's press service told Interfax on Monday.
The Belarusian armed forces are creating units to ensure troops are able to respond to and eliminate any hotbeds of infection, it said.
Teams will be provided with special machines and equipment to carry out disinfection procedures, it said.