Belarus/Russia sign trade agreement, Another plane shot down in Somalia, Venezuela, Economy still up, The big party, China, Belarus 2 Luxemburg 1
Prime ministers of Belarus and Russia meet in Minsk: By signing trade agreement Belarus and Russia accelerate creation of Customs Union
From: BelTA
The intergovernmental agreement on trade-economic cooperation between Belarus and Russia, signed today in Minsk, is not only a framework document but also a concrete agreement. It aims at accelerating the creation of the Customs Union. Concrete terms of supplies of the Belarusian products to Russia and the single approach to this process are described in the agreement, prime minister of this country Sergei Sidorskiy said today when commenting upon the signed document after the meeting of the Union State Council of Ministers in Minsk.
In turn, Mikhail Fradkov has underlined that the agreement provides a free access of goods to the markets of the two states. The agreement covers the whole set of main commodity items – oil, gas. "The agreement is based on the idea of setting the Union State relations on a market-based path", the Russian premier underlined.
The Belarusian party was represented by vice premier Andrei Kobyakov, finance minister Nikolai Korbut, economy minister Nikolai Zaichenko, energy minister Alexander Ozerets, minister of transport and communications Vladimir Sosnovskiy, chairman of the state customs committee Alexander Shpilevskiy.
The Russian party was represented by deputy minister of economic development and trade of Russia Vitaliy Savelyev and finance minister Alexei Kudrin.
Belarus and Russia are intent on settling the problem of queues witnessed at the Belarusian-Russian border following changes in rules regulating the temporary clearance of vehicles. The intention was voiced by Russian Federation premier Mikhail Fradkov.
He said, the problem had been discussed at the session.
"We try not to make artificial problems for each other", he said. "Nobody likes queues and we will do our best to minimise these", added Mikhail Fradkov.
The premier noted, the issue is beyond the customs and border clearance regulations.
"We will attentively consider it once again and will take proper measures both on the Russian and Belarusian sides", said Mikhail Fradkov. Russia is ready to consider an opportunity to partake in construction of a nuclear plant in Belarus. This issue had not been touched upon at today's session. "So far the issue has not been raised. If it is brought up, the answer will be given" the head of the Russian government said.
Mikhail Fradkov added that Russia had vast experience in nuclear plant construction. "We have been building for our own use and for the entire world," he stressed.
Belarus is ready to negotiate the participation of foreign investors in the privatisation of Belarusian companies, Belarus prime minister Sergei Sidorskiy told media after today's session of the Union State Cabinet.
Oil
The Russian companies sending oil to Belarus for processing make bigger profits in this country than in Europe, prime minister of Belarus Sergei Sidorskiy has told a press conference today.
Belarus and the Russian oil companies have signed a corresponding agreement to devise a scheme and a price formula for the oil supplies to Belarus. Sergei Sidorskiy became bewildered by the intention of the Russian companies to generate even bigger profits. "They earn more in this country than in Europe", the Belarusian premier underlined.
He has noted that if the Russian companies again "raise questions about the prices (Lukoil has repeatedly stated about unprofitableness of the oil supplies) these questions will be discussed at the government level.
Sergei Sidorskiy has said the Belarusian government will be following this process. "However, we will not let these Russian companies thrust their opinion in this field on us", he underlined.
In turn, chairman of Russia's government Mikhail Fradkov said Russia was keeping to the agreement reached earlier. The matter concerns the agreement on oil supplies to Belarus signed in Moscow on January 12. "There might be several differences in our approaches from the standpoint of the cooperation between economic entities. However, we do not settle concrete economic problems which these or those companies face", he noted. "Our economic entities have not informed us about these concerns", the Russian premier added.
Belarus government takes enough measures to minimise consequences of the higher energy prices, including measures aimed at minimising additional business losses. The statement was made by Belarus prime minister Sergei Sidorskiy after a session of the Union State Cabinet today.
The prime minister also said, the governments of Belarus and Russia attentively monitor the foreign trade turnover between the countries. In January the figure swelled by 8%. "It is a good figure for a January", noted Sergei Sidorskiy.
According to the premier, "It is difficult for Belarus to double the gas payments in one go, difficult to take 70% of the total oil products export and hand it over to the Russian business". Yet Sergei Sidorskiy stressed, the Belarusian government had adopted quite a well-thought-out decision to minimise such losses. "We are busy with making the national economy feel confident in the new market conditions", said Sergei Sidorskiy.
Commenting on the January performance, Russian premier Mikhail Fradkov underscored, "There are no grounds for worry". He noted, today the sides had agreed the 2007 energy budget, okayed a forecast of the Union State development in 2007 and up to 2009. "We did it in coordination. We had no fundamental disagreements", said the Russian head of government. "Everything is normal. Don't try to find sensations where there are none. And we won't give you reasons to".
"We are ready to accept any investor, who will negotiate with Belarusian companies. We will welcome Russian companies, if they wish to participate in the privatisation of large Belarusian companies", noted the prime minister. On the whole, he reminded, in previous years the Belarusian government had decided to privatise large Belarusian companies. In particular, today Belarusian oil refineries are state-owned joint-stock companies.
According to Sergei Sidorskiy, foreign investors can come to Belarus in accordance with the national Investment Code. So the legal foundation for it is ready in Belarus.
As an example of the successful business of Russian companies in Belarus the prime minister cited the project to build a newsprint mill in Shklov.
A decision on a stabilization credit to Belarus will be taken soon, Mikhail Fradkov has told journalists today.
A reminder, in January this year the Belarusian government asked Russia to grant a $1,5bn stabilization credit.
Mikhail Fradkov noted that the request of the Belarusian government is under consideration now. In his words, to make the decision is not an easy thing to do as this is quite a big sum of money. Mikhail Fradkov believes that the decision should benefit Russia and help Belarus solve several issues.
Belarus says plane shot down in Somalia
From:
Reuters
More than 20 people have died in clashes between insurgents and Ethiopia-backed government forces during two days of clashes - the heaviest fighting in the city this year.
Belarus said on Saturday a missile caused a plane crash in Mogadishu that killed 11 of its citizens, while the Somali government said the incident looked more like an accident than an attack by ever bolder insurgents.
"The plane was shot down," Transport Ministry spokeswoman Kseniya Perestoronina said in Minsk, adding the large Ilyushin plane, in Somalia to assist struggling African peacekeepers, was hit at a height of 150 metres (500 feet).
If confirmed, it would be the most spectacular strike yet by rebels fighting the Somali government, their Ethiopian military allies and the African Union (AU) force since the start of 2007.
Both a local Somali radio and an Islamist Web site said a missile hit the Russian-made Ilyushin -- used by a Belarussian firm -- just after takeoff from Mogadishu on Friday afternoon.
However, witnesses who saw the plane burning in the sky and then crashing could not confirm it had been shot first.
And Somali Interior Minister Mohamed Mahamud Guled insisted the incident had the hallmarks of a technical fault, though investigations were under way to confirm exactly what happened.
"The plane took off at around five o'clock and as soon as it reached 10,000 feet altitude, the pilot reported an engine problem in engine number two and said he would turn back to the airport," he told a news conference in Mogadishu.
Only one of the 11 on board, who were seven crew members and four engineers, initially survived the crash. He was found wandering among corpses and wreckage, but then died in hospital.
At the crash site -- a farmers' hamlet just north of Mogadishu -- a Reuters reporter there on Saturday could see crushed animals, four corpses still on the ground, and wreckage strewn across an area the size of four football fields.
"I was so scared. The smoke and the fire coming from the sky was overwhelming. Everyone though it was going to explode again after it crashed and so they fled the area," said Mahmud Farah, a local born in the area. "I am 50 years old and this is the first time I've ever been near a plane."
DEEPENING VIOLENCE
Ugandan Africa Union (AU) peacekeepers patrol the streets of Mogadishu, March 23, 2007.
REUTERS/Sahal Abdule
The plane had brought a team to fix another Ilyushin lying damaged at Mogadishu airport after flying in peacekeepers. That plane caught fire on the runway in an incident the AU said was a technical fault, but Islamists said was a missile attack.
Friday's crash came after three days of the worst violence since a war over the New Year that ousted militant Islamists in charge of south Somalia for the previous six months.
Insurgents believed to be a mixture of Islamists and disgruntled clan militia have been striking daily against the government, Ethiopian soldiers, and contingent of 1,200 Ugandan soldiers in the vanguard of the African force.
At least 20 people have died and hundreds more have been wounded in the fighting since Wednesday.
Thousands have fled Mogadishu.
Residents say the latest violence coincides with a government-led disarmament drive resisted by Mogadishu's dominant Hawiye clan, many of whom regard it as an attempt by the president, from the rival Darod clan, to marginalise them.
President Abdullahi Yusuf's interim government -- the 14th attempt to establish central rule to Somalia since 1991 -- says it wants to secure the gun-infested city before a reconciliation conference scheduled for April 16.
Belarus to provide Venezuela night vision devices
From:
Monsters and Critics
Belarusian military optics factories will supply the Venezuelan army with night vision devices, the Belapan news wire service reported on Friday.
The announcement came after meetings in Caracas between Venezuelan President Hugo Chavez, and senior representatives of Belarus' authoritarian leader Aleksander Lukashenko.
The night vision devices will be fitted to 'every single rifle in the Venezuelan army' Chavez said. The Belarusian delegation had been in Venezuela for a week, and one-on-one talks between Chavez and Belarusian lead negotiator Vladimir Sheyman lasted three hours, Belapan reported.
A former Soviet republic with a centrally-planned economy, Belarus manufactures a wide range of military supplies for export. Belarusian night vision devices suitable for rifles retail at roughly one-third the price of comparable NATO-standard devices.
The report did not give details on the size of the deal. Venezuela fields an army of 34,000 men, according the Global Security research group - making the potential value of the Venezuelan night scope order to Belarus between 3 and 24 million dollars.
Minsk and Caracas also agreed on the installation of a factory for road construction machinery in Venezuela.
The Belarusian-technology plant will assemble asphalt-laying and other road construction machines, needed by Venezuela 'because such things practically do not exist in our market,' Chavez said, according to the Belapan report.
Belarusian natural gas prospecting and distribution equipment, and petroleum prospecting technologies, reportedly are also on Venezuela's shopping list.
Officials from the Venezuelan national energy company Petroleos de Venezuela (Pdvsa) already are in talks with Belarusian natural gas production specialists, according to the report.
Chavez, leader of one the world's leading petroleum exporting nations, has repeatedly attacked major energy multinationals as exploitative of developing nations, and called for countries like Venezuela to develop their energy resources on their own.
Like Chavez, Belarus' leader Lukashenko following a foreign policy line hostile to the US, and has worked to lessen the impact of US economic sanctions by seeking orders for Belarusian manufacturing in nonaligned nations.
Belarus maintains economic growth in January-February
From:
NLIPRB
In January-February 2007 Belarus reported robust economic performance in production and investment spheres having met 13 out of 19 socio-economic targets for the year, the press-service of the economy ministry told BelTA.
GDP grew by 9% from January-February 2006 while the target figures ranged between 8% and 9% and were 6.5% for H1. The GDP energy-intensity was reduced by 24.7% in January (the target was 6-7%).
The production increase in January-February 2007 was 6.9% from the same period last year (the targets were 7.5-8.5% for this period and 5% for H1 2007). Consumer goods production upped by 6%, that of food climbed by 11.2%, down 0.3% from January-February 2006 (the target was 9-10%). Labour productivity in the manufacturing industry grew by 7.1%.
As for the performance of the real economy sector, by and large domestic economic entities reported a 11.5% improvement in product profitability in January 2007. The product profitability in the manufacturing industry was 12.1%.
The manufacturing industry managed to reduce material intensity by 6.1% in comparable prices, far above the projected 0.7%, the press-service asserted.
Agricultural production in January-February 2007 upped by 5.2% from the same period last year, the target being 6-7.5% and 2% for H1). Agricultural companies and privately-owned farms reported a 7.9% growth as against the planned 3%. The agricultural production generated by personal subsidiary farms fell by 6.2%, the main impediment being the reduction in the number of cattle.
Capital investments in January-February 2007 went up by 33.7% from the same period in 2006, the target being 14.5-17%. Capital investments with regard to manufacturing enterprises surged by 34.6%. The share of investments in production in the total volume of investments in January-February 2007 made up 63.4%.
In January-February 2007, 20.9% of total investments was utilized in housing construction, or 30.7% up from the same period last year. Over the two months 585 thousand square meters of housing was sent in service, including 321 thousand square meters in rural areas. This is 36.9% up from January-February 2006.
The economy ministry has also cited foreign trade figures. Under the payment balance method, in January foreign trade in goods and services grew by 14.9% on January 2006 (the 2007 projections - 10.8%-12%), including export – by 1.5% (the projections - 13.2%-14.5%), imports – by 29.3% (8.5%-9.5%). In January the current trade deficit came to $288,6 million (the projections provide for the foreign trade surplus to the tune of $500-600 million).
In January 2007, real money incomes of people (adjusted to the Consumer Prices Index) ramped up by 17.4% over January 2006 (the forecast for 2007 – 7.5%-8.5%).
As of March 1 the unemployed rate was 1.2% of the total people in prime working years (the forecast – 1.5%-1.8%). According to preliminary data, in January 2007 the number of the employed people made up 4367.9 thousand people, what is below the 2007 target of 4375-4448 thousand people.
The consumer market kept on growing in January-February. The retail trade including public catering picked up by 21.1% from the same period last year 2006 (the 2007 projections – 9.5%-10.5%). In January 2007 paid services to the population went up by 13% on January 2006, what is above the target.
In January-February this year the consumer price index edged up by 2.6%, or 1.3% a month while the 2007 forecast is 0.5%-0.6%. The growth comes on the back of a seasonal factor (higher inflation at the beginning of the year than in summer or autumn) and new macroeconomic environment attributed to the energy price hike, the economy ministry says.
In January Belarus increased import of grains by 40.4%
From:
AgroMArket
In January 2007 Belarus imported 58.800 tonnes of grains, up 40.4% that during the analogous period of last year, informed Ministry of Statistics anв Analysis to "Interfax".
Belarus imported grains for the sum of $11.3 mln (against $7 mln in January 2006), and average contract price totaled $192.4/tonne (against $167.4 last year).
The most volume of grains was delivered from Kazakhstan (50.500 tonnes for $9 mln).
Besides, this year 2.900 tonnes for $1.1 mln were imported from Russia, down 37.5% from January 2006; 938 tonnes (down 15 times) for $192.500 - from Ukraine, 572 tonnes for $251.400 - from Vietnam and 379 tonnes (down 37,4%) for $170.400 - from India.
In Belarus, the area under spring grains totaled 60.000 ha, or 5.4% from the total sowing area, informed Head of Main Department of plant growing of Ministry of Food and Industry, Grigoriy Romanyuk.
According to him, as of March, 22, 111.700 ha of soil were ready for sowing campaign.
Spring sowing will be done on 2.33 mln ha area, down 12% from last year. Acreage under spring grains and legumes will total 1.15 mln ha.
"For Independent Belarus" starts in Minsk with music festival on March 25
From:
BelTA
The republican action "For Independent Belarus" will start in Minsk on March 25 with a music festival.
Two concerts will begin simultaneously at 11.00 at two outdoor venues. One concert will be held near Minsk-1 Airport, another – by the National Library of Belarus.
The artists scheduled to perform during the concerts represent various music styles hence making the event interesting for a wide range of people. Thus, the National Symphonic Orchestra of the Republic of Belarus, band Pesnyary, Irina Dorofeeva's song theater, Honored Artists of Belarus Yakov Naumenko, winners and nominees of the Junior Eurovision Song Contest Ksenia Sitnik and Andrei Kunets, students of the national music art center named after Vladimir Mulyavin will perform by the National Library of Belarus.
The concert by Minsk-1 Airport will star Ruslan Alekhno, Inna Afanasyeva, Iskui Abalyan, Victoria Aleshko, Larisa Gribaleva, Elena Grishanova, Irina Dorofeeva, Piotr Yelfimov, Georgy and Dmitry Koldun, Sasha Nemo, Polina Smolova, Juliana, such bands as Tyani-Tolkai, The Project, Topless and other pop singers.
Note: There are several stories in the media concerning the Belarusian opposition and how the government is denying them the right to demonstrate on March 25th. The BEING HAD Times is not going to print any of these articles in this issue. The reason for this decision is that the 25th of March is a date which has been set aside for a spring celebration, as you can see from the above article, and not for a political rally. The object of the party is simply for civic pleasure and is not of a political nature in any way other than it is sponsored and staged by the state. The Belarusian opposition has not created the situation, nor has it had any hand in drawing anyone towards the location, but has only wanted to use the crowds which have been gathered to further its own ambitions.

Representing March 25th as a day for political rallying or for that matter, representing Belarus as a whole as a state seething with political intrigue is a complete misnomer. Belarusian working people, students and families who attend this celebration will not have come to the shows for anything other than amusement. To connect them with any potential mischief caused by any minority special interest group would be a distortion of the facts.

In the opinion of the BHTimes, if the opposition have been refused the right to demonstrate at this party, it would be for the same reasons that any political demonstrations might be banned from similar public gatherings anywhere. The people of Belarus have it hard enough; they should be allowed to simply relax and enjoy the show for a change.

Additional Note: As of the time of publication of this issue (the Morning of March 25th) it seems as though the content of the Charter '97 webiste is not available for viewing. You can see the header, but none of the stories. In the interest of fairness, this fact is mentioned. However that one CAN see the headers raises the question of whether the state is responsible for supressing their website, as surely will be claimed, or if Charter '97 has done this themselves so as to add to the intrigue.
U.S. Deeply Concerned by Belarus' Intimidation of Its Citizens;
State Department issues call for tolerance in advance of planned demonstration
From:
US Department of State
The United States is "deeply concerned about ongoing intimidation" of Belarusian citizens by the government of Belarus, the State Department says.
Department spokesman Sean McCormack said that Belarusian political party leaders, members of nongovernmental organizations and young people plan a peaceful demonstration in the capital, Minsk, on March 25. In a written statement March 23, McCormack urged the Belarusian regime "to allow its citizens to exercise their right to assemble peacefully and express their views without harassment or interference." He added that it is essential that security forces exercise restraint against the demonstrators.
McCormack also expressed concern for the well-being of all prisoners held for political reasons and urged their immediate release.
The State Department announcement comes less than a month after the U.S. Treasury Department froze the financial assets of six Belarusian government officials and prohibited U.S. citizens from doing business with them as a result of their involvement in human rights abuses and political repression. (See related article.)
The United States took similar action against 10 other Belarusian officials, including President Alexander Lukashenko, in July 2006. That action stemmed from a national election in March 2006 -- condemned by the European Union and the United States as fundamentally undemocratic -- that was followed by a government crackdown on Belarus' democratic opposition. (See related article.)
The State Department's report on human rights in Belarus, released in February 2007, stated that Belarus' government held "a fraudulent presidential election" in 2006.
"Throughout the election campaign and in the months afterward," according to the State Department, "opposition and civil society activists, including four domestic election observers and a former presidential candidate, were beaten, harassed, fined or imprisoned."
Since winning the presidency in 1994, Lukashenko "has systematically undermined the country's democratic institutions and concentrated power in the executive branch through authoritarian means, flawed referenda, manipulated elections, and arbitrary decrees that undermine the rule of law," according to the report.
Agreement on recuperation of Belarusian children in Italy may be signed within two weeks
From:
BelTA
An intergovernmental agreement on recuperation of Belarusian children in Italy can be signed within two weeks. Ambassador Extraordinary and Plenipotentiary of Belarus to Italy Aleksei Skripko did not rule out this possibility when talking to a BelTA correspondent. The diplomat is sure that the document will be signed by summer.
According to Aleksei Skripko, the Italian delegation that visited Minsk was "satisfied with the negotiations" related to the issues of recuperation of Belarusian children in Italy.
"In the morning I had talks with the leader of the Italian delegation. The Italian side is satisfied with the talks as we reached agreement on both the issues: the intergovernmental agreement on recuperation of Belarusian children and the protocol on adoption of 2005. The Italians promised these documents will be fulfilled", the ambassador noted.
During the meeting members of the Italian delegation praised the social security Belarus provides as welfare and education services to orphans and parentless children.
According to the head of the Belarusian diplomatic mission in Rome, annually around 27 thousand Belarusian children go to Italy for recuperation. "Over 15 years of bilateral humanitarian cooperation more than 400 thousand Belarusian children have visited Italy for recuperation purposes", the ambassador added.
Around the region...
Investors in Russia 'face new rules'
From:
Telegraph UK
Western investors in Russia's energy sector need to be aware that the rules of engagement have changed, the president of Europe's top development bank has warned.
Jean Lemierre, the president of the London-based European Bank for Reconstruction & Development, said in an interview that potential investors needed to be consider that "the Russian government has made very clear that the pattern of investments in these strategic sectors has changed".
While there were still opportunities for investment in these sectors, they were "under rules that may be different from the ones we have seen before", he added.
Western investors have become increasingly concerned at recent moves by the Russian government to renationalise its strategic energy reserves. Royal Dutch Shell was last year forced to sell a large stake in its Sakhalin-2 energy project to Gazprom, the state-controlled gas giant. The move came after a campaign lasting almost a year in which the Russian government threatened to cancel construction permits on environmental grounds. There has also been speculation that Moscow wants to take control of Kovykta, a giant gas field controlled by TNK-BP, BP's Russian joint venture.
News on Friday that TNK-BP planned a surprise bid for a stake in Rosneft, the state-controlled oil group, has provoked criticism that the move is little more than a diplomatic gesture aimed at giving the auction legitimacy and winning favour for BP in Moscow. The Rosneft stake, of nearly 10 per cent, belongs to Yukos, the bankrupt oil major.
"BP will make a bid so that they can score points with [President Vladimir] Putin and gain access to him on issues like Kovykta," said Robert Amsterdam, the lawyer of Mikhail Khodorkovsky, the founder of Yukos, who is serving an eight-year prison sentence in Siberia.
Lemierre, who was speaking before news of TNK-BP's plans broke, said Russia was not alone among countries, especially developing ones, where the energy sector is under the control of the state. Referring to the production-sharing contracts that Russia agreed with some of the Western oil majors, including Shell, in the 1990s, at a time when oil prices were low and Russia was eager for foreign capital, he said: "We must also understand that there are two points of view. You can have a point of view here but also in Moscow. . . You have probably got a conflict between contracts that were signed and the perceived fairness of the contracts."
What was crucial, he added, was that if a policy was changed it was done in a "transparent way".
The Sunday Telegraph revealed earlier this year that the EBRD had decided to walk away from the Sakhalin project after the emergence of Gazprom as a major shareholder. Asked whether the move was a deliberate snub to President Putin, Lemierre said the bank had never taken a final view on helping to fund the project and still needed to understand how Gazprom intended to finance it.
Russia accounted for more than a third of new investments made last year by the EBRD, which was established to encourage free markets in the former Soviet bloc. Lemierre, who will be visiting some of Russia's regions this week, said that, despite the increased role of the state in some sectors, the bank was confident a market economy was developing in the country.
China's Hu heads to Russia urgently seeking fuel
From:
Washington Post
Chinese President Hu Jintao goes to Moscow on Monday, confidently offering trade deals with an economy roaring back home, but urgently seeking oil, gas and assurance as the two countries eye each other's resurgent power.
Hu's three-day state visit to Russia will be his third as president, showing how seriously Beijing is courting its neighbor and President Vladimir Putin. Above all, Russia has the energy supplies China needs to fuel its growth.
"At present, Chinese-Russian relations are developing vigorously and have reached unprecedented levels," Hu told Russian journalists ahead of his visit. He is expected to unveil business deals worth over $4 billion, Chinese officials said.
China is the world's number two oil consumer, and Russia the second-largest exporter. But their potential partnership has been hobbled by both nations' desire to keep a grip on the strategic energy sector and maximize their oil majors' profits.
Previous plans for key crude and gas pipelines have languished after initial agreements were trumpeted by both sides, underscoring the brittleness of the two countries' friendship.
"Chinese-Russian ties are in a phase of improvement that is no mean feat, but undercurrents persist and mutual confidence still urgently needs upgrading," stated an overview of relations in a recent Chinese oil policy journal.
China wants lower prices for the gas and it is unclear whether Russia has enough crude to satisfy China and Japan -- who have been vying for supplies. Moscow has flip-flopped over which of these Asian rivals should get the first pipeline connection.
"People might have the goodwill, but the relationship seems to move ahead of the actual projects, the goodwill doesn't deliver," said Kang Wu, at the East-West Center in Hawaii.
But Beijing may be getting ready to swallow -- or make its firms swallow -- higher prices to restart the gas deal, said Keun-Wook Paik, an energy specialist at Chatham House think tank.
"My understanding is that a team has been in Moscow already," he told Reuters, adding that the visit could yield a formal deal.
"The Chinese side understands how contentious the Russians are over price issues," he added.
Story Continues...
Nearly 1,000 Poles stage anti-war protest in Warsaw
From:
People's Daily (China)
Nearly 1,000 Poles stage anti-war protest in Warsaw
Nearly 1,000 anti-war people demonstrated in the center of Warsaw on Saturday, demanding the withdrawal of foreign troops from Iraq and Afghanistan and opposing deploying U.S. anti-missile system in Poland.
The demonstration was organized by the Polish "Stop War" organization and the participants include representatives of Poland's New Left, the Communist Party of Poland, the Labor Party and Iraqis residing in Poland.
The parade started from the square of the palace, passing the Polish presidential palace and continued to the U.S. embassy in Poland. Holding flags and banners, the protestors shouted the slogans "stops capturing Iraq," "the gothic capture, the west to Iraq," "Do not bleed for petroleum," "Do not attack Iran," and "without anti-missile shield."
Philip Llkowski, the member of the Polish "Stop War" organization told the reporter of Xinhua News Agency, that "from the Iraq war broke out, the capture during the past 4 years had brought about the gigantic humanitarianism disaster, had more than 10,000 innocent common people died averagely every month. Holding a demonstration is that we can press together with the international community to USA and the Polish government, so that they can withdraw troops from Iraq as soon as possible."
Currently, 900 polish officers and soldiers stationed in Iraq. In Afghanistan, there had more than 100 polish soldiers since 2002.
The Polish government began to increase the armed force to Afghanistan recently. Until the first half of this year, it will add more than 1,000 soldiers.
Lithuania Marshals Forces for Building New Nuclear Plant
From:
Kommersant
Lithuanian Prime Minister Gedyminas Kirkilas (L) and his Polish counterpart Jaroslaw Kaczynski shake hands in the Belweder palace in Warsaw, March 2, 2007.
Lithuanian government launched the program for merging private and state energy companies of the country to implement a new ambitious project: to build Novo-Ignalinsk atomic power plant for exporting electric energy to Poland and Sweden. Lithuania wants to invest $2.6 billion into the project. However, the project has already triggered an international scandal: Latvia and Estonia, to whom 33-percent participation in the new atomic plant was promised, protest against Lithuania's unilateral decision to sell 22 percent to Poland.
Lithuanian authorities launched the program for merging the country's private and state energy companies into a unified energy holding. The holding will include the state enterprise of electric distribution network Rytu skirstomieji tinklai (RST) and similar private enterprise Vakaru skirstomieji tinklai (VST).
RST and VST will be merged into state energy enterprise Lietuvos energija. The holding's chief shareholder will be Lithuanian government (no less than 51 percent of shares). The state now owns 96.59 percent of Lietuvos energija and 71.35 percent of RST shares.
The main task of the super-holding will be to implement the project of building Novo-Ignalinsk atomic power plant before 2015, and the power lines from it to Poland and Sweden no later than by 2013.
However, a scandal is already spinning off around the project. Lithuania's partners, Latvia and Estonia, were to have 33 percent each in the project, while Lietuvos energija was to have 34 percent. Yet, Lithuanian Prime Minister Gedyminas Kirkilas and his Polish counterpart Jaroslaw Kaczynski signed a treaty in Warsaw in February, according to which 22 percent of the new atomic plant will be given to Poland's energy company Polskie Sieci Elektroenergetyczne (PSE).
Latvia and Estonia protest against Lithuania-Poland's agreement. Thus, it is unclear whether Lithuania will be able to retain its Baltic partners. It will not be able to implement the project on its own.
Opinion...
Russia: Why Is The Kremlin Retreating From Bushehr?
From:
Payvan (Iran)
Russian media this week scrambled to deny Western reports that Moscow had threatened to withhold nuclear fuel for Bushehr unless Tehran complies with demands to suspend enrichment activities.
What they couldn't deny was the fact that Russian specialists working on the nearly completed plant had begun to leave Iran. The Russian Atomic Energy Ministry described the exodus as a "planned workforce rotation," but elsewhere in Moscow officials were confirming that talks with Iran on the final stages of Bushehr were "on pause."
Never To Be Completed?
Some experts doubt the talks will ever resume. Among them is Vyacheslav Nikonov, the pro-Kremlin head of the Politika think tank. Iran's intransigence on the nuclear issue, he said, gave reason to suspect the Islamic republic was working to construct a weapons arsenal.
"Under such circumstances," Nikonov said, "any supply of nuclear fuel to launch the Bushehr station is impossible."
It's a surprising turnaround after months of deadlock on the United Nations Security Council, during which Russia refused to endorse the strict sanction regime against Iran favored by the United States.
The Security Council is now expected to vote on March 24 on a draft resolution that would tighten sanctions on Iranian arms exports and impose an assets freeze on people and organizations involved in Iran's nuclear and missile programs.
Russia and China, who in the past could be expected to exercise their veto right during such a vote, this week rejected a proposal by a nonpermanent member, South Africa, to suspend sanctions for 90 days.
So what caused Russia to make the shift? Aleksei Pushkov, a political commentator with TV-Tsentr and a member of Russia's influential Council for Foreign and Defense Policy, laid out three likely arguments for the Kremlin's apparent abandonment of its nuclear cooperation with Iran on his March 17 "Postscriptum" program:
First, he said, the Kremlin has decided that there is a limit to how for it will go to support Iran, especially as the administration of U.S. President George W. Bush appears to grow ever more in favor of military action. If Iran fails to comply, and Bush insists on his position, Pushkov said, Moscow can say it did everything possible to alter events and then "wash its hands" of the affair.
Second, Russian President Vladimir Putin wants to show that he has broken free of the Cold War mindset that "what is bad for Washington is good for Moscow." Instead, Pushkov said, his logic is that "the U.S. military instinct should be contained, but not at the price of a major conflict with the United States."
Finally, Pushkov said, Russia wants to send a message to fellow Security Council members that it, too, believes a nuclear Iran is unacceptable. At the same time he says, "unacceptable" to Moscow is not the same as "unacceptable" to Washington. The Kremlin line is that Iran may still manage to become a nuclear state, and the world should prepare to accept such an eventuality, rather than devise a military solution to prevent it.
Abrupt Reversal
So why did the Kremlin suddenly soften its stance on Iran? Perhaps, Pushkov argued, Putin felt he had enough areas of conflict with the United States. Between the U.S. missile-defense proposal for Central Europe, and growing support in Washington for Georgia, Azerbaijan, and Ukraine, there is plenty for the two countries to clash on without throwing Iran into the mix.
Still, Pushkov called for greater "finesse" in dealing with the Iranian nuclear issue. It is unseemly, he said, for the Kremlin to simply roll over and accept the U.S. line.
Russian Foreign Minister Sergei Lavrov, addressing the State Duma on March 21, appeared to share his concern. He stoutly denied any connection between the "pause" at Bushehr and the imminent Security Council vote. Moreover, he added, Russia would not support "excessive" sanctions against Iran.
What most observers agree on is that the original justification -- Iran's failure to pay its bills -- was implausible at best. Iran has plenty of funds with which to pay Russia, and Russia has more than enough money to proceed with Bushehr. Perhaps, for the Kremlin, the project has simply lost its economic attractiveness.
When Russia signed the Bushehr contract with Iran in 1995, the Russian nuclear sector was in desperate need of money; a single $1 billion contract was enough to keep the decaying industry afloat. Since that time, Russia's financial outlook has changed dramatically. The country is flush with petrodollars, and the nuclear sector now has construction contracts with China, India, Bulgaria, Vietnam, and Cuba, and is negotiating with Morocco and South Africa. Russia's adoption of a $60 billion program to reconstruct its own nuclear power industry is testament to the fact that funding is no longer a pressing concern.
Bushehr remains, however, an issue of image and prestige. Russia cares about its commercial reputation, and is not eager to make a callous display of its withdrawal from Iran. Moscow is also interested in preserving its political reputation within the Islamic world.
In the end, those who predicted that relations with the United States remain more important for Russia than those with Iran may be right. Not everyone in Russia is pleased, however. The "Vek" daily, which has ties to the Atomic Energy Ministry, does not conceal its disappointment. "Russia gave up Iran," it writes. "For 10 years, Moscow bought the time that Tehran needed to weaken U.S. influence in the Gulf. And now Moscow itself is imposing sanctions before the United Nations even gets a chance."
Moon must be studied but no need to send cosmonauts there
From: Ria Novosti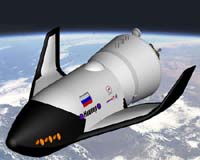 The Clipper (pictured) is designed to replace the Soyuz and Progress carrier rockets in making regular flights into space
There are growing calls in Russia to place more emphasis on researching the Moon. But industrial development of the Moon is a waste of time and money.
From the design, scientific and economic perspectives, Mars is a more justified target for Russia.
Starting in the 1970s, the Soviet Union focused its efforts on long-term manned space stations.
The first station, Salyut-1, was put into orbit in 1971 and the seventh station, Mir, had been working in outer space for 15 years before it was taken out of orbit in 2001.
According to Leonid Gorshkov, senior research fellow with the Energiya Rocket and Space Corporation, the design and the main systems of Russian orbital stations reached such a high level that they could serve as a foundation to create a spaceship for a manned flight to Mars.
The scenario includes a virtual crew landing - remotely controlled robots will land on the planet. The cosmonauts' safety on the journey to Mars and back, including the flight in Mars' orbit, will be practically the same as on the stations orbiting the Earth.
No other country is close to implementing such a project. According to experts from Energiya, the project, estimated at $14 billion, may be implemented within 12 years.
A flight to the Moon following the Apollo scenario could be more expensive, given the fact that Russia has practically no experience in designing equipment for landing on the Moon. Developing such equipment would require a significant experimental foundation.
Mars is more attractive for scientists than the Moon. According to Lev Zelyony, director of the Space Research Institute of the Russian Academy of Sciences, the presence of an atmosphere and proven presence of water make this celestial body very interesting for research into the origin and evolution of life, both on Earth and in the Universe, and it is also the most suitable planet in the solar system for colonization.
In 2004, President George Bush, for lack of a well-considered plan for a Mars expedition, proclaimed the goal of resuming manned flights to the Moon after 2015 and in 2020 to begin building a manned station.
But is it good for Russia to unquestioningly consider the United States a source of innovative ideas? In some areas, Russia could attempt to be a world leader.
From the blogs...
Is The Well Starting To Run Dry?
From:
TOL
Since the "Gas War" at the end of 2006, Belarusian and foreign economists have been speculating about the impact of the loss of cheap Russian energy on the country and its regime. While it is difficult to get trustworthy official data in a dictatorship, there do seem to be some indications that the effects are beginning to be felt.
To make it clear from the start, I am not an economist. This piece is more in the style of the pre-1991 "science" of Kremlinology—an attempt to "read between the lines," utilize small tidbits of news, and use other indirect signs to understand what is happening to Lukashenka's "economic miracle." What comes is an attempt to gather together some reports from the Belarusian media which, when examined together, appear to indicate that Belarus' "market socialism" is in for a bumpy ride. The following news items appeared during the first three weeks of March and offer a purely impressionistic view. I hope this will be the first of a series of pieces that will give some hints on what is happening as the economy adjusts to much higher energy costs.
•January 2007 profits of fuel industry products declined more than nine times in comparison to a year ago. The fuel industry has gone from being the most profitable to least profitable component in the industrial sector. Fuel output is down and refinery output of gasoline, diesel, and fuel oil has decreased from last year's levels at this time. Fifty percent of enterprises operating at a loss are fuel-related, compared to 22 percent a year ago at this time.
•The Finance Minister declared that increased prices for imported energy will cost the Belarus government about $6 billion.
•The Interior Ministry has complained about an increase in poor-quality fuel supplies to state-run enterprises.
•Authorities are planning to loan 150 billion rubles to local governments for the purchase of fuel and lubricating oils for the spring harvesting campaign. This year the government cannot provide collective farms with free fuel, as it did in 2006.
•Rather than doubling supplies as previously planned, Lukoil has stopped processing its crude oil at Belarusian refineries on a "give and take" basis because "this is unprofitable." Slavnaft is also considering stopping this type of business.
•Lukashenko reversed his decision to reduce the rate of excise tax on automotive fuel by 2.5 times and actually increased the rate 2.4 times.
•A deputy minister of industry indicated that increased energy prices will reduce the profitability of Belarus' automobile industry by two or three percentage points.
•The Finance Minister indicated that Belarus is seeking a $1.5 billion stabilization loan from Russia to plug holes in the budget caused by a sharp rise in energy costs. Another loan is being negotiated with China in case "other lines of credit don't work out."
•Beginning in March, motorists exiting Belarus more than once in three days must declare the amount of fuel in their vehicle's tanks. This is designed to prevent those living along the border from selling cheaper Belarusian diesel fuel in Poland.
•The National Assembly is considering several new laws designed to promote energy security, including promoting energy saving and the use of renewable energy sources.
•Schools and kindergartens across the country have been ordered to reduce electricity and heat consumption by 10 to 15 percent, or face fines.
•Belarus's Council of Ministers has reduced the export surplus target for the Belarusian State Petrochemical Concern (Belnaftakhim) from $5.03 billion to $4.1 billion.
•Belarus is negotiating with Venezuela, Kazakhstan and Ukraine to diversify its sources of imported energy supplies.
This news focuses only on the energy sector. It should be read in conjunction with other, non-energy related economic news, which also does not bode well for the Lukashenka regime, such as real average pay being down 9 percent in January, tax arrears and inflation up, and a new trade deficit. At least this rocky situation is being balanced by the good news that the production of alcoholic beverages is up.
A Sports Arena Gained is a Jewish Cemetery Lost
From:
Babushka
The inscription reads: (This plaque) is a memorial to Jewish people who have lived in the territories of Grodno from the 15th century.
-From their descendants
n unusually somber crowd congregated outside the Neman Sports Stadium in Grodna this Sunday. To bystanders walking the normally rowdy streets surrounding the stadium, this seems like a strange setting for solemnity. But for those that witnessed the stadium's construction in the 50s, the location could not have been any more suitable for a subdued event.
Similar to many Belarusian cities and towns, Grodno had a large and flourishing Jewish population before World War II. By the 14th century, the Jews of Grodno had already established a synagogue, built a cemetery, and owned tracts of real-estate in and around Grodno. The well-resourced community members kept busy with trade, handicrafts, and land-leasing.
Throughout the centuries, the stability of the existence of Grodno Jews vacillated. When times were good, the Jews prospered in their professions and even took in less fortunate Jewish refugees from neighboring municipalities who were victims of pogroms and expulsions. But when times were bad, the Jews of Grodno suffered their own banishments, land confiscation, and from any other restrictive decree.
After World War II, only a small percentage of the Jews and Jewish relics in Belarus survived. The Jewish community of Grodno, however tattered, was luckily left with an ancient synagogue and cemetery to remind them of their rich history.
But only one of these artifacts would remain, as soon after the war, Soviet authorities demolished the Jewish cemetery and built the "Red Flag Stadium," later renamed "Neman," over ancient tombstones and graves which were still being visited by living relatives. Many tombstones were used to pave roads, and the metal sign at the cemetery entranceway was used to build a monument of Lenin in the Grodno central square. Some local residents even used the stones from the cemetery to furnish their facilities.
In an effort to perpetuate the memory of the deceased who could no longer be visited, members of the community fought to construct some form of memorial. After years of negotiation with local authorities and collecting funds, the Jews of Grodna had successfully received permission to put up a commemorative plaque.
Jews from Grodno and all over Belarus gathered around the wall by the Neman stadium to mark the occasion. Sunday's ceremony was attended by many officials, including the head of the Jewish National Cultural Association of Grodno and heads of Regional and Municipal Executive Committees of Belarus. Also present were leaders from the Chabad and Orthodox communities of Belarus, and Mr. Levin, the head of the Union of Belarusian Jewish Communities. Israeli Ambassador Ze'ev Ben Aryeh presented a medal to the wife of a man saved one Jew from being murdered during World War II.
The commemorative inscription reads in Belarusian and Russian: "In memory of the Jewish community, which lived within the land borders of their ancestors since the 14th century."
Sport...
Belarus picks up points in Luxembourg
From:
UEFA
Timofei Kalachev is congratulated on giving Belarus the lead
Belarus ensured they would stay in touch with the UEFA EURO 2008™ Group G leaders tonight as they held on for a win in Luxembourg.
Belarus hold on
Goals from Timofei Kalachev and Vitali Kutuzov had put Belarus in control but substitute Chris Sagrahola pulled one back for Luxembourg and the home side had chances to secure a first point in the group near the end. Belarus remain fourth, three points ahead of Slovenia.
Kulchiy close
After Luxembourg defender Jeff Strasser had had to make a couple of early interceptions, the persistence of the visitors soon paid off. Kutuzov forged an opening for Kalachev who found the top left corner with his left foot. The scorer then set up Aleksandr Kulchiy whose shot rattled the post. Luxembourg finally threatened for the first time when Dan Collette's long-range effort demanded a save from Yuri Zhevnov, who then had to field a Strasser header.
Lead doubles
Early in the second half, Kutuzov's strike warmed the palms of Jonathan Joubert. However, he was not to be denied after 53 minutes when his shot from distance flew into the net. Kalachev tried to follow suit with a wayward attempt from outside the area, while Vyacheslav Hleb forced another save from Joubert as Belurus continued to press.
Luxembourg reduce arrears
At the other end, Sagrahola was denied by Zhevnov and the same player subsequently reduced the arrears for the hosts on 68 minutes, rustling the bottom left corner after good work from fellow substitute Jérôme Bigard. Vladimir Korythko might have restored Belarus's two-goal cushion, before with eight minutes remaining Strasser almost equalised with a header and René Peters also went close. Luxembourg will hope for better luck in Romania on Wednesday, while Belarus return to action with two fixtures against Bulgaria in early June.
Belarusian Chess Federation considers to bid for Chess Olympiad 2012 in Minsk
From: BelTA
Belarusian Chess Federation (BCF) considers bidding to host the Chess Olympiad 2012 in Minsk, BelTA learnt from BCF head Konstantin Ivanov who was taking part in the award ceremony of young Belarusian grandmasters Anna Sharevich, Sergei Azarov and brothers Andrei and Sergei Zhigalko with
"The Chess Olympiad is a very prestigious event. Its conduction in our country can give a powerful impetus to the development of this intellectual sport in Belarus. We realize that it will not be easy to organize such a tournament as about 2,000 chess players from over 100 countries take part in it. Expenses for Olympiad are estimated at $5 million. Some funds will be provided by sponsors but the support of the state is also needed," Konstantin Ivanov said.
Several prestigious chess tournaments have already been conducted in Belarus. Thus, in 2001 Belarus played host to the European Women's Rapid Chess Championship. In 2005, an international tournament gathered together 165 chess players from 8 countries in Belarus. In July this year the third Inautomarket Open with a $14,000 prize fund will be held in Minsk.
Chess is one of few sports to have own Olympic Games. They have been held since 1924. The previous Games were held in 2006 in Torino, Italy. The next two will be held in German Dresden (2008) and Russian Khanty-Mansiysk (2010).
There are about 4,000 junior chess players in Belarus. The Belarusian Chess Federation has 11 international grandmasters and 5 female international grandmasters. Among Belarus-born winners of international competitions are Sergei Zhigalko, Sergei Azarov, Yuri Shulman and others. Alexei Alexandrov was vice champion of Europe in 2000.
End Note...
March demonstration: apprehension
From:
Belarus News and Facts
The Belarus authorities have taken steps to frustrate the opposition's plan for a big demonstration to mark the 89th anniversary of the Belarusian National Republic on March 25. The opposition coalition, torn by internal power struggle, is not doing its best to prepare for the protest.
The police and the Committee for State Security (KGB) are employing the same methods as before the 2006 presidential election.
Then, the KGB arrested activists of Partnyorstva, an unregistered election observation group. Now, KGB agents are interrogating activists of Malady Front, an unregistered youth group, across the country. Malady Front leaders may face criminal charges in connection with their role in the unregistered organization.
A year ago, the police made dozens of arrests of opposition activists on trumped-up "petty hooliganism" charges.
Last week, the police detained politicians Vintsuk Vyachorka and Vyachaslaw Siwchyk, both involved in preparations for the demonstration. The politicians are scheduled to stand trial two days before the protest on "petty hooliganism" charges.
Police and plainclothes KGB officers keep watch over offices of opposition groups and search youths suspected of carrying leaflets.
The city authorities have denied the organizers permission to stage the demonstration at the Kastrychnitskaya Square, offering another location. The offer is unlikely to satisfy many participants in last year's protests who consider coming to the same downtown square a matter of principle. Apart from authorities' harassment tactics, the demonstration plan may fail because of a split within the opposition coalition.
The Political Council of the United Pro-Democratic Forces has been paralyzed by disagreements. The Belarusian Party of Communists (BPC) and the United Civic Party (UCP) are determined to go ahead with their plan to hold the Second Congress of Pro-Democratic Forces on April 21 and 22 despite opposition from Political Council Chairman Alyaksandr Milinkevich and his supporters. Chances of a compromise are getting slimmer. The camps blame each other for doing little to prepare for the March 25 protest.
It is not only that the number of distributed leaflets matters, but the turnout will also depend on people's confidence in opposition leaders. Many opposition supporters are discouraged by internal squabbles.
Clearly, the opposition does not plan a revolution. Most likely, the demonstration will be a show of force that will be followed by smaller protests later this spring. What will the coalition do afterward?
BPC leader Syarhey Kalyakin and UCP Anatol Lyabedzka are determined to hold the congress to adopt a strategy and an action plan of the United Pro-democratic Forces.
The coalition developed similar blueprints last year, but would not share their content to the public.
The leadership of the Belarusian Popular Front (BPF), one of the largest members of the coalition, on March 10 approved the party's strategy for 2007 and 2008.
BPF leader Vintsuk Vyachorka said that the strategy is based on expectations of an inevitable economic crisis. The BPF hopes to win voters concerned about the economy.
Despite the predictions, no signs have been observed that the economy is heading for a major crisis following January's energy price hike. The regime may turn out to be much more resilient than its opponents think it is.
Not a single political force so far has come up with an idea of how to counter the regime if the economy continues to run smoothly. It is difficult to devise a great plan for political parties that were originally designed to advance their interests through parliament, but later expelled from the political system. Since the parties are unable to rally enough supporters for street protests, they rely on external factors such as Russian or Western influence.