ressure from the West on Belarus pushes Belarus closer to Russia, Economy, Embassy issues, Gas, WTO, Activists, Polish scandal, Blogs and Sport...
President: Pressure from the West on Belarus pushes Belarus closer to Russia
From: BelTA
"Democracy in Belarus is the same as in Austria, almost identical. Democratic values in Belarus are as high as in any other European country. So what is missing in the democratic portrait of Belarus? What else does Europe want from Belarus?" said the President in an interview with the Austria Press Agency (APA)
The pressure exerted by the West on Belarus is pushing Belarus closer to Russia, President of Belarus Alexander Lukashenko said in an interview to Austria Press Agency (APA).
"I think, in the near future, with the West continuing this considerable pressure on Belarus, our relations with Russia will become even closer," he said.
Speaking about the relations of Russia with the USA and EU, Alexander Lukashenko said that Russia uses its levers to position itself as a nuclear power wishing to be reckoned with and treated accordingly.
EU should not dance to US tune, Alexander Lukashenko says
the European Union should not dance to the US tune, President of Belarus Alexander Lukashenko said in an interview to Austria Press Agency (APA).
"As for the relations of Belarus with the European Union, frankly speaking, we would like them to be better. It's absolutely unacceptable for us when the EU starts dancing to the US tune. We do not like it when European politicians position themselves as independent, but when the matter concerns serious issues they follow in the wake of the American policy," he said.
USA aggravates situation around Belarus by actions with regard to Belneftekhim, Alexander Lukashenko says
By its actions with regard to Belneftekhim companies the USA has been aggravating the situation around Belarus, President of Belarus Alexander Lukashenko said at a session on enhancing defence capacity of the state, the rule of law and security in Belarus.
"I would like to say that it is not deadly for the country. We have been living and continue living under the so-called sanctions and will continue living," Alexander Lukashenko said. According to him, the point is that the situation around the country is being aggravated, and the fact that the sanctions have been imposed is a testimony to it.
"The political and especially military-political situation around us is changing fast. By breaching its obligations under the safeguards memorandum of December 1994, following Belarus' accession to the NPT, the USA imposed and extended sanctions against Belneftekhim. They have once again showed their cynical attitude to the international law," the head of state said.
By way of a reminder, Alexander Lukashenko said that Belarus had been promised that nuclear weapons should be carried away from its territory without any conditions and restrictions. "We did it and signed the memorandum. Back then the USA, Russia and other states pledged they would treat our country in a manner fitting this humane act, would provide support in every way and would never apply any economic or other sanctions. Little time has passed and what do we see in reality? And what does Belneftekhim have to do with the business? What does democratization have to do with it? It is clear why this step has been taken," the President said.
Other Belarusian News...
Belarus does not want escalation of tension in relations with USA, Sergei Sidorsky says
From: BelTA
Belarus does not want to escalate tension in the relations with the USA or break off diplomatic relations, Prime Minister of Belarus Sergei Sidorsky said after the session of the Union State Council of Ministers.
The Prime Minister of Belarus said that in conformance with the agreements with western partners, the Republic of Belarus has been taking consistent steps to improve the dialogue with the European Union and the USA with a view to normalizing relations with them.
Sergei Sidorsky noted that the steps taken by Belarus were aimed at building up full-fledged mutually beneficial bilateral relations with the EU and the USA. However, the United States imposed additional economic sanctions on Belneftekhim companies. Thus, it violated the agreed algorithm of mutual actions aimed at normalizing the relations. Having made this unfriendly move, the USA refused from its bilateral and multilateral obligations with regard to our country, Sergei Sidorsky said.
Future of Belarusian-American dialogue depends on whether USA abolishes economic sanctions
The future of the Belarusian-American dialogue depends on whether the USA will abolish all economic sanctions it imposed against Belarus, Andrei Popov, spokesman for the Foreign Ministry of Belarus, told a news briefing in Minsk.
"It was not us who have created this situation and tension in the bilateral relations. Naturally, the future of the Belarusian-American dialogue will depend on whether the sanctions against the Belarusian companies will be abolished completely," he stressed.
When asked about the suspension of visa processing by the US embassy for Belarusian citizens, Andrei Popov said the Foreign Ministry has not received official comments from the American side on this issue. According to him, the Belarusian diplomatic missions in Washington and New York continue providing the full range of consular services.
Andrei Popov refrained from commenting on the possible day of return of the Belarusian ambassador to the USA.
Belarusian Foreign Ministry wants to align US and Belarus' diplomatic missions on each others territories
The Belarusian side speaks about the necessity to establish the alignment between the US diplomatic presence in Belarus and the Belarusian diplomatic presence in the USA, spokesman for the Foreign Ministry of Belarus Andrei Popov told a news briefing on March 20.
"We left it to the American side to make a list of the employees of the US embassy in Minsk who will depart for the US in connection with the relevant recommendation of the Belarusian side to bring the diplomatic representation of the two countries into the alignment", Andrei Popov said.
He underlined that "Belarus is not interested in the escalation of tensions. It was not Belarus that caused the current situation. We just acted in response to the sanctions the US imposed on our economic entities. It is obvious for everyone".
According to him, the Belarusian Foreign Ministry is not referring to the reduction of the US diplomatic mission in Minsk. The Belarusian side is just talking about the necessity to keep the foreign mission within limits considered by the receiving state to be reasonable. "We are authorized to do that by Article 11 of the Vienna Convention on Diplomatic Relations. We think that it makes sense. Our countries do not exchange visits on the high and highest levels. In view of the latest actions of the American administration, it is absolutely clear that the number of business contacts between the two countries will fall, too. In the given circumstances the size of the US mission that the Belarusian side insists on will be quite sufficient", the spokesman for the Foreign Ministry of Belarus underlined.
Russia views US actions towards Belarus as politicized, Viktor Zubkov says
Russia views the move of the USA to impose sanctions on the Belneftekhim concern as politicized, chairman of the Russian government Viktor Zubkov said after the session of the Union State Council of Ministers.
According to Viktor Zubkov, such actions of the United States build up pressure on Belarus.
"In its own interests Washington has been increasing the pressure on Belarus instead of building up a dialogue and abolishing sanctions," Viktor Zukov said. And all these have been happening while Belarus has been taking positive steps. An example here can be the recent achievements in the development of the market economy in Belarus, Viktor Zubkov stressed.
Such actions of the USA do not fit well in the international legal context of the interstate relations, the Russian PM said. "We urge Washington to revise its policy towards Belarus and its commercial entities," he resumed.
Companies of Belarus' Ministry of Agriculture and Foodstuffs increase export by 85% in January
From: BelTA
In January 2008 companies of the Belarusian Ministry of Agriculture and Foodstuffs exported products at the amount of $107.6 million or 85.1% up on the same period last year, BelTA learnt from Tamara Usacheva, the deputy head of the foreign and economic department of the Belarusian Ministry of Agriculture and Foodstuffs.
The Belarusian food companies increased the export of poultry (8.7 times up), vegetables (3.1 times up), beef (1.9 times up), butter (1.7 times up), sausages (1.5 times up), eggs (1.3 times up), dried fat free milk, cheeses and cottage cheese (1.1 times up). At the same time, Belarus reduced the export of pork.
According to Tamara Usacheva, in January 2008, the Belarusian export to the non-CIS countries made up $4.8 million, or 36.2% down. Casein (93.4%) and flax fiber (2.8%) take the biggest share of the Belarusian export to the non-CIS countries.
Companies of the Belarusian Ministry of Agriculture and Foodstuffs imported products at the amount of $29.6 million or 33.5% as against January 2007.
Belarus mainly imported agricultural machinery and spare parts for them (31.3%), pork (8.8%) and grain (6.7%).
The Ministry of Agriculture and Foodstuffs posted a surplus in foreign trade to the tune of $78 million.
In January Belarus' export of computer services 76.5% up
In January 2008, Belarus increased the export of computer services by 76.5% up to $9 million from January 2007, BelTA learnt from the Ministry of Statistics and Analysis.
Belarusian export of services grew by 31.9% up to $288.1 million in January 2008. A surplus in foreign trade in services was $131.3 million. Most of the export services of Belarus accounted for transport services (74.1%). Export of transport services reached $213.4 million, up 31.9% from January 2007.
In January, travel-connected services (personal, tourist, business trips, etc.) increased by 2.9% to $21.1 million. Export of communication services amounted to $10.8 million, up 22.7% from the relevant period of 2007. There was growth in the export of operational leasing (by 21.6%) and real estate lease (by 30%). At the same time, the export of construction services fell by 2.2% from January 2007 to $4.5 million.
Export to the CIS member states accounted for 26.9% of the total export of services of Belarus, to the non-CIS member states – 73.1%.
Belarus and Russia intend to set up information system to cover military cooperation
From: BelTA
The Republic of Belarus and the Russian Federation intend to set up the information system to cover military cooperation of the two countries, BelTA learnt in the press service of the Belarusian Defence Ministry.
On March 20 a delegation of the Russian Defence Ministry led by deputy head of the analysis, planning and public relations department of the Defence Ministry Colonel Alexander Badikov arrived in Belarus on a two-day visit.
During the visit representatives of the Russian military department and their Belarusian colleagues will discuss the implementation of the plan on coverage of the military cooperation for 2007-2010 and intensification of the cooperation in information area.
The two sides will discuss the issues concerning the signing of the agreement between defence departments of Belarus and Russia on setting up the information system to cover the military cooperation of both the states.
The delegation of the Russian Defence Ministry will get familiar with information departments of the Belarusian Defence Ministry, their experience of construction and development of the Armed Forces.
Belarusian and Russian military men agree joint actions in arms control sphere
Belarus and Russia agreed the positions and joint actions on the issues related to implementation of the international agreements on arms control, BelTA learnt from the press service of the Belarusian Defense Ministry.
A session of the joint advisory group on arms control was held in Minsk on March 18-21.
During the talks the Russian side was led by Deputy Head of the Russian National Nuclear Threat Reduction Centre Colonel Sergei Ryzhkov.
Belarus-Venezuela expedition to ascend Pico Bolivar in late March
From: BelTA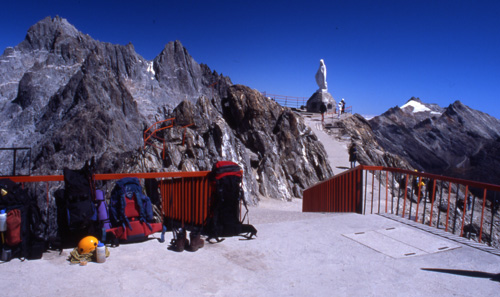 Pico Bolivar
The Belarusian-Venezuelan expedition for an ascension of Venezuela's highest point, Pico Bolivar, will take place in late March, 2008, Alexander Nasevich, the member of the training center of the Belarusian Physical Culture and Sports Society Dinamo, told reporters on March 19.
The idea of the project appeared in 2006 at the meeting of the governments of the two countries. In 2007, Dinamo and the Alpinism Federation launched the project preparation. The expedition under the auspices of Belarus' Security Council aims to strengthen the friendly relations between the countries.
The Belarusian part of the expedition will include professional alpinists and members of special departments who will hoist a flag of the Republic of Belarus on Pico Bolivar. The Belarusian team will leave for Venezuela on March 28.
Pico Simon Bolivar is the highest point in the mountain range, Sierra Nevada de Merida – over 5 thousand meters above sea level.
Minsk Plant of Wheeled Carriers to supply equipment at amount of $12.5mln to Venezuela
In Q1 2008, the Minsk Plant of Wheeled Carriers will supply automobile equipment at the amount of $12.5 million to Venezuela, BelTA learnt in OOO Businesses Relation Agency.
The agreement on delivery of the equipment was signed in late December 2007. In line with the contract, the Belarusian company will supply 88 dump trucks with the capacity of 25 tonnes, 9 fuelling vehicles with the tank capacity of 20 cubic meters, 7 fuel trucks with the capacity of 20 cubic metres, 15 transit-mix trucks, 2 trucks cranes and also 2 truck tractors.
According to specialists, on March 17 2008 a regular batch of the equipment which included 11 dump trucks and 6 transit-mix trucks was supplied to Venezuela. On the whole, within the framework of the contract by this time 55 dump trucks, 7 fuelling vehicles, 7 fuel trucks and 9 transit-mix trucks (63% of the total contract) have been already supplied.
The company fulfills all the contract conditions despite the increased load of production capacities.
From the international press...
U.S. Cuts Off Visas in Minsk in a Dispute With Belarus
From:
NY Times
The United States Embassy in Minsk has temporarily stopped issuing visas to citizens of Belarus in response to pressure by the government there to reduce its personnel. Tensions between the countries have intensified in recent weeks in response to sanctions that the United States has imposed on Belarus, its top state-owned businesses and senior officials.
Aleksandr G. Lukashenko, the country's authoritarian president, has preserved Belarus as a museum-quality relic of the Soviet Union. As retaliation for vocal criticism from the United States of the government's shoddy human rights practices, Belarus has recently moved to squeeze the American Embassy in Minsk.
The State Department said Thursday that the situation on the ground had forced the embassy to temporarily suspend its visa services. It said officials were reviewing the government's request to greatly reduce its staff of 30 to 40 people.
The Belarus government also pressured Karen B. Stewart, the United States ambassador, to return to Washington last week.
On Thursday, Andrei Popov, a spokesman for the Belarus Foreign Ministry, said dialogue with the United States would resume after "the removal in full of sanctions against Belarussian subjects," the official BelaPAN news agency reported.
The United States imposed sanctions against Mr. Lukashenko and other members of his government after the police arrested dozens of protesters at opposition demonstrations following presidential elections in March 2006. Last November, the Treasury Department froze the assets of the state energy and chemical company, Belneftekhim.
Washington has also demanded the release of imprisoned opposition figures. Belarus recently freed five people the United States considered political prisoners, but continues to hold Aleksandr V. Kozulin, a former presidential candidate.
Mr. Lukashenko told the Austrian Press Agency on Thursday that deteriorating relations with the West could force Belarus deeper into Russia's orbit, BelaPAN reported. "Considering the massive pressure by the West on Belarus, I think that in the near future our relations with Russia will become closer," he said.
Meanwhile, a New York-based lawyer and American citizen appears to be in custody in Minsk along with his assistant after their arrest on March 12 shortly after they arrived in the capital. The reason for the arrest of the lawyer, Emanuel Zeltser, remains unclear. A spokeswoman from the American Embassy in Moscow said the State Department could not comment on the case.
Russian PM calls on U.S. to ease pressure on Belarus
From:
Reuters
Russia's prime minister on Friday called on the United States to ease its pressure on Belarus, and vowed support for the ex-Soviet country's president.
Belarus is involved in a diplomatic spat with the United States, which calls the country the "last dictatorship in Europe" and has imposed a travel ban on President Alexander Lukashenko over Minsk's detention of an opposition politician.
"The Russian Federation thinks this is a politicized step. We call on Washington to rethink its line on Belarus," Russian Prime Minister Viktor Zubkov told Lukashenko at a news conference for an economic forum.
U.S. ambassador Karen Stewart left Minsk temporarily last week after two requests for her departure over financial sanctions placed by Washington on a Belarusian state company.
Stewart said on Tuesday Washington would only hold talks on easing sanctions if Belarus released its most prominent political detainee, Alexander Kozulin, who ran against Lukashenko in the 2006 vote that kept him in power.
Belarus on Thursday suggested Stewart would not be allowed back to Minsk until financial sanctions imposed on the state oil products company Belneftekhim were lifted.
On Friday Belarusian Prime Minister Sergei Sidorsky said his country had no interest in a confrontation with the United States, nor in a worsening of relations.
"The Belarusian side does not want an escalation of tensions with the U.S.A., and what is more, it does not want diplomatic complications," Sidorsky said.
He also said the sanctions violated multilateral and bilateral agreements between Belarus, the European Union and the United States on the normalization of relations.
"Belarus has taken steps to normalize relations with the U.S. and EU. The additional measures taken against Belneftekhim break the agreed-upon structures," Sidorsky said.
Russia to raise gas prices for Belarus to $128
From:
Ria Novosti
Russia will raise the price of natural gas to Belarus from $119 to $128 per 1,000 cubic meters in the second half of this year, a Russian deputy economic development and trade minister said Friday.
"The price will be $128," Andrei Belousov said, adding that the issue had not been discussed at a meeting of the Union State Council of Ministers on Friday.
He said the price was in full compliance with the price formula the countries agreed in late 2006. "The price for Russian gas deliveries to Belarus will not go beyond the formula," Belousov said.
In December 2006, Russian energy giant Gazprom and Belarusian pipeline operator Beltransgaz signed a contract on gas transits in 2007-2011. The document envisioned the price of $100 per 1,000 cubic meters for 2007 and a formula for prices for 2008.
Gazprom wants to make the country gradually switch to EU pricing levels, which are way higher ($370 average price per 1,000 cu m).
Gazprom board chairman Dmitry Medvedev said last December that the price of Russian natural gas for Belarus could reach average European levels in 2011. "The gas price for Belarus is among the lowest of CIS states, but it is due to reach the average European level in 2011," said Medvedev, who won presidential elections a few months later.
In mid-May 2007, Gazprom signed a deal to purchase a 50% stake in Beltransgaz for $2.5 billion. Gazprom will make equal payments in four stages from 2007 to 2010, acquiring a 12.5% stake in Beltransgaz at each stage, giving the Russian gas monopoly greater control over supplies to Central and Western European consumers.
Russia-Belarus trade surges
From:
Trading Markets
Trade between Russia and Belarus grew 76 percent to RUB 60bn (approx. USD 2.53bn) in January 2008 compared to the same period in 2007, Belarus Prime Minister Sergei Sidorsky said at the opening of a meeting of the Union State Council of Ministers in Minsk today. He noted that exports of Russian products to Belarus exceeded Belarus's exports to Russia considerably. Sidorsky also said that bilateral steps to create a common economic space had been successful and many problems had been solved, particularly those of goods transit and railway tariffs.
In turn, Russian Prime Minister Viktor Zubkov reiterated that bilateral trade had doubled over a period of four years, reaching an record mark of USD 26bn in 2007. The PM stated that the figure could grow even further.
Russia and Belarus planning further integration
Russia-Belarus integration is expected to enable the two economies to avert a crisis amid global financial instability, Belarus Prime Minister Sergei Sidorsky said during today's meeting with his Russian counterpart Viktor Zubkov in Minsk. Sidorsky noted that the two countries had recently managed to improve their relations within the CIS and the Union State.
In turn, Viktor Zubkov stated that the work of the two countries' authorities on promoting integration was efficient. The PM reiterated that he had discussed a large number of issues with Belarus President Alexander Lukashenko earlier today and that the talks had been quite successful.
Ukraine's WTO entry will encourage Belarus to follow suit, ambassador says
From:
Naveny
Ukraine's accession to the World Trade Organization (WTO) will encourage Belarus to follow suit, Ukrainian Ambassador Ihor Likhovyy told reporters in Minsk on March 21.
The ambassador noted that a country's accession to the global trade body needed to be approved by a number of countries.
"There are sometimes baseless claims that stall countries' admission to the international organization. The Ukrainian president said on the day when the agreement on Ukraine's accession to the WTO was signed that he and the government would contribute to Russia's quick entry to the WTO. But we understand that [he meant] Belarus as well," he said.
Mr. Likhovyy expressed certainty that economic relations between the two countries would continue developing following Ukraine's WTO entry, with bilateral trade rising by some 20 percent every year. "In 2007 we reached a psychological level of $3 billion in bilateral trade and it is more than $3.5 billion if trade in services is added," he said.
Ukraine had an export surplus of just $62.2 million in trade with Belarus last year, after reporting a small bilateral trade deficit in 2006. "This is an absolutely normal process, well-balanced trade and economic relations, where exports and imports are on parity conditions. This is very important for Belarus," Mr. Likhovyy said.
Lawyer visits US anti-mob activist imprisoned in Belarus
From:
Earth Times
A US citizen in charge of an anti-organised crime NGO has been visited in a Belarusian prison for the first time by his lawyer, the Belapan news agency reported Friday. Emanuel Zeltser, director of the American-Russian Law Institute (ARLI), has been held in a KGB jail in the former Soviet republic since March 12 on unspecified charges.
Vladena Funk, Zeltser's secretary and a Russian national, was arrested at the same time, when the pair arrived in Minsk on a flight from London.
Mark Zeltser, the brother of the detained US citizen, told reporters he had hired an independent lawyer in the Belarusian capital Minsk to act as counsel in the case.
The lawyer met with Emanuel Zeltser on Thursday, he said.
Belarus' government has banned representatives from the US embassy in Minsk from visiting Zeltser as well.
Relations between Minsk and Washington are at rock-bottom, due to wide-ranging economic sanctions imposed by the US on Belarus, according to the US because of Belarus' authoritarian government and human rights abuses by the country's President Aleksander Lukashenko.
"They (US embassy personnel) have been incredibly helpful and they are trying to do whatever they can," Mark Zeltser said. "But because of the political situation their hands are practically tied."
The imprisoned Zeltser is according to his brother in poor health and requires medicines to treat diabetes and arthritis which are not available in Belarus.
A Thursday statement by the Belarusian government asserted Zeltser was receiving "absolutely adequate" medical care, including "all necessary medicines."
Prison medical staff were treating the diabetes but doing nothing about the arthritis, leaving his brother in substantial and continuous pain, Mark Zeltser said by telephone, citing information given him by the visiting lawyer.
Mark Zeltser on Friday remained outside of Belarus, as he has been unable to obtain a visa to enter the country.
Russian national Funk had also received a visit from a Belarussian lawyer "apparently appointed by a court, as I have no idea who this (second) lawyer is," Mark Zeltser said.
Belarus' KGB, despite media reports for more than a week saying it is holding Zeltser and Funk in a detention facility outside Minsk, on Friday continued to deny knowledge of the pair.
"No, as before I know absolutely nothing about that," said Valery Nadtochaev, a KGB spokesman.
Zeltser in the late 1990s sued Russia's Inkom bank and the American Bank of New York for operating financial schemes resulting in the loss of tens of millions of dollars of savings by US depositors, and the laundering of billions of dollars of aid money given Russia by the International Monetary Fund and other donors.
He was targeted for a mob hit in 1998, and even a decade later Russian organized crime has a murder contract out on him, according to an ARLI statement.
Cultural scene...
Фотовыставка Екатерины Кенигсберг "Городской маршрут"
From:
Minsk Blog
Выставка проходит в кинотеатре «Победа»
15–28 марта 2008
Фотография всегда, вольно или невольно, создает пространство мифа, позволяя зрителю додумать изображение за рамками кадра. Любой, даже самый маленький заурядный город, хранит в себе ироничные загадки-открытия. Поиски текста, спрятанного в повседневности, гораздо более увлекательны фотоисследователю, наделенному тонким юмором, чем простое перемещение в пространстве.
Город – это, прежде всего, пространство, архитектура, люди. И движение по маршрутам. Поэтому на снимках много дорожных знаков, регулирующих как движение, так и саму жизнь. Движение не существует вне времени, город – это и есть само время, и город не существует вне времени. Город, как маршруты в нем – изменчивы, непостоянны, интригующи и загадочны.
«Городской маршрут» не документирует время и место, а только персональный опыт автора. Зрителю предлагается самому найти взаимосвязь кадров, объединивших разные города и страны. Прогулки по улицам знакомых и незнакомых городов создали новую реальность, при этом рассказ о конкретном времени и месте совсем не является обязательным элементом повествования.
На выставке представлены работы последних двух лет из серии «Дорожные знаки» и фрагменты серии «Письма в Европу».
В открытии выставки принимает участие джазовый ансамбль «Авенир-бэнд: в джазе только дедушки» под управлением Авенира Вайнштейна.
Екатерина Кенигсберг
***
Екатерина Кенигсберг – искусствовед, куратор выставок и международных выставочных проектов в Беларуси и за рубежом. Прошла стажировку на documenta 11, соискатель ученой степени кандидата искусствоведения. Автор более 90 публикаций о современном белорусском и зарубежном искусстве. Работы находятся в частных коллекциях Германии, Литвы и Беларуси, в Посольстве Республики Беларусь в Литовской Республике.
Показ фильма "Птицы" Альфреда Хичкока
From:
Minsk Blog
Классический фильм А.Хичкока, в котором ужасающая картина нападения птиц на американский поселок переплетается с историей любовных взаимоотношений молодой женщины с понравившимся ей мужчиной.Восхваляемый одними как один из шедевров Хичкока и критикуемый другими, фильм "Птицы" определенно является одной из наиболее сложных и интереснейших работ режиссера. О нем уже были написаны тома: каждый автор разбирал сцену за сценой для того, чтобы доказать свою конкретную теорию, по большей части психоаналитического характера. Как бы то ни было, даже те зрители, которым надоедало следить за медленно нагнетающимся саспенсом, не могли отрицать ужасающей мощи многих завораживающих образов картины.
Время: 22 марта, 16-00
Место: галерея Щемелёва, что по адресу пр-кт Рокоссовского, 49
Вход: 600 рублей
Контакты: +375 29 277 07 90,
ICQ# 179-515-574 - Денис;
ICQ# 197-076-869 - Александра;
+375 29 669 20 86,
Jabber ID njazz@jabber.org - Стас
Around the region...
SeverStal, Russia's biggest steelmaker, yesterday became America's fourth-largest, with an $810 million purchase from ArcelorMittal
From:
Times Online
Sparrows Point steel mill in Baltimore
Sparrows Point, an integrated steel mill in Baltimore, has been bought after US competition authorities forced ArcelorMittal to sell assets following the merger that created it two years ago.
SeverStal has plants in Dearborn, Michigan, and Columbus, Mississippi, and moves up the US rankings behind ArcelorMittal, Nucor and US Steel. The Russian company said that it could achieve synergies with its other operations.
SeverStal's acquisition of Sparrows Point comes after a $4 billion deal last week by its rivals Evraz, which is part-owned by Roman Abramovich, and TMK to buy a Canadian steel plate and pipe business from SSAB, the Swedish group.
Russian companies, which have benefited from a booming domestic economy, have been urged by President Putin to buy more overseas assets and increase Russia's economic clout.
Alexei Mordashov, SeverStal's chief executive and majority owner, said that he believed that longer-term prospects for the US economy were good, despite the current downturn. "We remain committed to growth in North America and believe in the long-term promise of the US market," he said. "We're confident that this acquisition will create value for our shareholders while strengthening our US platform as a whole."
Gregory Mason, chief operating officer of SeverStal, said: "We are in this for the long term - we are not traders, this is consolidating our operations. Even if things go down a little in the US market, we don't expect it to last for long. America cannot produce the steel it needs, that's why it has had to rely on imports."
This week SeverStal reported that profits last year leapt 33 per cent to $1.9 billion for last year, partly on surging demand in Russia. However, itsNorth American profits fell by 85 per cent to $21 million after weaker market conditions and a $350 million overhaul of a blast furnace that closed the Dearborn plant for several months. Mr Mason said that the work on the blast furnace was planned and 2007's results should not be seen in isolation.
The company plans to spend about $500 million on the Sparrows Point plant in a five-year programme of improvements. It bought the mill for cash.
Sparrows Point is the only integrated steel mill on the US East Coast. It has capacity of 3.6 million tonnes of crude steel and last year produced 2.3 million tonnes of finished products. Mr Mordashov said that the plant had "unlocked growth potential", as well as existing value.
SeverStal smoothed the way for the Sparrows Point acquisition by first reaching a collective bargaining agreement with the United Steel Workers. The acquisition, which requires US Justice Department approval, is expected to be completed in the second quarter of this year.
Southern Russia TV boss shot dead
From:
BBC
The head of a state TV station in the southern Russian republic of Dagestan has been shot dead, police say.
Gadzhi Abashilov, 58, died when his car was sprayed with bullets from attackers in a passing vehicle in the republic's capital, Makhachkala.
Russian Prosecutor-General Yuri Chayka said he was taking personal control of the murder investigation.
Violent crime is common in Dagestan, which has also seen frequent activity by rebels from neighbouring Chechnya.
Mr Abashilov was attacked at 1945 local time (1645 GMT) near a supermarket in a residential area of the city.
He died at the scene and his driver was wounded. The motive for the killing is not known.
Mr Abashilov was a well-known journalist in Dagestan.
Before becoming head of Dagestan's State Television and Radio Broadcasting Company, he hosted his own TV programme, edited a local newspaper and served as deputy information minister in the republic.
His death came a day after another journalist from Dagestan, Ilyas Shurpayev, was found dead in his flat in Moscow.
Mr Shurpayev, who worked for Russian Channel One television, reported from all over the North Caucasus region.
There has been no suggestion of any connection between the two deaths.
Pentagon: Georgia, Ukraine May Not Join NATO for Years
From:
VOA
U.S. Defense Secretary Robert Gates,
The Pentagon says U.S. support for efforts by Georgia and Ukraine to join NATO does not necessarily mean the countries will join the alliance anytime soon. But a spokesman says Defense Secretary Robert Gates agrees it is time to start what could be a long process. VOA's Al Pessin reports from the Pentagon.
A spokesman says Secretary Gates discussed Georgia's effort to begin the NATO membership process during a meeting with Georgian President Mikhail Saakashvili at the Pentagon on Thursday. That was the day after President Bush met with the Georgian president and said he will urge NATO leaders at their summit in Bucharest next month to approve Georgia's Membership Action Plan.
Russia opposes the plan for the former Soviet Republics to join the western alliance. But Pentagon Press Secretary Geoff Morrell says even with Membership Action Plans that will likely not happen for a long time.
"I think it's important not to confuse MAP with membership," he noted. "It is what its name implies it is. It's a Membership Action Plan. You know that three of the countries that are up for membership in Bucharest, Croatia, Albania and Macedonia have been going through MAP for the past decade. So this can be a long process. And it's designed to encourage democratic and military reforms, and along the way to, sort of, recognize the progress they've made."
Morrell notes that countries with a NATO Membership Action Plan do not come under the alliance's protection unless and until they actually join, which must be approved by all the other members.
NATO leaders are expected to issue formal invitations to Croatia, Albania and Macedonia at their summit in April. Albania and Macedonia have been working on their membership plans for nine years, and Croatia has been working on its plan for six years.
Eastern Europeans back NATO aspirations of Ukraine, Georgia
From:
IHT
Canada has joined nine eastern European members of NATO in an appeal for the alliance to open its doors to Ukraine and Georgia at next month, diplomats said Thursday.
The 10 nations wrote to NATO headquarters asking for the alliance to give the two former Soviet Republics a "membership action plan" at the April 2-4 alliance summit in Bucharest, Romania.
Pro-Western governments in Ukraine and Georgia have requested such plans, which would put them on a path to join NATO. But Russia is vehemently opposed and several western European nations are wary of upsetting Moscow.
Diplomats in Brussels confirmed media reports that Canada, Bulgaria, Estonia, Latvia, Lithuania, Poland, Romania, Slovakia, Slovenia, the Czech Republic made the request in a letter to NATO Secretary General Jaap de Hoop Scheffer.
The issue has divided the alliance before the summit. Officials from Western European nations such as Germany, France and Spain have warned that opening up to Georgia and Ukraine will further alienate Russia at a sensitive time as President Vladimir Putin prepares to hand over to his elected successor Dmitry Medvedev.
Relations with Moscow are already strained over Western support for Kosovo's independence and U.S. plans to locate anti-missile defenses in Poland and the Czech Republic.
The Russian Parliament is a warning that Georgia's entry into NATO could lead to backing for the independence of two pro-Moscow separatist regions now recognized as part of Georgia.
The U.S. has been lobbying in favor of Ukraine and Georgia. President George W. Bush assured his Georgian counterpart Wednesday that he will press for Georgia's inclusion. Bush is scheduled to visit Ukraine right before the summit.
Even if they are given the membership plans, Ukraine and Georgia are expected to take several years before they join NATO while they bring their military and political systems in line with NATO standards.
From the Polish Scandal Files...
Brazil Seizes One Ton of Cocaine heading for Poland
From:
Prensa Latina
Sao Paulo, Mar 21 (Prensa Latina) The Brazilian Federal Police confiscated on Saturday nearly one ton of cocaine and arrested three people in an operation in Itatiba, at 52 miles east of the City
The drug have entered Brazil hidden in import track's batteries and was being packed to continue traveling to Poland and Holland by containers.
During the seizure three persons were arrested who were in charged of taking care of the load: one Brazilian man and two Surinamese which names were not revealed.
Late on July the Federal Police seized 800 kilos of that drug in a fishing boat and on September another lot of 800 kilos in Riberao Preto at 195 miles north of that city.
Sao Paulo Military Police have confiscated another load, already packed for small doses distribution, during a search at Dianopolis street in San Paulo Eastern zone.
Car hits group of Polish cyclists, 14 teenagers injured
From:
RIA Novosti
A car smashed into a group of cyclists on a training session in Kalisz, central Poland, injuring fourteen teenagers, two of them seriously, local police said on Friday.
The teenagers were hit by the vehicle during a road session which was being held near their cycling club, a police spokesperson said. They were all hospitalized, although none of the injuries were believed to be life threatening.
The cyclists aged 12-18 were experienced riders and were in training for Polish, European and world junior championships.
The driver, who veered across the carriageway, may have fallen asleep at the wheel, but he was not drunk, the country's PAP news agency said.
Police said the man attempted to commit suicide soon after the incident. "He wanted to hang himself on his seatbelt," the spokesperson added.
Pole, 79, arrested for catapult anti-car campaign
From:
AFP
A 79-year-old Polish man has been arrested for using a catapult to damage more than a dozen cars parked in front of his apartment block, judicial authorities said Friday.
The man, who lives in the central Polish city of Kalisz, shot at the vehicles for more than a year until investigators were called in, said Janusz Walczak, a spokesman for the local prosecutor's office.
Walczak did not identify the man by name.
The elderly shooter reportedly told investigators that he had opted for the weapon long favoured by cheeky youngsters because he had been sick of the noise and pollution caused by the comings and goings of the cars.
His one-man campaign was brought to a halt after he was caught red-handed shooting at an Audi 80 and a Fiat Punto, thanks to a security camera installed by fellow residents.
Police who searched his home found two catapults and a bag of stones.
Note: Finally a Polak I like!
Record breaking alcohol consumption in Poland
From:
The News
Poles have never drunk so much alcohol, Polska daily warns.
According to the newest data, last year Poles spent on as much as 21.5 billion zlotys on alcoholic drinks, 15 percent more than in 2006. The newspaper points out that this means that the expenditure on alcohol in Poland is growing faster than salaries. The daily also stresses that Poles can afford more expensive alcohol now and that many treat drinking as the easiest way to fight stress.
From the blogs...
Aliaksandr Kazulin denied commutation
From:
Viasna
Political prisoner Alyaksandr Kazulin was rejected the commutation the second time, Interfax learnt from Vitba-3 penal colony, where he is serving the term of punishment.
As it was informed earlier, A. Kazulin's daughter Yuliya sent a petition for commutation for her father. She asked to change the rest term to public or correctional labour, and to review ten breaches of inner discipline. In particular, she asked to review the breaches that were fixed during the hungry strike of Kazulin.
"The answer to Y. Kazulina's letter, asking for commutation for prisoner A. Kazulin, has been sent," the penal colony Vitba-3 informed. Y. Kazulina was explained in written form that the question on A. Kazulin's commutation was considered at a set date and he was rejected the commutation," the penal colony said.
The source of the agency said "this decision was taken in accordance to part 2 of the article 116 "Establishing degree of correction of a prisoner" of the Criminal Code of Belarus. Prisoner A. Kazulin got 4 disciplinary penalties during his being in the colony, and he has 10 breaches of inner discipline in a penal facility."
The administration of the penal colony said "A. Kazulin feels good, he hasn't broken discipline, the administration of the colony has no problems with him. He continues to works as a storekeeper. "
A. Kazulin was sentenced to 5.5 years of imprisonment on July 2006. The United States and the European Union demand the release of prisoner of conscience.
Alyaksandr Milinkevich's address ahead of Freedom Day
From:
Charter '97
Leader of the "For Freedom" movement Alyaksandr Milinkevich made an appeal ahead of the celebration the Belarusian National Republic 90th anniversary on 25 March.
Dear friends!
Every year 35 March we celebrate Freedom Day, the day that has become a holiday of a Belarusian soul, a ground for pride of the Belarusian people.
The best sons of our land made a brave step 90 years ago, 25 March 1918, and declared the world Belarusians had the desire and the right to have their free independent democratic state – the Belarusian National Republic.
The BNR founders and their followers laid their devoted activities for the sake of Motherland in the basis of independence of our country.
Our people has been dreaming about its independence during the dramatic 20th century. The independence of Belarus was renewed in 1991. But only direct will of people expressed in actions is able to create a strong state.
Let's do so that 25 March holiday come to every Belarusian house and family. Let's demonstrate the strength of the Belarusian spirit and belief! Let's run up with dignity holy national white-red-white flags and Pahonya court-of-arms.
There have been, are, and will be lots of us! We will win!
Long live Belarus!
It should be reminded that the Minsk city executive committee permitted the demonstration dedicated to the BNR 90th anniversary on a traditional route from the Academy of Sciences to Banhalor Square. The organisers of the celebration of Freedom Day disagreed with it and said being the citizens of Belarus they would come to Yakub Kolas Square at 6.00pm, where the solemn demonstration would begin.
Gay marriage guy gets Polish apology
From:
The Beatroot
News coming on the beatroot radar that the Polish Consulate in New York has just apologised to Brendan Fay, the gay guy who complained about use of his image in the recent
ant-homo TV rant
by President Lech Kaczynski.
The Consulate has said that Poland apologises for the 'regretful incident.'
Brendan Fay – an Irish immigrant to North America, and, poetically, a resident in the Queens area of the Big Apple – is accepting the apology.
Expect this story to be all over the pink press. Kaczynski has a record of daft, and worse, comments and actions against gay people. He has now been hoist by his own stupidity.
Exposing Vladimir Putin's Potemkin Nation
From:
Publius Pundit
On March 18th the Refugee Agency of United Nations' High Commissioner on Refugees issued a report entitled "Asylum Levels and Trends in Industrialized Countries."
According to this report (see page 7), the United States leads the world in receiving refugees from other countries -- and Russia is #2 in the world in generating them (see page 10). Russia generated nearly 20% more refugees in 2007 than it had in 2006, and moved up from #4 in the world in the prior year as the result. Russia generates more refugees than China, which reduced its refugee count in 2007 compared to 2006, and is exceeded only by war-torn Iraq in causing people to flee for their lives.
So much for the idea that things are going wonderfully well in Vladimir Putin's Russia! Combine this with the net loss of hundreds of thousands from the population every year due to ill-health and short lifespans and, if things were going any better, the whole country would be completely deserted!
Russia vs. Blogging
From:
pajamas media
On February 15, 2007, a 21-year-old Russian artist and blogger named Savva Terentyev (pictured above) located in the northern Russian city of Syktyvkar posted a comment on the blog of a local journalist named Boris Suranov. Suranov's post dealt with a raid by local police officers on a local opposition newspaper called Iskra ("the spark"), a raid which Suranov believed was politically motivated and illegal. As such, the raid would have been part of a pattern of such attacks on independent media by the Vladimir Putin's Kremlin, a pattern that had been underway since Putin first took office.
Here is what Terentyev wrote about these stormtroopers (remember, this is just a comment on a relatively obscure blog operated by a credentialed journalist):
I hate son-of-a-bitch cops.
I don't agree with the thesis that "policemen have retained the mindset of being a repressive cudgel in the hands of those in power." First, that it's the cops who have retained it. Secondly, it's not that it has been retained, but more simply that it has not been purged. It is garbage - and in Africa it is garbage - who become cops. The people who become cops are herd animals, rabble - the stupidest, most ignorant representatives of the living world. It would be great if in the in the center of every city in Russia, on the main square (in Syktyvkar, right in the center of Stefanovskaya Square, where the Christmas tree stands - so that everyone could see it) there stood an oven, like in Auschwitz, where ceremonially, every year - or better, twice a day (at noon and midnight, for example) - they incinerated a bad cop. The people would burn him. That would be a first step in cleansing society of cop-rabble trash.
Suranov replied to the comment sarcastically: "It could be a sort of carnival." Suvorov is not somehow an obsessed anti-establishment fanatic, which is clear from his avatar: It's a picture of a well-known female anti-Kremlin dissident doctored with frog-like bugeyes; it's animated, and shows her tongue popping out to grab a fly that has alighted between her eyes. In other words, he's an equal opportunity critic.
On August 13, 2007, Terentyev was arrested and charged with the crime of "hate speech" and the text was deleted from the blog. He was ordered not to leave the city. Shortly after the arrest, it was reported that "Terentyev's blog, which focuses mostly on his music listening habits, contained hundreds of messages of support and outrage over the case from other livejournal.com users." Anton Nosik, the most powerful figure in Russia's blogosphere and director of livejournal.com's chief administrator in Russia, was reported to have told the Russian newspaper Kommersant ("the Merchant") that the case was "absurd." Nosik stated: "The ignorance of local judges often plays a role in the outcome of cases connected to the internet. I hope that with many journalists present, the judge will look at the essence of the case and not simply hand down a guilty verdict." Nosik later said: "The people who launched the criminal case are trying in this way to portray police-turned-crooks as a social group that enjoys protection from Russian legislation. It seems to me that it ought be us who are protected by the law, not crooks."
Within a few months, it was being reported that the Live Journal hosting service itself was under attack in a hostile takeover by Kremlin-friendly businessmen, similar what had already been seen at Russia's major television stations and newspapers.
And now last Wednesday, the Associated Press has reported that the authorities have concluded their investigation formally filed serious criminal charges against Terentyev, charges that could result in a $12,000 fine being levied against the blogger. In a country where the average wage is $4 per hour, that amounts to a penalty of 18 months' wages. If Terentyev is unable to pay the fine, he'll be sentenced to labor. On top of that, he could get up to two years in prison. The AP quoted Galina Kozhevnikova of Russia's SOVA Center, leading human rights group, saying: "To prosecute a person for a private commentary written on a not-very- popular blog that no one takes seriously in any way whatsoever — this is clearly an abuse of the law and discredit to the law. This is clearly a signal to the blogosphere, which in Russia people now read like the free press, for real information."
Simultaneously, the Kremlin announced a sweeping new package of legislation aimed apparently at squeezing the last vestige of life out of Russia's Internet. Radio Free Europe reports: "One new bill proposes tighter state control over Russian online news sites. Another restricts foreign ownership of Internet service providers (ISPs). And a new government decree compels ISPs to allow the authorities to read their clients' e-mails."
The consequences could be dire indeed. For instance, RFE reported that the Kremlin has shut down St. Petersburg's European University ("renowned as one of the country's top universities") after the school dared to offer a program electoral civics, accepting a $1 million EU grant to run a project aimed at improving monitoring of Russian elections, and stated: "The Internet has been instrumental in bringing the university's troubles out into the open. Russian national television channels, all of which are state-controlled, have largely snubbed the issue." Students and alumni are trying to turn to the one means of expressing themselves that is still available, even as the Kremlin moves to shut that down as well.
The Russian crackdown on bloggers comes just as U.S. State Department has issued a lengthy formal review of the human rights picture in Russia, finding that "government pressure continued to weaken freedom of expression and media independence, particularly of the major television networks."
Kim Zigfeld is a New York City-based writer who blogs at the Pajamas Media Network blog Publius Pundit and publishes her own Russia specialty blog, La Russophobe. She also writes for Russia! magazine and is researching a book on the rise of dictatorship in Putin's Russia.
Sport...
Wenger criticises Hleb tapping-up
From:
Wenger criticises Hleb tapping-up
By Jonathan Chong on Saturday, March 22, 2008
Manager Ars?ne Wenger has once again expressed concern at the conduct of Alexander Hleb's agent before the match against AC Milan in the San Siro.
It is rumoured that Hleb's agent was interested in discussing a transfer to a top Italian club [Inter Milan] for the Belarus international, but he claims that him and his client were just having ice-cream.
The Frenchman refused to give away more details, but maintained that the agent's conduct was bizarre and out of order, especially under the circumstances.
Wenger said: "I was concerned and I didn't like that it happened.
"If the agent came to the team hotel then he should have asked me for permission to see the players. You cannot just see the players like that.
"All the rest we will keep secret.
"But Italy is well known for having good ice cream!"
Футбол. Кубок Беларуси. "Гомель", несмотря на домашнее поражение от брестского "Динамо", вышел в четвертьфинал
Завершились повторные матчи 1/8 финала Кубка страны:
22.03. Мясокомбинат (Витебск, Д3) — Химик (Светлогорск, Д2) — 0:1 (первый матч — 0:1) (Гаврилович, 92+).
Неман (Гродно) — Дарида (Минский район) — 0:1 (0:1) (Шепетовский, 4).
Гомель — Динамо (Брест) — 1:2 (2:0) (Живкович, 7; Козак, 44, Рыжевский, 65).
Шахтер (Солигорск) — Минск (Д2) — 3:2 (1:0) (Жуковский, 14, Гатиев, 30-пенальти, Быченок, 70; Осипенко, 11, Пятраускас, 69).
Хоккей. Минские "Керамин" и "Юность" победили во вторых полуфинальных матчах серии плей-офф
Сегодня завершились полуфинальные встречи (серии до трех побед) первенства страны:
21.03. Керамин (Минск)-- Витебск -- 4:2 (Шафаренко, 1, 9, Чуприс, 9, Андрющенко, 43; Гниденко, 4, Романенко, 59). Счет в серии -- 2:0.
Юность (Минск) -- Динамо (Минск) -- 4:2 (Степанов, 18, Угаров, 18, Боровков, 31, 60; Макров, 34, Демагин, 55). Счет в серии -- 2:0.
Endnote...
Belarus, Russia resolve trade problems
From: The office of the president
Interaction between Belarus and Russia in the economic field will keep intensifying further, said President of Belarus Alexander Lukashenko on 21 March at a meeting with Prime Minister of Russia Viktor Zubkov.
"I am very pleased that after our meetings there is always a positive movement toward implementing bilateral agreements," said the Head of State. Alexander Lukashenko added he was grateful to Russia's President and Prime Minister for prompt and successful implementation of the recent Belarusian-Russian projects, in particular, those related to construction of Olympic facilities in Sochi.
According to Alexander Lukashenko, "today there are no serious impediments to Belarusian-Russian trade". "I believe, even if some minor problems do exist, they are quite solvable," he added.
Speaking about foreign trade, the President raised the issue of US sanctions against Belarus. "The US position is absolutely groundless; the actions of the US authorities in this situation are a blatant violation of international treaties," Alexander Lukashenko said.
"Nevertheless, the economic situation in Belarus is absolutely normal, our trade turnover is growing in a dynamic manner, and it is being diversified in the sense that we are successfully developing our trade relations with both Russia, the EU and with other countries," the Head of State said. The GDP growth this year has been already registered at the rate of around 10 per cent, and is due to reach 11 per cent by the year-end, the President added. Belarusian goods are in good demand in Russia, he said.
The Council of Ministers of the Belarus-Russia Union State is scheduled to hold a meeting today in the afternoon. According to Viktor Zubkov, most of the issues on the agenda of today's meeting have already been settled during negotiations between Belarusian and Russian Vice-Premiers.
"Things go quite smoothly in our bilateral cooperation; the overall picture of our economic relations is positive," said Viktor Zubkov. "We are able to make further progress in many directions," he added.
In 2007, trade between Belarus and Russia increased by around 30 per cent from 2006 to exceed $26 billion.
US position on sanctions against Belarus is absolutely far-fetched, Alexander Lukashenko says
The position of the USA on the sanctions against Belarus is absolutely far-fetched, President of Belarus Alexander Lukashenko said at a meeting with Russian Prime Minister Viktor Zubkov.
"I would like to inform you about the problems in our foreign trade especially those related to the position of the USA," the President said addressing the guest. Alexander Lukashenko stressed that the actions of the American authorities in this situation violate blatantly the international treaties.
"Yet the economic situation in Belarus is absolutely normal, our trade has been growing rapidly and is diversified. We successfully develop trade relations with Russia, the EU and other countries," the Belarusian head of state said. This year GDP is 10% up and is expected to ramp up by 11% during the year, the President added.
Alexander Lukashenko also said that Belarusian products enjoy high demand in Russia.