Belarus 2, Holland 1; Israel invests in Belarus, Chernobyl, Russia invests, Slavic Union, Cuban tourism, UK, Listapad, Doomsday cult, and cool Blogs…
Many interesting propositions come to Belarus from foreign investors
From: The office of the president
Meeting on cooperation with the Leviev Group
Belarus gives preference to the investors who help it solve priority socio-economic issues through mutually beneficial cooperation, said the President of the Republic of Belarus, Alexander Lukashenko, at today's meeting on cooperation with the Leviev Group (LGC, Isreal).
A lot has been done in Belarus to create an attractive investment climate, according to the President. Which is why there are many interesting propositions coming to Belarus from foreign investors. "It is with great attention that we have treated the propositions of the Israeli concern that is headed by Mr. Leviev," the Head of State said.
Belarus is very much intrested in the concern's participating in the construction of manufacturing and social facilities on its territory, he said. "We have ambitious plans relating to the construction of new buildings and modernisation of the capital. Recently a project has been adopted to construct a super-modern and promising business area Minsk-City and improve the municipal infrastructure. I will not make a secret of the fact that we are interested in your helping us relocate manufacturing facilities outside Minsk and redevelop the cleared areas," Alexander Lukashenko said to the head of the concern.
There are two main avenues of cooperation with LGC, which Belarus has been considering. First, it is jewellery business and, secondly, investment projects in various sectors of economy and social sphere.
Lev Leviev, the head of the LGC, expressed interest in investing into the jewellery industry of Belarus and in developing new technologies here. It is possible that a new jewellery manufacturing facility will open in Belarus in the future.
Belarus has the potential to become one of the big centres of jewellery industry, said Denis Adamsky, the supervisor of investment projects of the concern in Belarus, the director general of the Moscow jewellery factory. Foreign investors have praised the fact that Belarus has preserved a wholesome environment for making its enterprises big trade centres in jewellery industry.
Besides from the jewellery industry, LGC could invest money in the construction, travel, banking and pharmaceutical industries of Belarus.
The concern is also eager to participate in boosting the cement production in Belarus, in building social facilities, trade centres and residential houses.
Summing up the results of the meeting, the President gave directions to the Government and the National Bank to prepare, by the end of this year, a plan of cooperation with the concern so as to launch it on 1 January 2008. "It's necessary to act promptly, without protractions," the President said.
When speaking with the press after the meeting, Lev Leviev praised investment climate in Belarus. "When we come here, we see open doors and that the state is interested in promoting business, cooperation and creating new jobs," he said. "It is surprising for us because it does not correspond to what we read about Belarus in the foreign press," he added. "Your President has highlighted the positive contribution of the Jews in the history and public life of Belarus. As the president of the Federation of Jewish Communities of the CIS, I am glad to note that the Jews feel no discomfort in Belarus whatsoever," Lev Leviev said.
Other Belarusian News...
Belarus to boost production of gas silicate blocks; Sports facilities in mind
From: BelTA
The president participating in an ice hockey match between the teams of the President of the Republic of Belarus and Brest region this week
The production of gas silicate blocks in Belarus will grow 1.5 times as the new production lines have been launched in Bereza, Molodechno, Minsk and in the village of Krasnoselsky. On November 19, Belarusian President Alexander Lukashenko met with Minister of Architecture and Construction Alexander Seleznev to receive his report on the development prospects of the construction industry.
As BelTA learnt in the presidential press service, one or two new brickyards are expected to be constructed in Belarus. The plants specializing in the manufacture of construction materials have been implementing upgrade projects as well.
By 2010, Belarus plans to boost the production of construction materials 2 or 2.5 times as against the 1990s. According to the minister, the country has already reached the 1990 level in the production of construction materials. The manufacture of walling materials, ferroconcrete and concrete articles upped 4 or 5 times over the 1990s. However, there is still a shortage of construction materials in connection with the intensive construction in the country.
Alexander Lukashenko and Alexander Seleznev discussed the construction of sports facilities. A decision was taken to construct small ice arenas in regional centres for figure skating and hockey. Belarusian construction materials will be given preference to. It makes more economic sense to build small facilities which cost from $4 million to $5 million. The head of state has charged to finalize design and estimate documentation for standard sports facilities.
By 2010 Belarus to step up output of construction materials 2-2,5 times as against 1990s
By 2010 Belarus plans to step up the output of construction materials 2-2,5 times as against the 1990s. On November 19 Minister of Architecture and Construction of Belarus Alexander Seleznev informed Belarus President Alexander Lukashenko about prospects of development of the Belarusian construction industry, BelTA learnt from the presidential press service.
According to the Minister, Belarus has already reached the production level of the 1990s. Belarus produces 4-5 times more certain construction materials than in the 1990s. It concerns walling, ferroconcrete and concrete items. However, the country needs more building materials, Alexander Seleznev noted.
At the same time the country is actively upgrading its constriction materials plants.
Every day Belarus puts $1mn into cushioning Chernobyl impact
From: BelTA
The assignments equivalent to $1billion 600 million have been allocated from the national budget of Belarus to implement the 2006-2010 state programme to cushion the impact of the Chernobyl consequences. Thus, every day Belarus assigns $1 million to mitigate the Chernobyl impact, Vladimir Tsalko, Deputy Emergencies Minister of Belarus, stated during a session of the UN General Assembly, BelTA has been told in the press service of the Belarusian Foreign Ministry.
Like the Russian Federation and Ukraine, for the past two decades Belarus has been counteracting the consequences of the Chernobyl disaster which had a devastating impact on all spheres of life – production, culture, science, economy, demography. More than 1 million 300 thousand people continue living in the contaminated areas which make up the fifth part of Belarus.
Vladimir Tsalko said that most urgent issues have been settled. Life in the affected regions has been steadily turning for the better. "Yet we face another difficult task which is to restore the economic potential of the affected regions, create the environment for safe living, manufacture of clear food products, health protection," he said.
In view of the growing incidence of diseases especially thyroid cancer, improvements in the specialized medical help has been in the focus. Capital investments are allocated to build housing for the disabled people whose disability is attributed to the Chernobyl disaster. The work has been underway to extend gas supply networks, to provide local communities with clean drinking water, to built hospital, schools and preschool establishments. The measures are taken to ensure targeted use of the financial assistance and to create privileged economic conditions to promote the development of the regions.
"We continue bearing the main burden of rehabilitating the contaminated territories. We appreciate the support and solidarity of the international community which we have repeatedly made sure of today," Vladimir Tsalko said.
He thanked the co-authors of the resolution adopted on November 19 on optimizing the international effort to study, mitigate and minimize the consequences of the Chernobyl disaster. It notes that the United Nations has shifted its strategy from a humanitarian approach to one that focuses on sustainable development.
The UN member states also supported the proposal to declare "Decade of restoration and sustainable development of the Chernobyl affected regions" adopted at the Minsk international conference on Chernobyl. "I hope that our joint efforts will help minimize the negative impact of the Chernobyl disaster on the life and health of people and, what is equally important, to prevent such catastrophes in the future and ensure ecological safety of our planet," Belarus' representatives concluded.
Russian company Nutritek wants to inject $25 million into upgrade of Volkovysk-based Bellakt Co.
From: BelTA
Russian company Nutritek, which was visited by Belarusian Prime Minister Sergei Sidorsky on November 20, offers to inject $25 million into the technical upgrade of the Volkovysk-based Bellakt Co. The statement to this effect was made by Chairman of the Board of Directors of the Nutritek Group Georgy Sazhenov.
"We are ready to take part in the project aimed at modernizing the Volkovysk baby food plant. And we would like this facility to become a structural unit of the Nutritek Group," the top manger noted. When explaining why his company chose Bellakt Georgy Sazhenov said: "We know this facility well and are satisfied with the quality of raw materials it processes."
The Russian company is ready to invest $25 million in the project. Moreover, Bellakt may make use of all up-to-date engineering developments of the Nutritek Group.
According to Georgy Sazhenov, his company may launch a baby multi-ingredient puree production line in Belarus, lines to produce special products and liquid paste-like baby food. The foodstuffs are expected to be supplied to the market of South-Eastern Asia.
Nutritek is ready to carry out the project within a year, said Georgy Sazhenov.
The Nutritek Group is one of the leading producers of dairy products and the market leading producer of baby foods in Russia. The Group is the only Russian producer of special BMS and clinical nutrition products. Founded in 1990, the Group comprises 14 food production and agricultural facilities in Russia, Ukraine and Estonia. The Group operates two logistics centres and two agricultural holdings. The total processing capacity of the Group's facilities is over 2,900 tonnes of raw milk per day. The Group has a representative office in Singapore to provide marketing support for the Group's expansion into the markets in China and in Southeast Asian, African and Middle East countries.
Setting up distribution network in Russia is key condition for stable export, Ivan Bambiza says
In a related story, Companies of the Minsk oblast should be more active in setting up a commodity distribution network in Russia, Deputy Prime Minister of Belarus Ivan Bambiza told a session of the Minsk City Executive Committee on November 21. Only when the condition is met, the companies will be able to boost export and secure their position on the Russian market.
Registering proprietary juridical persons in Russia is the key task of exporters. It is an essential part of overseas trade. Unfortunately, some people don't understand it, remarked the Vice Premier. Many companies still trade with occasional partners, whose reliability is doubtful, and lose money. According to Ivan Bambiza, it will be impossible to secure noticeable results without opening trading houses and representations, as Polish, Brazilian and other producers of food are now actively exploring the Russian market. Belarusian companies should strengthen their positions or they can be ousted from Russia.
The Vice Premier said, state officials in provinces should be more active in promoting foreign trade sales, should work on forming a foreign trade surplus. They should understand the total depth of the problem, should outline goals for every company, every company director, stressed Ivan Bambiza. It is necessary to take all possible measures to decrease import. If goods available locally are imported, it is an emergency. Only this approach may be used in considering these facts. It will allow raising the responsibility of local government officials.
Ivan Bambiza believes, the Minsk oblast should work harder on implementing the import substitution programme. Regional authorities should create conditions favouring the development of manufacturing, using advantages and privileges provided by the state programme for the development of small and medium urban communities.
From the foriegn press...
UN plots Chernobyl zone recovery
From:
BBC
The UN has said the "emergency phase" is over in the areas affected by the Chernobyl nuclear plant disaster in Ukraine in 1986.
A resolution has been adopted by the General Assembly in New York.
It calls for continuing attention to "Chernobyl-related needs" but also urges a move to the "recovery phase".
A UN official said the body should now focus on rebuilding self-reliance of the affected population instead of treating them as victims.
The 1986 explosion spewed radioactive fallout over swathes of the then-USSR - including Ukraine, Russia and Belarus - and many other parts of Europe.
More than 330,000 people were forced to leave their homes after the world's worst nuclear accident.
Estimates of the number of deaths linked to the radiation leak vary widely, with the World Health Organization (WHO) putting the death toll at 9,000.
Experts are still studying the long-term effects on health, especially on children.
Helping communities
Tuesday's UN declaration proclaimed the next 10 years as a decade of "recovery and sustainable development" of the affected areas.
It said the focus should now be on helping the communities to reverse the domino effect of poverty, poor health and fear that had hampered growth in the region.
The General Assembly also requested the UN secretary general to provide a report on recovery efforts in 2010.
The declaration comes on the back of a report by the WHO which found "the health impact of the accident was much less severe than was initially feared", the BBC's Thomas Lane in New York says.
It also said the majority of the affected areas only suffered "low doses of radiation - doses that are close to naturally existing 'background levels'".
This paves the way for the UN to alter its aid structure to the region, namely parts of Belarus, Russia and Ukraine, our correspondent says.
'Overcoming stigma'
Before the UN vote, Cihan Sultanoglu, a UN Development Programme (UNDP) official, said that "20 years of treating the residents of those regions as victims has created a culture of apathy".
Ms Sultanoglu said the UN's new role should be "to help rebuild a sense of self-reliance".
UNDP officials argue that "lifestyle issues" - like alcoholism and smoking - now pose a greater cancer threat than radiation for many residents in the affected areas.
The agency is already involved with various assistance projects, including giving advice and loans to small-scale farmers.
Ms Sultanoglu said the radiation resistance of several plants - including a rapeseed used in biofuels - held out hope for an agricultural revival.
Other UNDP officials suggested that eco-tourism might also help the region, our correspondent says.
But they conceded there would have to be plenty of attention to marketing, in order to overcome any "brand stigma" associated with Chernobyl.
Earlier this year, the UNDP made a first shot at this by appointing Russian tennis star Maria Sharapova as a "goodwill ambassador" for the cause.
Slavic Parliamentary Union Headquarters opened in Minsk
From:
Itar Tass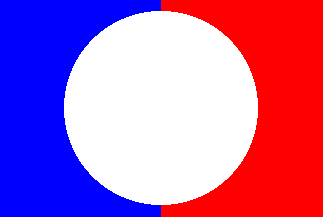 Flag of World Slavic Congress
The headquarters of the international non-governmental association Slavic Parliamentary Union (SPU) was opened in Minsk on Monday.
"The decision to have the headquarters in the Belarusian capital was adopted at the 9th World Slavic Congress in 2005 and reflects big trust in the country," SPU Chairman and Belarusian MP Sergei Kostyan said.
In his words, the next session of the Slavic Parliamentary Union will be held in the Belarusian city of Mogilev in the middle of May 2008.
Apart from MPs from Belarus, Russia, Ukraine, Moldova, Poland, Bulgaria, Serbia, the Czech Republic, and Bosnia and Herzegovina, which are the Union members, representatives from Slovenia and Macedonia plan to take part in the forum.
The Slavic Parliamentary Union plans to "expand its activity to all the regions where Slavic peoples live, including the numerous Slavic communities across the world," promote mutual understanding between the Slavic countries, and enhance economic, education and cultural contacts, Kostyan said.
Cuba Attended Tourist Fair in Belarus
From:
Cuba Headlines
Varadero beach Cuba
Cuba exhibited its tourist products and services at the International Tourism Fair in Belarus, which the Caribbean Island attended for the second year.
Cuba exhibited its tourist products and services at the International Tourism Fair in Belarus, which the Caribbean Island attended for the second year.
As part of the event, Cuban companies promoted the country's tourist potential.
Belarusian Minister of Tourism Alexandr Grigorov visited Cuba's stand and expressed interest in the development of the tourist sector in the island nation and the possibilities of signing agreements on bilateral cooperation.
Cuba was represented by the companies Cubanacбn, Cubatur, Gran Caribe, Havanatur and Sol Meliб, among other firms operating in the country.
So far, some 600 Belarusian tourists visit Cuba every month and 40 percent of them stay in Varadero Beach and the eastern Havana beaches.
Western, Belarus relationship turns 12
From:
Western News,
The University of Western Ontario celebrates its long-standing medical and dental exchange program with the country of Belarus on Wednesday, November 21 as the transatlantic collaboration enters it 12th year.
In April 1986, Belarus – an Eastern European nation with a population approaching 10 million people – suffered widespread health problems as a result of the infamous Chernobyl disaster.
The breakup of the Soviet Union in 1992 dealt Belarus a severe setback to its health care system, and along with industrial pollution, dietary imbalance, and the social stress that impaired general health, the incidence of heart disease became especially high.
In 1995, Dr. Gerald Z. Wright, Professor Emeritus at the Schulich School of Medicine & Dentistry, started a pilot project at the children's dental clinic in Minsk. Under Wright's direction, Western has annually sent medical specialists to Belarus to deliver lectures and demonstrations, consult with doctors and patients, and perform procedures.
In turn, many Belarusian dentists and doctors have visited Western over the years in order to study current dental and medical practices. For the past several years, the trips have been made possible by the London Chapter of the Canadian Relief Fund for Chernobyl Victims in Belarus.
As a highlight of Western's Belarus Day, an episode of a television program entitled, Hello Doctor, which originally aired nationwide in Belarus on June 10, 2007, will be shown. The presentation is scheduled for 10:30 a.m. in Room 224A, University College and has been subtitled into English by Aaron Van Domelen of Western's Instructional Technology Resource Centre.
Hello Doctor is a popular Belarusian television series, hosted by a physician, which promotes better health. The June 10th episode features a segment with Western's medical team of Dr. Patrick J. Teefy and nurses Heather Hern and Karen Geier conducting an interventional cardiology procedure at Hospital No. 1 in Minsk.
Following the screening, there will be comments by Dr. Teefy on medical conditions in Belarus and by Sandra Hobson, School of Occupational Therapy, who has made eight trips to Belarus since the program's inception, and who will offer commentary on introducing modern methods of Occupational Therapy to the Belarusians.
Following lunch, Pavel M. Pustavoi, councilor at the Belarusian Embassy in Ottawa, specializing in science and technology, will speak to the group in Michael's Garden, Room 3340, Somerville House.
"The University's medical and dental ties with Belarus go back more than a decade and provide us with yet another example of Western's professors lending their expertise in the field in an effort to improve our world," says Ted Hewitt, Western's Vice-President (Research & International Relations).
Belarus and UK to provide free first aid on each other's territory
From:
NLIPRB
Nationals of Belarus and nationals of the United Kingdom and Northern Ireland will be entitled to free first aid on the territory of Belarus and UK in line with the bill "On legal succession of the Republic of Belarus to the Agreement between the Government of the Union of Soviet Socialist Republics and Government of the United Kingdom of Great Britain and Northern Ireland on cooperation in the area of medical research and healthcare". The bill was considered at the session of the permanent commission for international affaires and relations with the CIS of the Chamber of Representatives of the National Assembly of Belarus on November 20. The commission decided to recommend the bill for being included into the agenda of the 7th session of the National Assembly.
According to Deputy Healthcare Minister of Belarus Valery Shevchuk, the intergovernmental agreement was signed in 1975. However, soon after the disintegration of the Soviet Union Belarus passed a law on legal state of foreign citizens and stateless persons which prohibited medical institutions to give first aid to foreign citizens if otherwise was not stipulated in relevant agreements. In turn, Britain considers the intergovernmental agreement as the one in force. Therefore, a decision was taken to give effect to this agreement in the manner prescribed by the current legislation.
Valery Shevchuk noted that as the agreement covers only first aid, other kinds of medical aid such as regular check-ups will be given on a fee paid basis. The agreement also provides for the development of scientific cooperation in medicine.
As many as 178,000 alcoholics said to be on register in Belarus

From:
Naveny
As many as 178,000 people diagnosed as alcoholics are monitored by Belarus' drug and alcohol abuse rehabilitation centers, Uladzimir Maksimchuk, the health ministry's chief addiction officer, told BelaPAN in Minsk on November 16.
According to Mr. Maksimchuk, 70 percent of the Belarusian alcohol addicts do not consider themselves sick and do not ask alcohol abuse specialists for assistance.
"The problem of hard drinking and alcoholism remains socially important for our country," he said.
According to official statisticians, the number of Belarusians diagnosed with alcoholism increases by two to three percent every year, with the number of women suffering from alcoholism and alcohol-related mental disorders having jumped by 60 percent in the last five years. As many as 46,000 women are on the register of the nation's drug and alcohol abuse rehabilitation centers, Mr. Maksimchuk said.
According to him, the number of deaths caused by alcohol poisoning has been annually decreased by 10 to 15 percent in recent years, which he said is an encouraging trend resulting from the government's supervision over the quality of liquors.
"There's a mixed attitude toward alcohol in Belarusian society," he said. "On the one hand, everybody realizes that it is a poison. On the other hand, people continue drinking. It's still proves difficult to changing their attitudes."
Mr. Maksimchuk noted that alcohol acts as an intoxicating poison, leading to the paralysis of brain cells. According to some research reports, alcoholism and alcohol abuse reduce life expectancy by 22 and 15 years, respectively, he said.
Culture...
Listapad 2007 Grand Prix goes to Danish film "My Eyes"
From: BelTA
"My Eyes" by Erlend Mo wins the Listapad 2007 Grand Prix
The main prize of the contest of documentary films at 14th Minsk international film festival Listapad 2007 went to the Danish short film "My Eyes" by Erlend Mo, chairperson of the jury panel Valentina Gurkalenko told reporters on November 18 in Minsk.
The film impressed all the members of the jury and they were unanimous in their decision to award it the main prize. "I would be very difficult for us to choose the best film if the Danish film was not on the programme since all the entries were very impressive. But this film stood out for its love, delicacy and purity and all the members of jury appreciated that," Valentina Gurkalenko said.
Among other winners of the festival are "A Curved Field" by Belarusian Sergei Rubakov, "A Crystal Boy" by Russian Alexander Tyapov, "Babushka and Dedushka" by Lithuanian Gedre Beinoriute, "Pray for us" by Armenian Ruben Khachatryan.
The first contest of documentary films at Listapad film festival was a success. Valentina Gurkalenko hopes that the contest will raise the public interest in documentaries.
Israeli Ambassador to Belarus translates works by Vasil Bykov into Hebrew
Ambassador Extraordinary and Plenipotentiary of Israel to Belarus Zeev Ben-Arie was the first to translate Vasil Bykov's works into Hebrew.
The presentations of the short story Poor People translated into Hebrew will be held on December 11 in the Israeli Culture and Information Center. In October 2007, the short story was published in the magazine of the Israeli Union of Writers.
Now the translation of another Vasil Bykov's short story Conformation is ready, Mr. Zeev Ben-Arie told BelTA.
"When I found out that this outstanding Belarusian writer has never been translated into Hebrew, I decided to fill the gap," the diplomat said. He added that if the first two stories would come to the liking of the public he would continue translating.
According to the diplomat, Belarus and Israel have been boosting cultural cooperation. Thus, during the 14th Minsk international film festival Listapad 2007, Belarusian cinema goers had an opportunity to get familiar with Israeli cinema. In December this year, famous Israeli singer Alona Daniel will perform in Minsk. In February 2008, Israel will take part in the international book fair Books of Belarus.
Minsk to host film project "Strong Women" with participation of German movie stars
The German Embassy in Minsk and the Goethe Institute will present the film project "Strong Women" with the participation of German movie stars. From November 28 to December 1, the films "Passionate People", "Rita's Legends", "Tariff for Moonlight" will be shown in the Minsk movie theater Pobeda.
As BelTA learnt in the German Embassy in Minsk, on December 1, German actress Lesley Malton and film director Michael Blume will take part in a meeting with Belarusian cinema lovers.
The film project is a regular event of the Year of the German Culture "Moments of Culture 2007: Four Seasons" which is being held in Belarus now. Theatrical, song, dance festivals and meetings are conducted within the framework of the Year of Culture. At present, German architect and journalist Philippe Moizer is presenting his exhibition dedicated to modern architecture of Berlin in the movie theater Pobeda.
German diplomats are sure that the Year of the German Culture in Belarus will allow the two countries to strengthen their relations.
Around the region...
Russian doomsday cult coaxed out of cave
From:
USA Toay
Officials were talking with more than two dozen doomsday cult members holed up in a snowy forest near the Volga River to await the end of the world, which their leader says will come in spring.
The cult members have threatened to blow themselves up with about 100 gallons of stockpiled gasoline if authorities forced them out of what officials described as a cave or bunker near the village of Nikoskoye, about 400 miles southeast of Moscow, regional spokesman Yevgeny Guseynov said.
"Any forceful action is dangerous," Guseynov said, but he added that doctors and rescuers were nearby and trying to coax the cult members to leave.
Self-declared prophet Pyotr Kuznetsov, who established his True Russian Orthodox Church after he split with the official church, blessed his followers before sending them into the cave earlier this month, but he did not join them himself.
He was undergoing psychiatric evaluation Friday, a day after he was charged with setting up a religious organization associated with violence, Guseynov said.
Russian state television broadcast footage of Kuznetsov, a thin, bearded man, speaking at the clinic where he was being examined.
He said cult members initially aimed to dig out small refuges where they could spend a day or two in prayer, but that later "we had the idea of making a big dugout for all of us to go to and stay there, just to avoid acts of hooliganism by the local population," according to the footage.
The 29 people — including four children, one only 18 months old — had stocked the cave with food and other supplies.
Kuznetsov said in the footage, shown on the Rossiya channel, that he had not gone into the cave himself because "I had to meet others who were yet to arrive."
On Thursday, black-clad Russian Orthodox monks carefully descended into snow-covered gully to try to make contact with the cult, but members refused to speak with clergy. They were exchanging letters with Kuznetsov, however, and were in contact with doctors and officials, who promised food or medical supplies if needed.
Most of the adults in the cave were women, Russian newspaper Izvestia reported.
Kuznetsov, 43, a trained engineer who comes from a deeply religious family, declared himself a prophet several years ago, left his family and settled in Nikolskoye. He began writing books, borrowing from a mixture of established beliefs, and visited monasteries both in Russia and Belarus, recruiting followers, Guseynov said.
Kuznetsov said his group believed that, in the afterlife, they would be judging whether others deserved heaven or hell, Izvestia reported Friday. Followers of his group were not allowed to watch television, listen to the radio or handle money, media reports said.
Anna Vabishchevich said her 41-year-old son, Alexander, and his wife and two teenage daughters were among the cult members. She said she was sending two relatives from Belarus to try to convince him to at least send the girls home.
She told The Associated Press that her son, a railroad worker, came under Kuznetsov's influence several years ago. He stopped eating food packaged with the universal product code — which the cult regards as the mark of the Anti-christ, she said.
"My son was kind and now he is mentally ill, it's like he is hypnotized," she said between sobs.
Alexander Dvorkin of the Moscow-based independent Center of Religious Studies said Kuznetsov's followers were in serious danger and "any wrong move" by authorities could cost lives.
"Their minds are being manipulated, they are under the strong influence of their leader," Dvorkin said.
He said there were about 10 similar cults in Russia, most nominally Christian and with members living in isolation. So far, he said, authorities have done little or nothing about them.
Russian Orthodox Church spokesman Georgy Ryabov said the emergence of Kuznetsov's cult was a consequence of "the absence of a system of spiritual and moral education" in Russia.
"All Christians of Russia have to pray for them so they awaken and understand their mistake," Ryabov said.
Polish priest won't be allowed to stay in Belarus because of criticism
From:
Charter '97
A refusal to register is a "personal problem" of the arch-priest of the Roman Catholic church in Rechytsa Grzegorz Chudek, believes the chairman of the Council for Religions and Nationalities' Affairs of Homel Regional executive committee Mikhail Zhukevich.
As we have informed before, the arch-priest of St. Trinity Roman Catholic church in Rechytsa, a citizen of Poland Grzegorz Chudek, who had served 14 years in parishes of Homel region, had been denied registration for his service. He is to leave Belarus before December 1.
"There is no confrontation of the authorities and the confession, it's a personal problem of priest Gregorz," told M. Zhykevich in an interview to BelaPAN. "Rechytsa parish has been registered at the territory of Belarus, that is why the priest is to follow the laws of our country and have a dialogue with representatives of the authorities. Priest Grzegorz Chudek didn't have a dialogue with local authorities, he didn't contact them like other priests. Moreover, he published rather hash words about Rechytsa, the town where he had been living and working for 10 years, in Polish press. In the Polish newspaper he covered the situation in the town subjectively. He underlined negative aspects which unfortunately exist in our society. It would have been excusable for Belarusian journalists, but such comments about our country abroad create a negative image of the country. And in his work a priest should spiritually revive the nation, it's his main function," M. Zhukovich said.
As the official believes, there is no problem in departure of the priest for Rechytsa Catholics. "It's just a problem of the priest, where he will find another working place. I am sure that in some time there will be a priest in Rechytsa," Zhukevich said.
As we have informed, on November 16 apostolic administrator of Pinsk diocese cardinal Kazimir Svyontak addressed the chairman of Rechytsa regional executive committee Alyaksandr Baranau with an appeal to reverse the ruling to cancel registration to priest Chydek. In his address Kazimir Svyontak noted that G. Chydek had irreproachably served the cause of the spiritual revival of the Belarusian nation for 14 years.
Catholics of some parishes of Homel region have started a collection of signatures under an address to the president of Belarus with an appeal to reverse the decision about the priest's registration. "Hoping for your judgment and kind heart, we hope for another decision concerning Grzegorz," the address of Cardinat Svyontak reads.
Russia may ban river oil shipments after spill

From:
IHT
and
Reuters
Russia will limit oil products shipments by river in 2008 after a fuel oil spill from a river barge in the Kerch Strait this month caused damage estimated at $267 million, officials said on Wednesday.
Shipping executives said they suspected the limits on river barges over 25 years old would ruin the industry as it would cut flows of oil products by rivers by 70-80 percent from the current 5 million tonnes.
"The fleet must be young. We will subject ship owners to such conditions that it will become unprofitable to use barges older than 25 years," Alexander Davidenko, head of RosRechMorFlot, the river navigation agency, told Reuters.
The statement followed an earlier comment from an official from the Transport Ministry, who said the agency, which reports to the ministry, is working on such bans.
"We will (also) most likely ban floating storage operations," said the official, who requested anonymity.
Russian refiners use river barges and floating storage facilities to export around 3 million tonnes of fuel oil from ports on the Baltic Sea and another 2 million tonnes of refined products towards the Mediterranean market.
Products arrive in small barges from refineries, belonging to oil majors Rosneft (ROSN.MM: Quote, Profile, Research), LUKOIL (LKOH.MM: Quote, Profile, Research), TNK-BP (TNBPI.RTS: Quote, Profile, Research) and the independent Ufa refiners. They are stored in bigger sea floating storage vessels and are then reloaded into tankers for re-export.
Operations stop in the winter months, when rivers freeze, and peak in summer months as they are usually cheaper than rail shipments of refined products.
ECOLOGICAL DAMAGE
A storm broke a tanker and sank at least four freighters earlier in November while crippling other vessels in the narrow Kerch Straight between the Black Sea and the Sea of Azov.
The tanker wreck caused a fuel oil spill, which the Russian environment watchdog said has killed dolphins and thousands of birds and fish after polluting a 50-km (30-mile) stretch of Black Sea coastline.
Russian officials have said the storm had produced the worst mass shipwreck in modern Russian history. They ordered a safety review after reports some of the ships ignored a storm warning and put to sea, and that some were not seaworthy.
On Wednesday, the resources ministry it estimated the ecological damage from the incident at 6.5 billion roubles ($267 million).
The source in the transport ministry said RosRechMorFlot had already ordered the closure of the river navigation season in the south of Russia on Nov. 22, 10 days earlier than planned.
It also banned river barges older than 25 years from entering the open
Pyotr Razumov, general director of Vision Float, one of the biggest river shippers in the north, said he was aware of the discussion to ban barges over 25 years old, which he said represented 70-80 percent of Russia's overall river fleet.
"There is a lot of talk about it. We are afraid of hasty restrictions as it always happens after negative developments," he told Reuters.
"If we ban floating storage operations, the river fleet will not be able to move at all," he said.
A source with a major trader said the ban would be somehow bypassed next year: "It is not only against the interests of major oil firms. You have to keep in mind that if you do it, some 10,000 people in the industry will lose their jobs."
15,000 birds died in Russian oil spill
Nearly 15,000 birds have died from the fuel oil that spilled from a Russia oil tanker wrecked in a fierce Black Sea storm, and Russia's natural resources minister estimated Wednesday that damage from the spill could reach up to US$251 million (Ђ169 million).
Minister Yury Trutnev also said the amount of fuel that spilled from the tanker Volgoneft-139 since Nov. 11 had risen to more than 3,000 metric tons (979,000 gallons).
Workers continued trying to mop up some of the fuel that soiled kilometers of coastline in the Kerch Strait, the waterway that connects the Black Sea with the Sea of Azov. Russia and Ukraine share the strait.
The storm battered almost a dozen vessels in the strait and killed six sailors.
Environmental damage from the spill is estimated at nearly 6.5 billion rubles, Trutnev said in a statement.
Meanwhile, the country's veterinary watchdog agency said some 14,700 birds have died after being soiled by oil slicks. Rosselkhoznadzor also said in a statement that another 21,000 birds were at risk of dying from the oil.
On Tuesday, two Russian officials suggested that the captains of the ships that sank or ran aground were to blame for the accidents by not heeding a storm warning and moving out of port to open sea.
Russian President Lashes Out at West
From:
Guardian Unlimited
President Vladimir Putin harshly assailed his opponents and accused the West of meddling in Russian politics, telling a parliamentary campaign rally Wednesday that opponents at home and abroad want to weaken the country.
Putin's strongly worded attack on his critics came as he seeks to secure a high turnout and strong support for the dominant main pro-Kremlin party in parliamentary elections Dec. 2. Putin is leading United Russia's ticket in what is widely seen a maneuver to retain a grip on power after he steps down next spring.
``Those who confront us need a weak and ill state. They want to have a divided society, in order to do their deeds behind its back,'' Putin warned, saying a strong United Russia majority in parliament is needed to preserve his course.
Addressing thousands of backers in an event that mixed the flavors of a U.S. political convention and a Soviet-era Communist Party congress, he painted a grim picture of the turmoil in the 1990s in Russia and suggested that his Western-backed political foes were bent on turning the clock back.
``Regrettably, there are those inside the country who count on support of foreign funds and governments, and not their own people,'' Putin said.
``Now, they're going to take to the streets. They have learned from Western experts and have received some training in neighboring (ex-Soviet) republics. And now they are going to stage provocations here,'' he said, raising the specter of the upheavals that brought Western-oriented leaders to power in Georgia and Ukraine.
The statement appeared to refer to opposition rallies planned this weekend in Moscow and St. Petersburg. Police have forcefully dispersed several previous marches and demonstrations, beating and detaining scores of protesters.
Without naming nations or specific parties, he railed against his liberal, pro-business and Communist opponents, evoking the frightening economic and political uncertainty that pervaded Russia in the years before and after the 1991 collapse of the Soviet Union.
``If these gentlemen come back to power, they will again cheat people and fill their pockets,'' he said. ``They want to restore an oligarchic regime, based on corruption and lies.''
The comments constituted Putin's fiercest verbal attack on opponents ahead of the election, which the popular leader has turned into a referendum on his policies by announcing last month that he would lead United Russia.
The move appeared aimed at securing a strong parliamentary majority for United Russia, which is far less popular than the president himself, and providing Putin - who is barred from seeking a third straight term in March presidential elections - with a powerful lever to maintain influence after he steps down.
``The vote on Dec. 2 will to large extent determine the fate of the country. By all means, come to the polls and vote for United Russia,'' Putin said.
An overwhelming victory for the party, which is expected given the Kremlin's tight control over the political system, would hand Putin a popular mandate and a loyal parliament to limit the clout of his successor - and possibly lay the groundwork for a return to the presidency in 2012 or sooner.
Putin said a convincing United Russia victory is needed to ensure continuity and fend off what he portrayed as destructive efforts to change the country's course. Again pointing at foes at home and abroad, he cast the election as a starkly clear-cut choice, equating a vote for United Russia with a vote for stability.
``Nothing is predetermined at all,'' Putin said. ``Stability and peace on our land have not fallen from the skies, they haven't yet become absolutely, automatically secured. This is the result of a very fierce fight, both inside the country and in the international arena.''
Putin, whose eight years in power have brought an oil-fueled economic revival, has repeatedly raised the specter of Western influence - suggesting that Russia has gotten up off its knees after a humiliating period in the 1990s and that foreign governments are frightened by its resurgence.
With the vote closing in, Putin has made a string of often-extravagant appearances, pumping up his image as an indispensable leader - part of a choreographed propaganda campaign drawing heavily on imagery from the Soviet era and czarist Russia, periods that evoke pride despite the history of bloodshed and oppression.
Wednesday's rally at a sports arena also blended elements of a rowdy soccer game atmosphere and U.S.-style political campaigns with vestiges of the Soviet past. Soviet-era bands mixed on stage with young performers, including a girl group that sang ``I want someone like Putin.''
Elderly women wore blue United Russia T-shirts. A young man had ``Russia'' painted on his shaved head, and another wore bands of white, blue and red - the colors of the national flag and the United Russia party - on his face.
Many Putin supporters have called for constitutional changes allowing him to stay on as president. He has vowed to step down, but has strongly indicated he will seek to maintain influence and has not ruled out a presidential bid in 2012.
Putin has left it unclear just what role he will play and how he will seek to retain clout. But the calls for him to stay bolster his position by suggesting the people want the president himself, not just his policies.
War hero 'stole from Holocaust survivor'
From:
Telegraph.co.uk,
Prosecutors have charged Bielski and his wife with scheming to defraud
A Jewish wartime hero who helped save more than a thousand other Jews has been charged with swindling a Holocaust survivor out of her Ј125,000 retirement fund.
Oxford don's wife 'sent war hero to his death'
In eastern Europe during the Second World War, Aron Bielski and his three brothers mounted what is widely regarded as the biggest armed rescue of Jews by other Jews.
The exploits of the four, who operated as partisans against the Nazi occupiers from the forests of what is now Belarus, have been chronicled in books, a documentary and a forthcoming Hollywood film.
The brothers' encampment grew to include hundreds of armed fighters, families, children and elderly.
Historians say the Bielski brothers were different to other partisans in that they made it a priority to save Jews rather than to kill Germans.
No Jew was turned away and they ultimately rescued some 1,200 people.
Now however, Aron, aged 80 and the only surviving brother, has been arrested on charges of defrauding a 93-year-old Polish woman.
Prosecutors say Bielski – now called Bell – and his wife, Henryka, 58, befriended a neighbour, Janina Zaniewska, in Palm Beach, Florida.
They then allegedly tricked their victim, a Catholic who was herself imprisoned in a Nazi concentration camp, into giving them power of attorney and control of more than $250,000 held in various bank accounts.
Investigators say the couple then offered to take her on a holiday to her native Poland so she could visit old friends.
When they got there in May, they allegedly put her in a nursing home and returned to Palm Beach where they spent nearly all of her money.
Police were contacted in August by a bank manager who wondered why the Bells were withdrawing Ms Zaniewska's money.
Police eventually found her at the nursing home.
"Thank God you found me," she told authorities, according to police.
She returned to Florida last month.
Prosecutors have charged the couple with scheming to defraud Zaniewska, exploitation of the elderly and theft.
The charges against the couple carry up to 90 years in prison.
Steven Gomberg, Bell's lawyer, has strongly denied the allegations and said the old woman was going senile.
He said the Bells were financially comfortable and were simply helping Ms Zaniewska with her finances as her mental capacity diminished.
"We have people here, elderly people, in their 90s who are losing their faculties and have financial assets that need to be preserved and unfortunately have nobody else," he said.
He added: "There was nothing stolen. She's not lost a penny."
Relatives said they are shocked at the charges against him.
Zvi Bielski, a nephew, said: "I don't believe it. It's totally out of character."
Staff at the nursing home in Poland said Ms Zaniewska "was aware of where she was, what was going on, who brought her here".
Robert Montgomery, her lawyer, said she "has all her faculties" but fell victim to the Bells.
"They stole money from her, there's no question about that, pretty much cleaned her out," he said.
From the blogs...
Show Trial Theatrics
From:
Robert Amsterdam
Today's news on the brazenly harsh deadline set in the Khodorovsky case speaks for itself – the prosecutors aren't even pretending to play by the rules any more. Both Khodorkovsky and Lebedev are now both under the gun: they have about 36 days to carefully examine more than 30,000 pages of trumped up charges.
The procuracy in this case is evidently indistinguishable from the board of directors at Rosneft, who have determined that it is in the interests of the power to ensure that this process is well under way during the lead up to the presidential selection in March.
The crass abstraction of "money laundering" charges against these Yukos executives, who at the time of their arrest were within inches of closing agreements with leading international oil corporations (who do quite a thorough job of due diligence), serve to obfuscate the largest theft of modern history. Rest assured that those who have sought to profit directly or indirectly from this miscarriage of justice, be they energy companies or financial entities, will one day be made to face justice.
But we should not make the mistake of calling it a "process" or "trial" nor any other form of judicial process. The State's conduct in this case is in clear violation of Russian and international law, and true rule of law courts from Switzerland to Strasbourg to Amsterdam are confirming what we have been arguing from the beginning – that the persecution is groundless and politically motivated. Were this a real court, the proceedings would have been stayed when advocate Karinna Moskalenko presented the motion months ago.
We all know what awaits these defendants. They will be found guilty after a rushed show trial carried out with perfect timing to the managed elections, and sent to a hard labor camp in an even more remote corner of Russia. The determination and outcome of this case will further underscore the complete lack of legitimacy of this current government, not only throughout this entire Yukos process, but also in terms of its status as a functioning semi-democratic constitutional state.
Let no one mistake this phony process for anything more than what it is: show trial theatrics brought to you by the KGB [don't let the new acronym fool you].
Внимание! Открытие новой интернет-радиостанции!
From:
Свободные мысли
С 20 ноября 2007 года «NETradio» начинает тестовое вещание «на частотах» www.netradio.by. С этого момента на www.netradio.by будут представлены анонсы программ, голоса ведущих, информация о будущих проектах. Также с 20 ноября будет запущен блог, где можно будет читать новости о подготовки студии к вещанию, о записях новых программ, знакомиться с первыми отчетными фотографиями, и активно участвовать в создании «лица» станции.
( "_" )
Dinner with the Ambassador
From:
An American in Belarus: English Language Fellow Progam 2007-08
One of the most exciting nights of my Fellowship happened on Thursday, November 15. The U.S. Ambassador to Belarus, Karen Stewart, hosted a special dinner to recognize the important scholarly and teaching contributions of the Fulbright and English Language Fellow programs. As I am the only American not assigned to Minsk this year, I was placed at the Ambassador's table during dinner. It was a wonderful experience as there were many interesting people at my table including the Ambassador and her assistant, a well-known Belarusian artist and professor, a Fulbright scholar, and someone from the State Department. I was very proud of myself for striking up the conversation when we first sat down. It took me awhile to adjust to working with the Ambassador's translator as the artist and professor did not speak English. Once everyone had a glass or two of wine the conversation really got going. It was very interesting to hear all the different perspectives at the table and of course to get to know the Ambassador. I felt at ease and thoroughly enjoyed myself; I even asked the Ambassador for a photo! To end the evening we were treated with a private performance of the cymbaly, or hammer dulcimer, by one of the world's best players. The cymbaly is one of the many traditional Belarusian musical instruments.
On November 15, the temperature in Minsk dropped down to -10 C with the wind chill factor! This was a big wake up call for me…a sign of what's to come. Minsk is always colder than Grodno and the 6 inches of snow were all the proof I needed. Despite the chilly temperatures I was able to do some exploring on Friday afternoon. Minsk is a big city (1 million) and has its advantages like a metro and more nightlife, restaurants, shops, etc. But Grodno (330,000) is calmer, has more character, and has more of the traditional, old-world feel. In fact, Grodno is a much older city and has almost all of its original architecture, which unlike Minsk's was spared during WWII.
On Saturday, November 17, I took the 4:20pm train from Minsk to Grodno (13,000 BYR; $6.50 USD) and arrived at 10:10pm. As I dragged my suitcase from the train station to my flat I had a weird experience, I actually felt happy to be "back home." I was also happy to find the temperature was a warm 3 C and that the streets were ice-free. For more pictures go to
"My Trip to Minsk" under My Photos
.
Putin has Another Khrushchev Moment
From:
publius pundit
Another day, another meltdown for Russia's lunatic dictator Vladimir Putin, who sounds every day more and more like the whack-jobs who govern Venezuela and Iran -- not coincidentally, his nation's closest allies.
The BBC reports that while addressing a political party conference of United Russia, the group Putin has joined as a pathway to becoming prime minister and remaining in power for life, Putin might as well have taken off his shoe and shrieked hysterically "WE WILL BURY YOU!" He stated:
Unfortunately there are still those people in our country who act like jackals at foreign embassies . . . who count on the support of foreign funds and governments but not the support of their own people. They want to go out into the streets, they've learnt from Western specialists. They've trained in neighbouring republics. Those who confront us need a weak and ill state.
The Beeb adds: "Putin said the opposition wanted to create a 'disoriented, divided' Russia that would be vulnerable to 'dirty tricks'."
It's ironic, of course, that Putin accuses his opposition of wanting a weak country -- in fact, that's just what Putin wants and needs. A vital, prosperous population cannot be easily led around by the nose as Putin wishes to do in Russia. It's much easier to rule over a nation of sick and weak people, working for slave wages and perishing at an early age, consumed by fear. Has he strengthened Russia's media, or weakened it? Emboldened its political parties, of enfeebled them? Empowered local government or emaciated it?
The answers are unquestionably clear.
Putin speaks in the frenzied, paranoid language of Josef Stalin, so its appropriate that his "Russia Today" propaganda campaign uses Stalin, as we reported yesterday, as its poster boy.
He's baiting the West into a new cold war out of sheer blind egomania and hatred, heedless of the consequences for his pathetic population -- just as Russian rulers have always done.
So -- Who's the jackal?
Ministry of Health Care Provokes Deadly Shortage
From:
Viasna
The republican scientific-practical center Cardiology again experiences the deficiency of the expendable materials for operations on heart. For the sake of economy the doctors reduced the number of operations to the minimum. They refuse to operate the patients and even sign them out to that they will not die waiting in the center. The internet-newspaper Ezhednevnik writes about this in its article.
The most serious is the shortage of oxy-generators that are necessary for artificial circulation of blood during the operations. Meanwhile, this situation was not an unexpected incident, but formed about five months ago. Only several dozens of more expensive, but rarely used devices were left in the center. Their use was economically inexpedient, but the center had to do it to continue making operations. However, even then the number of operations was reduced to four per day, though the center can make six.
Three weeks ago even the more expensive oxy-generators ended. The doctors had only the reserve stock which they decided to use only in the extraordinary cases on permission of the center administration or direct orders from the Ministry of Health Care. They started signing out the patients who were prepared for the operations.
But people want to live despite of any deficiencies. No wonder that the ill started begging the doctors to tell them where they could buy the necessary medicines. However, being on the brink of death, these people were deprived even of this hint. Remembering the sad experience of their imprisoned colleagues, none of the doctors wanted to be put behind bars for their humanism.
The last week was especially hard for the center. It started getting mass calls from other clinics with the requests to operate the ill people who were dying in resuscitation departments.
The center had to refuse in almost all cases. It is impossible to say how many people died because of the deficiency, because the ill people fought for their lives outside the center. Only several operations were conducted. We should describe each of them to show that in the 21st century in the center of Europe people can die because of deficiency of expendable materials for operations.
The last oxy-generator from Homel cardiologic dispenser was transported to Minsk for one of the patients. By the way, the workers of Homel cardiologic dispenser who perform operations on heart are in the same situation and have forced vacations.
Another oxy-generator, also the last one, was taken from Children's surgical department for a very small and slim woman.
The third case is the most terrible of all. A 39-year-old citizen of Mazyr suffered an aortic rupture while doing exercises. He needed an urgent operation, every minute counted. According to the statistics, about 50% die during the first hour after such crisis. According to the doctors, a terrible formula works in this case: every minute the chances of a person to survive are reduced by 1%. The patient's wife managed to get a new device in Kyiv. At 5 a.m. on 2 November the sick man was taken to the Cardiology center having everything necessary with him.
The perfusiologist (the doctor, who works with oxy-generators) blankly refused to use the oxy-generator, though the supporting documents were correct. The wife had to write an application to the ministry and wait till it let the medics use it. As a result, the man who needed an immediate operation was operated at 1 p.m., eight (!) hours after the rupture. He was in such a state that the medics barely managed to save him.
In order to correct the situation the Ministry of Health Care urgently ordered 30 oxy-generators from England. However, if the center worked according to the normal schedule, it would be enough only for a week. That's why the administration of the Cardiology center decided to reduce the number of operations to three per day in order to prolong the agony to two weeks.
In order to understand what these 30 oxy-generators mean it is necessary to remember that more than 6 000 people in Belarus are awaiting an operation on heart.
2 500 more are in a special line for those, who need urgent operation – it means that their lives can end every minute. It is necessary to say that the lot that was a rescue for 30 persons was transported by express mail in special package, which made the cost twice higher. It means that 30 more persons were deprived of help because of the negligence of the Ministry of Health Care.
Were it only for the deficiency of oxy-generators, one could refer it to a tragic coincidence. However, Ezhednevnik managed to find out that the republican scientific-practical center also experiences shortage of other components necessary for the operations. In particular, during several months there were no rings for plastics of the mitral valve. The doctors were short of sewing materials, especially for aortic prosthesis (the sick say that one of them died because of it). There were no cartridges for testing the parameters of fibrillation, no fulminate caps for retrograde cardioplegia (forced heart stoppage). Again, there are rumors that a doctor used a catheter for urinary bladder instead of the cap, because the operation could not start otherwise.
All these facts witness that the Cardiology center has serious problems. Probably, soon some of them will be solved. According to Ezhednevnik, the Ministry of Health expects a large lot of oxy-generators by the end of November. In general, the situation is sad. It is aggravated by the fearful atmosphere among the doctors, who are afraid to risk their freedom and reputation for saving the sick people. They see the officials spend huge money on buying the expensive equipment which they almost don't use and lack even the most necessary things, but keep silence.
After a sober evaluation, the officials of the Ministry of Health started saying that it would be good to return to the practice when the patients bought the deficient expendable materials. Even the minister seems to think over this variant. However, will this practice be returned, there arises a logical question: what should be done with the medics, who have been judged or await trial for such services?
Sport...
Netherlands Shocked In Belarus:
Belarus 2 Netherlands 1
From:
Goal.com
The Oranje's qualification campaign ends on a sour note as Belarus run out surprise 2-1 winners in Minsk...
Rumours circulated pre-match that the Netherlands might in fact benefit from defeat in Minsk due to the arcane nature of UEFA's seeding system for the upcoming Euro 2008 tournament.
With qualification already assured, the Dutch could sit back and relax, said the cynics. Not so, said coach Marco van Basten. Instead, the Oranje were to go for the win regardless of the circumstances.
It didn't quite work out that way as Belarus strolled to a fine 2-0 win in the second period.
The first half was a bit closer, but there were relatively few clear-cut chances. The Dutch looked active enough, but finishing was to let them down; Belarus, meanwhile, began to grow in confidence as the interval approached.
On came Dirk Kuyt for Wesley Sneijder at half time in a bid to add some more cutting edge; instead, it was Belarus who twice found the net.
First, Vitali Bulyga (pictured) got on the end of a tremendous through ball from Korythko and, getting between the defenders, slotted home through Stekelenburg's legs from just inside the box.
Then Vladimir Korythko took advantage of some dreadful, stand-off defending to find space in the box and shoot on the turn. Admittedly, his effort was fantastic as Stekelenburg could only get a hand to it.
The Dutch tried to hit back, mostly through long range strikes from the likes of Rafael van der Vaart, but Belarus were to come close to a third when substitute Kashevski flashed his header wide.
Still, the Oranje did gain some succour late on as Rafael van der Vaart grabbed a deserved goal after a fine run forward.
People will now ask questions of the Dutch motivations here, but it's also important to give credit to the Belarussians. The hosts put in a confidence attacking showing in the second period and were well worth their three points.
Goals: Vitaliy Bulyga (49') - Vladimir Koritko (65') Rafael Van der Vaart (89')
Starters: Belarus
- Zhevnov U. Goalkeeper
- Omelyanchuk S. Defender
- Filipenko Y. Defender
- Kirenkin R. Defender
- Sverniuk A. Defender
- Koritko V. Midfielder
- Kulchiy A. Defender
- Romaschenko M. Striker
- Kutuzov V. Midfielder
- Hleb A. Midfielder
- Bulyga V. Striker
Netherlands
Stekelenburg M. Goalkeeper
Mario Melchiot Defender
Mathijsen J. Defender
- Ooijer A. Defender
- Bouma W. Goalkeeper
Van Bronckhorst G. Defender
- De Zeeuw D. Midfielder
Van der Vaart R. Midfielder
Sneijder W. Midfielder
- Babel R. Striker
Koevermans D. Striker
Endnote...
Belarusians suffocated by taxes like nowhere in the world
From:
Charter '97
The World bank and PricewaterhouseCoopers company have held a research to find out in which country the tax system is more favourable for business. It's most difficult to pay taxes in Belarus. Our country has taken the last 178th position.
Belarus has been included into the same company as Panama, Jamaica, Mauritania, Bolivia, Gambia, Venezuela, Congo.
Belarusian firm has to fill in 124 declarations a year (as compared to one in a computer form in Sweden). It sets obstacles for development of large business, while small and medium-scale business has to turn to half-legal schemes.
China shouldn't be envied as well (with its 168th position) and India (165th position). Russia takes the 130th position in the rating, giving way to Montenegro, Vietnam and Hungary. And it's easier to pay taxes in European states and developed countries of other continents, even when they are higher.
The country with the most profitable system of paying taxes exists in such countries as Singapur, Hing Kong, United Arab Emirates, Oman, Ireland, the Saudi Arabia, Kuwait, New Zealand, the Republic of Maldives and Kiribati.
The situation has improved in one third of the countries over the year.