From the top

President of Belarus Makes Decisions on New Appointment


On September 22, President of the Republic of Belarus made some personnel decisions. The following appointments have been made by the Head of State:

Zhabko Pyotr Konstantinovich is appointed chairman of the Committee for Material Reserves under the Council of Ministers of the Republic of Belarus;

Krasnichenko Viktor Leonidovich is appointed chief of the directorate of internal affairs of the Brest Regional Executive Committee.
The President has granted his consent for the following appointment:

Rumas Sergei Nikolayevich — Chairman of the Board of the Open JSC "Belagroprombank."

Appointing the new head of the Committee for Material Reserves, Alexander Lukashenko demanded that the structure of this government body and the number of persons employed there should be optimized. President of Belarus underscored the importance of activities of this institution which deals with formation of material reserves in case of unforeseen situations or emergencies.


From Charter 97

Belarus court refuses to reinstate student expelled for political activities


A judge of the Zhodzina city court [Minsk Region] on Monday [19 September] dismissed an appeal by the parents of a 17-year-old opposition activist who sought to have their son readmitted to a local technical school.
Syarhey Murashka was expelled from the Zhodzina Polytechnic School shortly after his arrest during an antigovernment demonstration in April.

The case drew media attention after Murashka, joined by 10 other youths, went on hunger strike in late May to demand an end to the practice of expelling students for their political views.

"I consider this ruling by the Zhodzina city court to be unlawful," Murashka`s attorney, Pavel Sapelka, told Belapan. "A student may be expelled only after the case is heard by a panel on juvenile offenders. The order to expel Murashka had been signed before a decision by the panel was made. Apart from this, in my view, Murashka did not routinely violate discipline in the school."

Murashka`s parents plan to appeal against the ruling to the Minsk regional court.

Economics
From Belarus Today

The IMF has doubts about Belaus' economic stability


The international monetary fund predicts high rates of economic growth in the coming year, however they do not share the optimism of Belarusian authorities concerning long term stability. This was the statement made by Balazh Horvat, deputy chief of the Northeast department of the European department of the International Money Fund.

The IMF had worked in Minsk since September, 13th and has come to conclusion that Belarus has a high growth economy and at the same time had simultaneously decreased the rate of inflation. These changes are as a result of a toughening of economic policy and improvement of conditions of trade.

Earlier, The IMF had predicted that the GNP of Belarus would increase by 7.1 percent. According to the latest statistics though, the actual number over the last eight months was 8.5 percent growth. The actual number though, will end up between these two numbers.

He also acknowledges that the formerly estimated rates of inflation were too high. Early estimates were thought to be as much as 13 percent, however that number was predicted by the government as being no higher than 10. However, the eight month total was actually only 4.,6 percent and was the first time in ten years that Belarus was not amongst the leaders in this category amongst other CIS countries.

However, in order for the long term preservation of economic growth, strict reforms must be followed. In this regard, the IMF recommended that the state play a much smaller role in the future and an increase in investment in individual enterprise and banking. The auditors also again pointed out how the coming demographic changes will eventually become a problem insofar as pensions and the overall economy is concerned.

Mr. Horvat also pointed out though that there are still great philosophical divisions concerning macroeconomic policy between the IMF and Belarus, and that this would continue until such times as there is mutual agreement between the IMF and Bealus as to what constitutes a viable long term macroeconomic policy.
Translation: BHTimes

From Kommersant

Russia Loses a Jet to NATO:
Su-27 crashes in Lithuania


Sakiai District, Lithuania. Residents of Veliouna, 55 km. north of Kaunas, saw a parachutist in the sky. That was Maj. Valery Troyanov, the plane's pilot. Local residents called the police while Troyanov called his division commander from his cell phone. He reported the situation and asked what to do further. The police arrived before that conversation had ended. Troyanov was taken to the police station in the town of Jurbarkas, where he was questioned by police and Lithuanian special services. Kommersant has information that representatives of the Russian embassy were not allowed to see him yesterday.
Full Text

North Korea Demands Nuclear Reactors
Nuclear Crisis


Yesterday Ministry of Foreign Affairs of People's Democratic Republic of Korea (PDRK) explained how it understands the essence of the joint statement signed a day before as a summary of the fourth round of six-sided negotiations in Beijing about the North Korean nuclear program. (See yesterday's issue of Kommersant). Pyongyang reported that it will follow its obligations only after North Korea will obtain light-water nuclear reactors.

Yesterday, Kim Qe Kwan, the head of the North Korean delegation on six-sided negotiations and Deputy Minister of Foreign Affairs, said that PDRK, which left the Agreement About Non-proliferation of Nuclear Weapons (ANPNW) and the International Atomic Energy Agency in 2002 because of the hostile policy of the USA, would return to these organizations and wrap up the nuclear program only after this hostile policy ceases. And the hostility curtailment must be expressed in the assignment of light-water reactors to North Korea.
Full Text

World

UPDATE: Russia says ready to help build N.Korea's nuclear plant


MOSCOW, September 22 (RIA Novosti) - Russia, whose annual nuclear exports total $3.5 billion, said Thursday it was ready to contribute to the construction of a nuclear power plant in North Korea and expand its cooperation with Iran.

The head of the Federal Agency for Nuclear Power, Alexander Rumyantsev, lauded the progress at the six-nation talks on North Korea's nuclear problem.

"If Korea is really resuming cooperation with the IAEA [International Atomic Energy Agency] and joining the Nuclear Non-proliferation Treaty, there will be no obstacles for nuclear cooperation with Korea," he said. "If all the political issues are resolved, we are ready to take up this work."
Full Text

Sport

Blearus and Canada meet in the next round of the Davis Cup



Voltchkof & Mirnyi

Frank Dancevic will play Vladimir Voltchkov on Friday morning and Daniel Nestor will take on Max Mirnyi in the afternoon.

Profiles:
Max Mirnyi


Born: 07/06/77
Nationality: Belarussian
Seeded: 24
World ranking: 24
Australian Open best:
3rd round (2000)
Recent record:
2003: 1st round
2002: 1st round
2001: 2nd round
One of the few top players to combine doubles and singles, Mirnyi is the world's number one in the two-man game.
He is also a dangerous floater in Grand Slam singles draws, and no one will relish meeting him in Melbourne.

The Belarussian, nicknamed 'The Beast', won his first career title in February last year and enjoyed a successful hardcourt season in the US, reaching two Masters Series quarter-finals.

At 6ft 5in, it is little wonder he possesses a huge serve, but the 26-year-old from Minsk can back it up with good volleys and impressive athleticism.

However, though he can usually be counted on to provide a few upsets, consistency is a problem for Mirnyi.

After impressing ahead of last year's US Open, he crashed out in the first round of the final Grand Slam of the year to claycourt specialist Nikolay Davydenko.

His record in Melbourne does not bode well for his chances - he has not won a match there for three years.

World Chess Tournament
From Rediff.com

Anand predicts close World Championship

By Harish Kotian

Indian chess ace Viswanathan Anand believes that the World Chess Championship in Argentina, which will feature the world's best eight players, will be very tough and closely fought.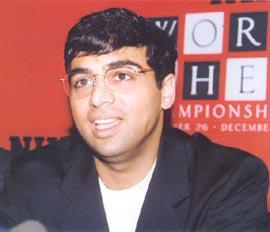 "Each game will be very closely fought. All of us are at the cutting edge of theory and I am sure you will face top class preparation in each game. I just expect a very tough event," Anand told rediff.com via e-mail.

Anand won the tournament twice, in 2000 and 2001-02, and was runner-up to Russian Anatoly Karpov in 1997-98.

The other seven players who will compete for the sports's top prize are: Uzbekistan's Rustam Kasimdzhanov, Peter Adams of England, Bulgaria's Veselin Topalov, Russians Alexander Morozevich and Peter Svidler, and Hungary's chess sensation and the only female player in the tournament, Judit Polgar.

Anand, who has played these players before, said: "I have played with all the opponents many times over in all kinds of formats. Basically, each player has a style of play and a set of openings that differentiate them. Judit is tactically brilliant, Topalov is aggressive, Leko solid, Morozevich is very varied in his play. Svidler is a very well-prepared player and Adams again has a unique style and knows how to maximise small mistakes very efficiently. Kasimdhzanov is a very dangerous player and is quite fearless."

The 35-year-old feels that in such a star-studded event it is important to win the tournament and not finish runner-up.

"When it is a title race, you know that each person there has illusions of taking home the title. In a normal tournament, maybe it is easier to finish second and feel happy about your play.

"In a title event the runner-up is not the same."

Anand said he worked well on his chess for the tournament, which runs from September 27 to October 16.

"My aim is also to increase my physical stamina and have been doing cardio vascular regimens. Now I will try to relax and get to Argentina well rested and ready to play," said Anand, who won his fourth Chess Oscar in 2005.

Asked what it takes to win such a difficult tournament, he replied: "Perseverance, good preparation and a little luck."